Gorillaz Premiere 'Humanz' at Secret Show in London: Setlist + Video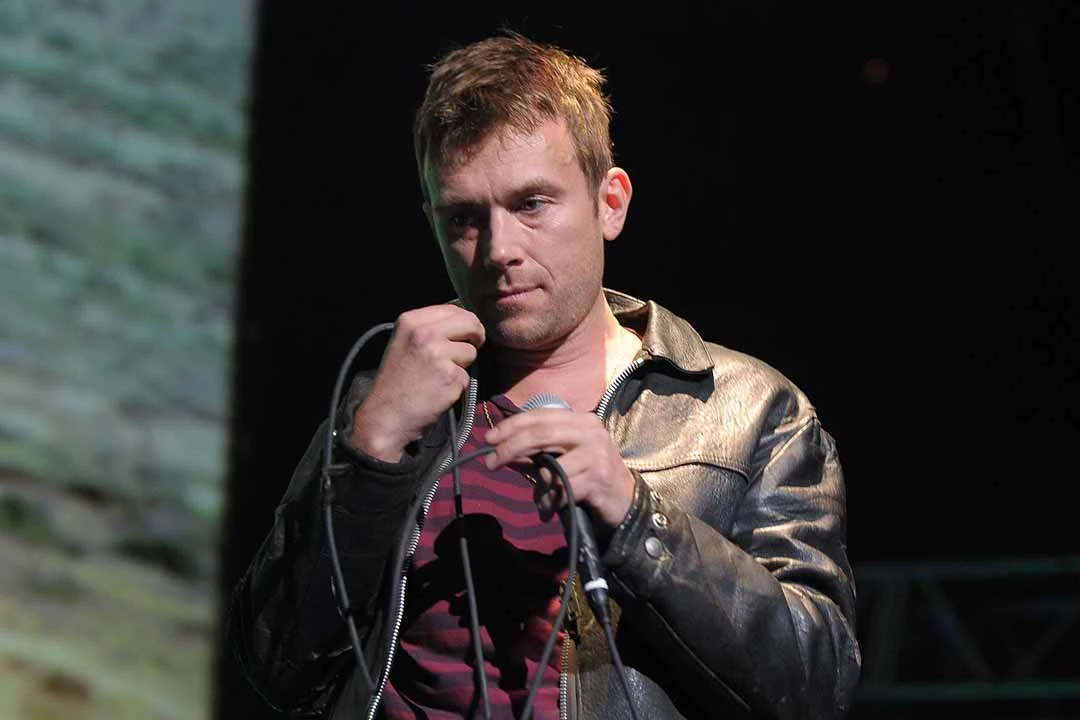 One day after announcing their next album will be called Humanz, Gorillaz premiered the record in its entirety. You can check out clips from the show, including pro-shot footage that streamed on the group's Facebook page, below.
The concert took place at Printworks, a recently opened multi-purpose event space in London with a capacity of 5,000. Fans were selected from those who pre-ordered the new record. This was Gorillaz' first performance since their tour in support of 2010's Plastic Beach concluded.
According to Setlist, the entire main set was comprised of the 14 songs on Humanz, with four pre-recorded interludes. "Let Me Out," which featured rapper Pusha T, and "We Got the Power," which had cameos by Noel Gallagher, Jehnny Beth of Savages and composer Jean-Michel Jarre, were performed twice due to the audience's reaction. The encores consisted of songs from previous records, including "Kids With Guns," "Clint Eastwood" and "Demon Days."
Other guests included Damon Albarn's former Blur bandmate Graham Coxon, De La Soul, Danny Brown and Del the Funky Homosapien. You can see the full setlist, and the guest stars who joined them, below.
Arriving April 28, Humanz will also feature contributions from Mavis Staples, Carly Simon, Vince Staples, D.R.A.M. and Grace Jones. It's their fifth album overall and first since 2011's The Fall.
Gorillaz, March 24, 2017, Printworks, London Setlist
Intro: I Switched My Robot Off
1. "Ascension"
2. "Strobelite" (with Peven Everett)
3. "Saturnz Barz"
4. "Momentz" (with Azekel and De La Soul)
Interlude: The Non-Conformist Oath
5. "Submission" (with Danny Brown, Kelela and Graham Coxon)
6. "Charger"
Interlude: Elevator Going Up
7. "Andromeda"
8. "Busted and Blue" (with Kelela)
9. "Carnival" (with Anthony Hamilton)
10. "Let Me Out" (with Pusha T)
11. "Let Me Out" (with Pusha T) (Reprise)
Interlude: Penthouse
12. "Sex Murder Party" (with Jamie Principle and Zebra Katz)
13. "She's My Collar" (with Kali Uchis)
Interlude: The Elephant
14. "Hallelujah Money" (with Benjamin Clementine)
15. "We Got the Power" (with Noel Gallagher, Jehnny Beth and Jean Michel Jarre)
16. "We Got the Power" (with Noel Gallagher) (Reprise)
Encore
17. "Kids With Guns"
18. "Feel Good Inc." (with De La Soul)
19. "Clint Eastwood" (with Del the Funky Homosapien) (With Noel Gallagher)
Encore 2
20. "Don't Get Lost in Heaven"
21. "Demon Days"
Subscribe to Diffuser.fm on
GORILLAZ live from #printworks https://t.co/3deHZzcgzx

— Zoelee (@zoelee) March 24, 2017
GORILLAZ en Londres. #Humanz https://t.co/mY9foMaEW5

— Angel Alonso (@AngelitoAlonso) March 24, 2017
Gorillaz London #Humanz https://t.co/egAP0AMD5h

— Angel Alonso (@AngelitoAlonso) March 24, 2017
Setlist for the secret @gorillaz gig tonight innit…. #london pic.twitter.com/wgx1i8jlcT

— Mark Anthony (@mark_aofficial) March 24, 2017
Gorillaz Albums Ranked in Order of Awesomeness