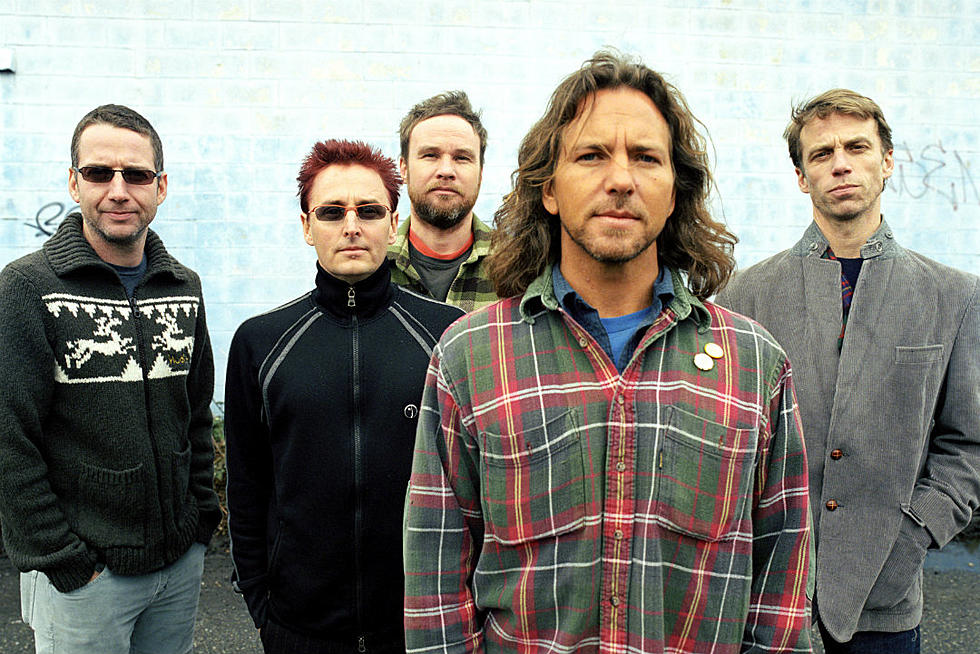 J Records/Sony
Not too many bands that came out of the '90s alt-rock boom still have careers as flourishing as Pearl Jam's. Their most recent album debuted at No. 1. When's the last time another group of flannel-wearing fortysomethings reached that spot? For more than two decades, the Seattle quintet -- which has held on to all of its original members, except for the drummer (of course), since forming in 1990 -- has released a stream of solid but challenging albums while retaining a sizable chunk of its fan base. Not an easy feat, especially when you consider that Pearl Jam aren't exactly the same balls-to-the-wall rockers they were when 'Ten' made them international stars. Our list of the 10 Best Pearl Jam Songs spans their entire career.
10

'Just Breathe'

From 'Backspacer' (2009)

"Pretty" might not be at the top of the list of qualities you're looking for in a Pearl Jam song, but this highlight from 'Backspacer' features one of the band's most gorgeous melodies. Singer Eddie Vedder wields his deep, serious voice while an acoustic guitar plucks alongside him. It's a meditative love song with a hint of melancholy tossed in for Big Issue significance ... and it's absolutely lovely.

9

The song that started it all for Pearl Jam comes with a heavy dose of the psychological baggage that's fueled Vedder's best lyrics. 'Alive' basically recounts the true story involving his stepfather, who Vedder grew up believing was his real dad. (We assume the incestuous undertones are made up.) The singer's cathartic howls immediately hooked tons of fans across the planet.

8

'Corduroy'

From 'Vitalogy' (1994)

Although it was never released as a single, 'Corduroy' got tons of airplay back when 'Vitalogy' came out. It's no wonder -- the pile-driving guitars and Vedder's breathless performance are pure rock muscle (and common traits among the tracks found on this list of the 10 Best Pearl Jam Songs). 'Corduroy' is basically one of the band's many gripefests about the price of fame, but it's delivered with such aggression (and with such an awesome riff) that it can be about almost anything you want.

7

'Daughter'

From 'Vs.' (1993)

After the mostly personal songs of their debut, Pearl Jam tackled more universal topics on their second album: racism, gun laws, getting old, how much being famous sucks. But 'Vs.'' most dramatic track is this one about child abuse, told from the perspective of a troubled little girl. Like several songs from the era, 'Daughter' can seem a bit heavy-handed, but the acoustic guitars driving the song and Vedder's relatively restrained performance keep it in check.

6

'Yellow Ledbetter'

From the B-side of 'Jeremy' (1992)

This popular outtake from 'Ten' (which was originally released as a B-side to the 'Jeremy' single) borrows its intro and most of its style from Jimi Hendrix, especially the 'Axis: Bold As Love' track 'Little Wing.' At times, it seems more like a sketch for a song than an actual song (just what is Vedder singing about anyway?), but it remains a highlight of the group's live shows.

5

'State of Love and Trust'

From 'Singles: Original Motion Picture Soundtrack' (1992)

'State of Love and Trust' first showed up on the soundtrack to filmmaker buddy Cameron Crowe's indie-rock love story 'Singles.' It was initially recorded during sessions for the band's debut album and then rerecorded with their new drummer after that LP became a hit. Either way, it's one of the band's most brutal cuts, a steamrolling rocker featuring Vedder at his larynx-shredding best. It easily would have been a highlight of 'Ten' had it made the final cut. As it is, it falls right in the middle of our list of the Top 10 Best Pearl Jam Songs.

4

'Elderly Woman Behind the Counter in a Small Town'

From 'Vs.' (1993)

Who needs exposition when you have a nine-word title that pretty much tells you all you need to know? Vedder's touching portrait of a small-town girl who never moved on is one of the band's most popular songs and one of its first that wasn't all throat-scarring aggressive. It's also one of the simplest and least pretentious songs Pearl Jam have ever recorded.

3

This power ballad from the debut album has influenced everyone from that kid with a backward baseball cap down the street who sings karaoke on the weekends to any number of alt-rock bands with growling singers that have sprung up over the past two decades. It's a centerpiece of 'Ten,' slowly building over nearly six minutes until it all gives way to one of Vedder's all-time greatest vocal eruptions.

2

'Better Man'

From 'Vitalogy' (1994)

Pearl Jam's singles catalog has been messy at best. Many of their most popular cuts (as well as many of the tracks on our list of the 10 Best Pearl Jam Songs) were never released as singles but still managed to receive tons of airplay. (Their only Top 10 hit is 'Last Kiss,' a one-off cover of a '60s teen weeper about a doomed couple that was included on a benefit record in 1999.) 'Better Man' was a massive radio hit even though it never received a proper commercial release. The song -- about a woman in an abusive relationship (Vedder has hinted it's his mom) -- is a storm of guitars, buildup and Vedder.

1

'Jeremy'

From 'Ten' (1991)

Thanks in part to a controversial video (one of the few videos the band has made), 'Jeremy' catapulted Pearl Jam to the top of the alt-rock hierarchy. It's based on a true story about a bullied kid who shoots himself in front of his classmates, and the song features a powerhouse performance by both the band and Vedder. Plus, it pretty much sums up what the group is all about in less than five minutes: big statements, bigger guitars, a classic hook and plenty of howls and growls from the singer.