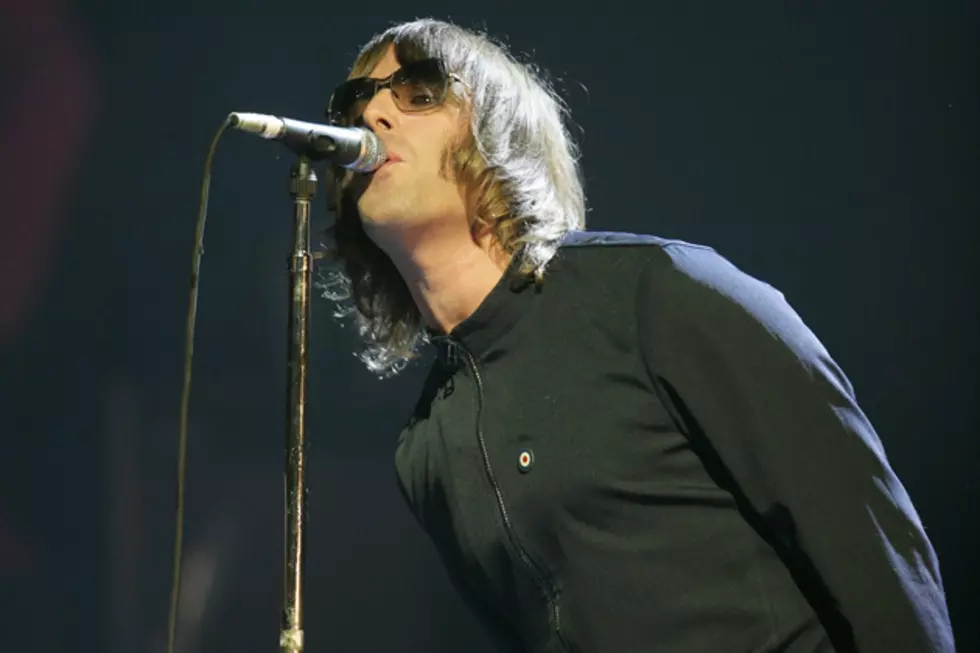 10 Things You Didn't Know About Oasis
Getty Images
You probably know that Oasis were led by two constantly feuding brothers. But did you know that the fights got so bad between the sibs at one point that the band went on tour without their singer for a while? It's one of the 10 Things You Didn't Know About Oasis.
Vecchio, Hulton Archive, Getty Images

Vecchio, Hulton Archive, Getty Images

They got their name from a poster hanging in the Gallaghers' bedroom

Back when they first started their band, Noel and Liam Gallagher had a tour poster on their wall for the British group Inspiral Carpets, whom Noel was a roadie for. Among the venues listed was the Oasis Leisure Centre.

They were sued for ripping off a Coca-Cola jingle

'Shakermaker' sounds a lot like 'I'd Like to Teach the World to Sing (In Perfect Harmony),' a 1971 hit that started out as a jingle for Coca-Cola -- so much so that the band had to pay damages.

Noel Gallagher wrote 'Talk Tonight' after quitting the band during a U.S. tour

In 1994, Liam threw a tambourine at Noel onstage, prompting the guitarist to quit the band and camp out in San Francisco. While there, he wrote the popular acoustic B side, which he also sings.

They were sued for ripping off a member of a Beatles parody band

Their 1994 song 'Whatever' apparently sounds like 'How Sweet to Be an Idiot,' which appeared on a solo album by Neil Innes, who was in the Fab Four parody group the Rutles. Innes now shares co-writing credit.

Their best song was named after the first Beatles solo album

In 1968, George Harrison released 'Wonderwall Music,' an instrumental soundtrack to a movie few people have seen. But it was the first solo album by a Beatle and the first album released on Apple Records.

Kevin Winter, Getty Images

Kevin Winter, Getty Images

Noel Gallagher once said he hoped members of Blur would die of AIDS

The great Britpop wars of the mid '90s between Oasis and Blur got to the point where Noel told a reporter that he hoped singer Damon Albarn and bassist Alex James would "catch AIDS and die."

Frazer Harrison, Getty Images

Frazer Harrison, Getty Images

They once did part of a tour without their singer

In 1996, just as they were about to start a U.S. tour, Liam said he didn't want to go. It was a minor bump for Noel, who took the band on the road anyway, singing most of the songs himself.

Alex Livesey, Getty Images

Alex Livesey, Getty Images

Liam Gallagher heckled his brother from a balcony during the band's 'MTV Unplugged'

Right before he quit the 1996 U.S. tour, Liam also bowed out of Oasis' 'MTV Unplugged' performance. Instead, he sat in the balcony with a beer and heckled Noel between songs.

'Be Here Now' is the fastest-selling album in British history

Their third album was released on Aug. 21, 1997. It sold more than 350,000 copies that day. By the end of the week, it had nearly doubled that number, making it England's fastest-selling album ... still.

John Pratt, Hulton Archive, Getty Images

John Pratt, Hulton Archive, Getty Images

They hired a bass player who never played bass before

Oasis lost their bass player before their 1999 tour, so they hired guitarist Andy Bell, who was in shoegaze band Ride. He never played bass. "If he can play the guitar, he can play the f----n' bass," said Liam.