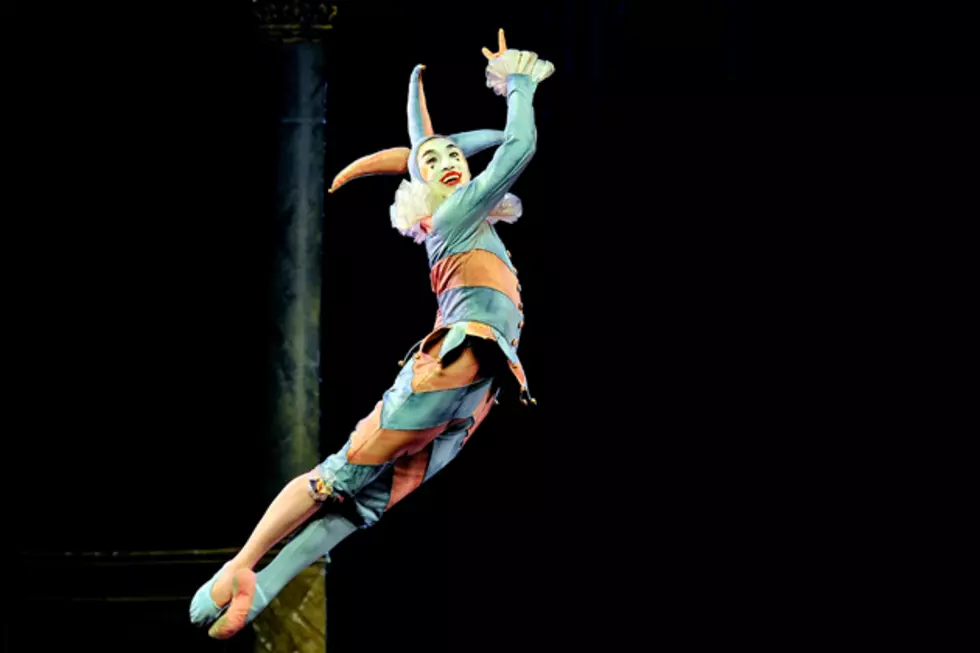 10 'Fool'-ish Songs for April Fools' Day
Matt Kent, Getty Images
Today is April Fools' Day, and we here at Diffuser.fm have spent the last few hours brainstorming hilarious but harmless pranks to pull on our readers. After quickly abandoning plans to come up with a string of outlandish headlines ("Jack White Killed by Meg in Jealous Rage," "Beatles Reuniting for Coachella 2013," "Mumford and Sons Write Good Songs," etc.), we settled on another challenge: naming 10 indie and alt-rock songs with the word "fool" in the title? Were we up to it? You betcha! Check out our 10 'Fool'-ish Songs for April Fools' Day inventory below. Not so foolish, are we?
"Wake up straight/ Caught out by the sun/ On the first day of April," Damon Albarn sings on Fool's Day, a 2010 stand-alone single that marked Blur's first new recording in seven years. Obviously "the first day of April' is a reference to April Fools' Day," and thus, it seemed to be a pretty wise pick to lead off our 10 'Fool'-ish Songs for April Fools' Day list.

'King of Fools'

Social Distortion

Why does Social D singer call himself the 'King of Fools?' "I have/ Broken many hearts and I've/ Broken many rules that's why," he sings in the tune, explaining that he "Thought just to live fast, tell a/ Lie and break a heart" was the way to go. While it seems like the strategy has worked out well for the successful singer, these lyrics suggest a few regrets.

'Runnin' Out of Fools'

Neko Case

Neko Case shows off her killer pipes on 'Runnin' Out of Fools,' a cover of the Aretha Franklin classic about a player trying to scam his gullible former lover a second time. The Queen of Soul isn't fooled twice -- is the Duchess of Country-Noir?

One line pretty much sums up 'Lovefool,' the mushy mid-'90s smash by the Cardigans: "I don't care if you really care/ As long as you don't go." The Swedish pop-rockers aimed 'Lovefool' directly at the hopeless romantics of the world and struck platinum in the process, topping the Billboard Hot 100 singles chart for the first (and only) time -- and, more importantly, landing on our 10 'Fool'-ish Songs for April Fools' Day tally.

'Old Fools'

Magnetic Fields

There may be no bigger curmudgeon in indie rock than Stephen Merritt. But a curmudgeon does not a fool make, and the Magnetic Fields singer makes it clear on 'Old Fools' that he has no intention of playing the fool for love in his golden years.

Some people seem to think San Francisco rockers the Dodos look pretty foolish in their video for 'Fools,' a cut off their 2008 album 'Visiter.' A quick glance on YouTube finds several comments suggesting that members Meric Long and Logan Kroeber appear to be performing a certain solo sexual act that could land the video in a porn-movie highlights reel.

Speaking of YouTube fools, a debate of sorts broke out on this song's YouTube page regarding a certain Erasure member's sexuality -- or homosexuality, to be more specific. Some fans were seemingly shocked to discover that singer Andy Bell is gay. We won't even go into why this should have no bearing on one's enjoyment of the group, but we do find ourselves somewhat shocked to find out that others were shocked by the openly gay LGBT icon's orientation.

'Taken for a Fool'

The Strokes

Many Strokes fans felt like they had been "Taken for a Fool" by the band's fourth album, which managed to debut at No. 4 on Billboard but was roundly criticized by critics and fans and quickly ousted from the charts. That said, you'd be a fool to not fall for 'Taken for a Fool,' which easily has one of the band's catchiest choruses to date.

'Foolish Person'

The Fresh & Onlys

We pity the 'Foolish Person' who hasn't yet acquainted him/herself with the Fresh & Onlys and at least heard their stellar 2012 album 'Long Slow Dance.' This clip shows frontman Tim Cohen and company rocking the tune live at Cleveland's most awesome dive, the Happy Dog.

'Fools Gold'

The Stone Roses

Last but not least is this classic from the Stone Roses, who you'd be a fool to miss at Coachella later this month. The reunited purveyors British baggy will be playing the States for the first time in years and years -- even in their heyday, they seemingly avoided America like the plague -- and with those California appearances the band's only scheduled U.S. dates, it could be the only chance to see them again. As for the song itself, we're not sure what it's about (greed? heroin addiction? 'The Treasure of Sierra Madre?'), but we do know one thing: It's freaking awesome.