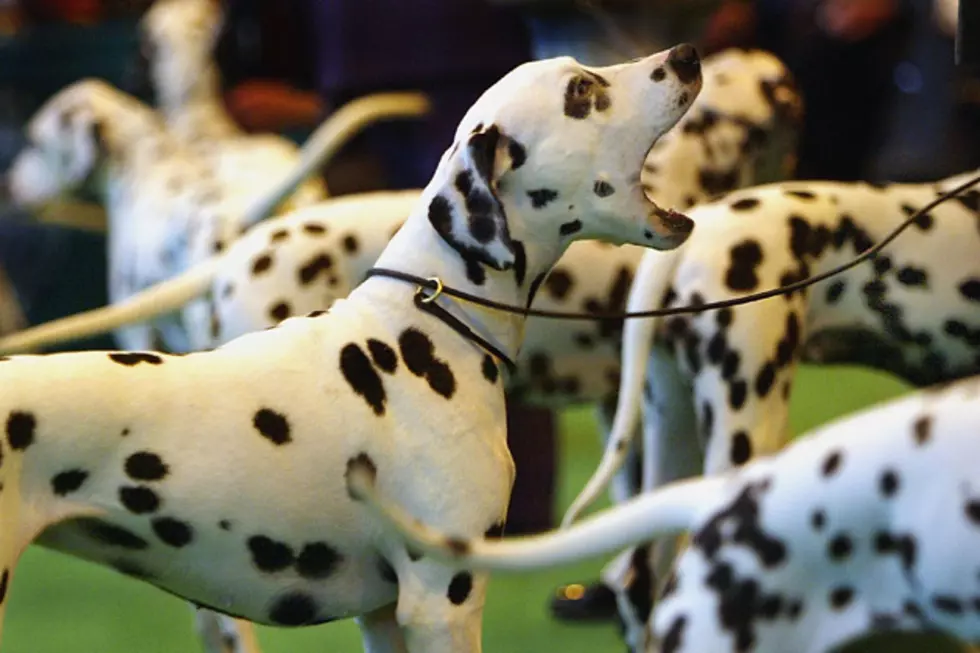 10 Songs Featuring Barking Dogs
Scott Barbour, Getty Images
There's a reason dogs are known as "man's best friend." They eat your shoes, bark incessantly, slobber on your clean clothes and crap on your lawn, but you still love the hell out of them, because you know each time they're barking, they're actually saying, "I love you, man." Or maybe they're singing. In this list of 10 Songs Featuring Barking Dogs, we give biscuits to great tunes made all the better by K-9 backing vocals. Think these mutts got performance credits?
10

Formed in 1976, the Damned are a great gothic U.K. punk band band with a resume of famous firsts. Most notably, they were the first punk band to tour America, where they never really broke through, though the Misfits must have liked them, since they asked lead singer Dave Vanian to join a Danzig-less version of the band. 'The Dog' may well be the first punk track to feature dog barks -- which seemingly come from genuine pooches but might actually be people pretending. Listen and decide.

9

'What's Yr Take on Cassavetes'

Le Tigre

On this obscure '90s gem, former Bikini Kill member Kathleen Hanna and co. ponder whether famous actor/director/screenwriter John Cassavetes is a total asshole or just altogether awesome. Given the dog barks that show up around the 1:56 mark, it's pretty obvious what the dogs think.

8

Oh, Pet Shop Boys, you cheeky British synth rockers, you. You've got the words "pet shop" in the name of your band, so of course, you've got to have a song that features dogs barking in it. That song would be 'Suburbia,' an awesome tune that features the line
"Let's ... run with the dogs tonight / in suburbia." It gives the Arcade Fire's 'The Suburbs' a run for its money, and if you listen really closely, the dogs show up around the four-minute mark. At least that's what we're hearing.

7

'Monster Man'

Mike Doughty/Soul Coughing

On his new "covers" album of Soul Coughing re-recordings, Mike Doughty recasts his old band's 'Monster Man' as a little less growly of a tune, using a nicer dog-bark sample as a sort of mammalian version of a talking drum. Move uh-side, and let the dog go through, let the dog go through through.

6

Wait for it … wait for it … at the 3:28 mark on this rap-rock version of the George Gershwin classic 'Summertime,' one of the chillest songs of the '90s, the dogs start barking. This track closes the band's final album, and the doggie costar is probably the same dalmatian referenced in 'What I Got' -- the one singer Bradley Nowell's "got" along with "[being] high" and being able to "play the guitar like a mother___ing riot."

5

Dog-bark cameos don't get much better than the one in 'Sure Shot,' from 1994's hit 'Ill Communication.' A lot of speculation has gone into where the sample came from, but we've dug up the likely source: a '90s Little Caesar's Pizza ad. Now that's just gold. Well done, Beasties.

4

You may not have heard of Timbuk3, but you know their Top 20 single 'The Future's So Bright, I Gotta Wear Shades.' As All Music points out, they were Beck before Beck was Beck, even if they weren't paid as such. One of their better, more obscure cuts is from 1988 album 'Eden Alley.' It's called 'Sample the Dog,' and the band does just that, possibly sampling more than one dog. It's a great little number reminder of that lovely era when pretty much anything could be put to tape. No Auto-Tune here, ya'll.

3

'Been Caught Stealing'

Jane's Addiction

One of the catchiest singles from 1990's 'Ritual de lo Habitual' -- with one of the greatest videos of the alt-rock era -- 'Been Caught Stealing' has that seemingly out-of-the-blue part in the beginning where a dog starts barking. According to guitarist Dave Navarro, that's the miked sound of lead singer Perry Farrell's actual dog (not dogs).

2

'Hey Bulldog'

The Beatles

This Beatles song is from way back in 1969 and originally appeared on the 'Yellow Submarine' album. It's one of the band's choicest deep-cuts, with an absolutely murderous lead riff and all the modulation money can buy, courtesy of John Lennon and Paul McCartney. Throw in a bunch of wacky Lennon lyrics, and you've got yourself a miracle. Alas, it deserves an asterisk on this list, as it's not a genuine pooch, but rather Paul mimicking a dog near the end of the track.

1

'La La La He He He'

Prince

'I am a dog,' sings Prince in the opening line of the super '80s tune 'La La La He He He,' the b-side to 'Sign o' the Times.' The song is totally covered in canine rin-tintinnabulation, with a dog bark following the beat and a "chorus" of dogs singing the wordless chorus. This track is just so doggone amazing, it'll leave a little surprise on the front lawn of your mind.