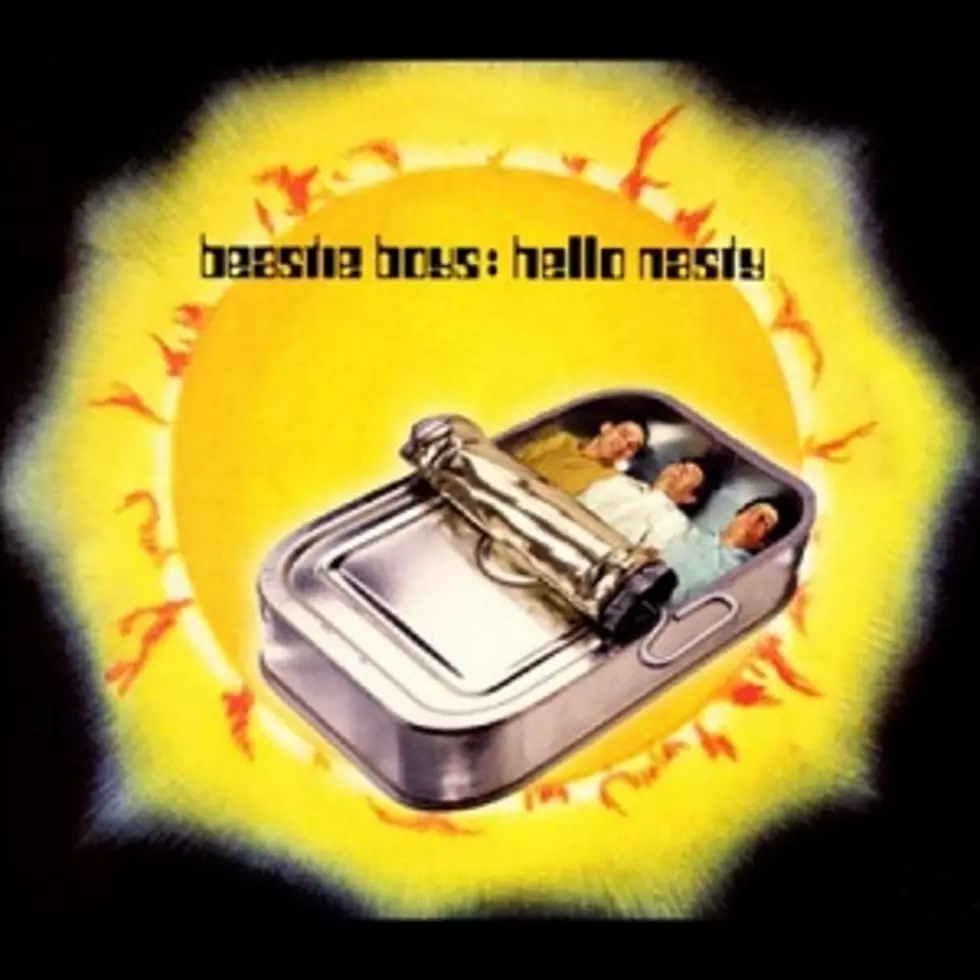 15 Years Ago: The Beastie Boys' 'Hello Nasty' Album Released
Capitol Records
The Beastie Boys' legacy may be that they reverse-broke the color barrier in the hip-hop world -- they made it cool to be white and rap long before Vanilla Ice arrived on the scene and set the cause back a decade or so.
When 1994's 'Ill Communication' rocketed to the top of the charts, the group toured hard in support of the album, played Lollapalooza and then went on a four-year semi-hiatus.
A lot happened in the years between 'Ill Communication' and its follow-up, 'Hello Nasty,' which turns 15 today. In 1995, the band released an EP of hardcore tunes (the Beasties were originally a punk band, and they did a few tracks on 'Ill Communication' in that style), and the following year, Adam 'MCA' Yauch, a Buddhist, helped launch the first in a string of Tibetan Freedom concerts, which saw big-name artists like Beck and the Red Hot Chili Peppers show their support for the still-contentious cause.
So when 'Nasty' showed up in the summer of 1998, it was a tall glass of ice-cold lemonade for fans. Critics also sang its praises, and it went on to garner a pair of Grammy awards. Bringing in expert spinster Mix Master Mike (see: 'Three MC's and One DJ'), the Beastie Boys expanded on what was already a highly eclectic, innovative sound, reaffirming their relevance in a year that saw Madonna and the Smashing Pumpkins go electro ('Ray of Light,' 'Adore') and Lauryn Hill dominate radio with her breakout 'The Miseducation of Lauryn Hill.' As Joe Levy noted in a 1998 Rolling Stone article, the group also wrote the album's lyrics together for the first time since 1989's 'Paul's Boutique,' and that spirit of collaboration is testament to the album's "old school" roots and unity of vision.
In addition to the singles 'Intergalactic' and 'Body Movin',' the album is chock-full of accessible tracks with the usual Beastie Boys wry sense of humor and braggadocios rhyming. Also of note is track 21, 'Dr. Lee, PhD,' featuring the multi-talented reggae producer/artist Lee Scratch Perry, who has enjoyed a resurgence in recent years. (Again, the Beasties were well ahead of the curve with their Lee love.)
'Hello Nasty' reached No. 1 on the Billboard 200, becoming the third Beasties LP to hit the top spot. It was a feat they'd match six years later with 'To the 5 Boroughs,' which, given MCA's untimely death in 2012, will likely stand as their final chart topper.