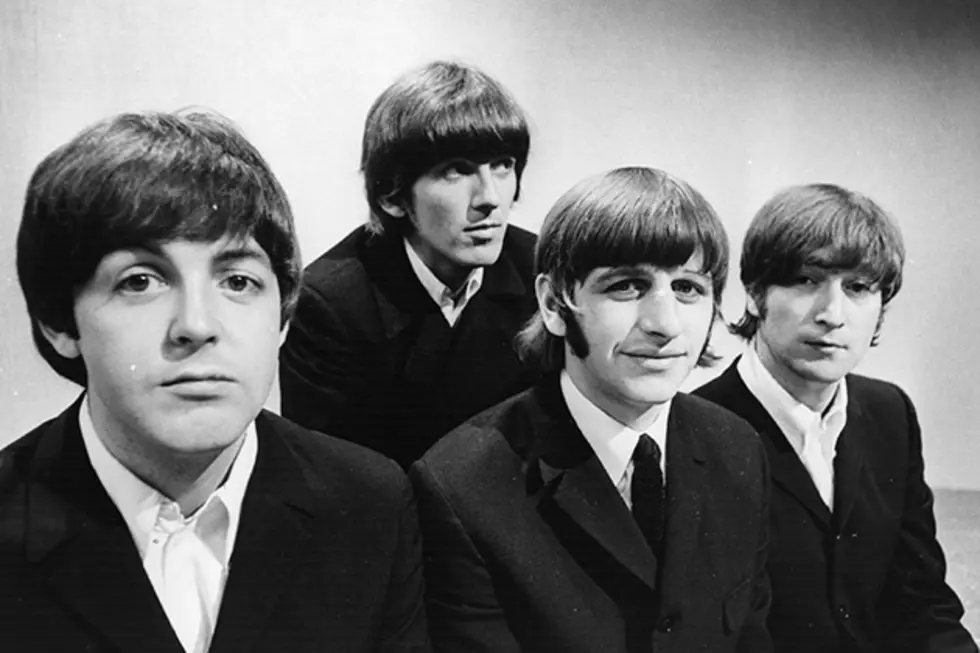 10 Beatles Songs That Changed Music
Central Press, Hulton Archive
Everyone knows how important the Beatles are in the history of music. Some Stones fans might disagree, but the Fab Four are where the idea of mega-star rock bands began. They were the first group to gain enormous fame on both sides of the Atlantic, and their charisma and amazing songs inspired thousands of bands to follow in their footsteps. Speaking of songs, the Beatles wrote and recorded tons of great ones, but at certain key moments in their career, they took their artistry a step further and created material that truly changed the face of music. That's what this list is all about. Now turn off your mind, relax and float downstream.
10

'Tomorrow Never Knows'

From 'Revolver'

It could be argued 'Tomorrow Never Knows' is the seed from which EDM -- or any type of beat-driven dance music played in clubs -- grew. The song features a proto-hip-hop beat and sicker-than-sick backwards tape-loop effect. This is the spacey Beatles at their best.

9

'Strawberry Fields Forever'

From 1967 Single

'Strawberry Fields Forever' pretty much launched the psychedelic rock movement. It also introduced listeners to the Mellotron, a primitive synthesizer whose hollow sound falls somewhere between an electric organ and a stringed instrument. The Beatles didn't invent the thing, but by using one here, they paved the way for numerous '70s prog rockers, German electronic experimentalists, '80s New Wavers and more.

8

'Michelle'

From 'Rubber Soul'

'Michelle' may mark the first time a rock band decided to honor the greatness that is noiry French pop -- and the Beatles completely nailed it. From its phrasing to its chord changes, this 'Rubber Soul' cut is the perfect French kiss. And with its French lyrics, it's long made for great baby-making music on both sides of the Atlantic.

7

'Helter Skelter'

From the White Album

'Helter Skelter' made our 'Heaviest Beatles Songs' list -- and for good reason. There's something so sinister about that machine-gun electric guitar riff in the beginning and the way the song proceeds to take off like a jumbo jet. And of course, there's that great walk-down riff after McCartney sings the titular words in the chorus. This is the sound of molten metal, and while bands like Black Sabbath would take it to new levels of darkness, 'Helter Skelter' is a sonic beheading compared to every other Beatles track.

6

'Norwegian Wood (This Bird Has Flown)'

From 'Rubber Soul'

By George! What a fantastic way to introduce Western audiences to the East's awesomest stringed instrument, the sitar, which doubles the acoustic guitar riff the second time through in the intro and throughout the rest of the song. The sitar is known for its tinniness in the high range and droning bass-like tone in the bottom range. Mad props must be given to Ravi Shankar for making it a thing before George Harrison got his hands on one.

5

'Eleanor Rigby'

From 1966 Single

The amazing, groundbreaking thing about the Beatles' 'Eleanor Rigby' is that it's not a "live band" song. It's very much a studio creation, and it's so traditional and orchestral that it's hard to fit into a single genre. Is it rock? Is it classical? Plus, its eerie lyrics tell such a stark story of aging, emptiness, loneliness and death that it's almost as if it were written by Edgar Allan Poe or H.P. Lovecraft.

4

'Sgt. Pepper's Lonely Hearts Club Band'

From 'Sgt. Pepper's Lonely Hearts Club Band'

The lead track on the Beatles' head-turning 1967 opus of the same name, 'Sgt. Pepper's' was undoubtedly the first song Brian Wilson heard when he put his vinyl copy down on his turntable. The album would cause him to suffer a nervous breakdown, and while this song is amazing, the profound effect it -- and the other tunes that follow -- had on the Beach Boys mastermind makes you think hard about its place in rock history. (Side note: The Beach Boys' 'Pet Sounds' is one of Paul McCartney's favorite albums of all time, though he's seemingly managed to play it without losing his grip on sanity.)

3

'Yesterday'

From 1965 Single

This was the world's introduction to the sensitive, serious side of the Beatles' songwriting. The ballad features Paul McCartney's acoustic guitar and a plush string arrangement, and it's from here, you might say, that all great '70s lighter-wavers and '80s power ballads spring. Not bad for the bassist in the band.

2

'A Hard Day's Night'

From 'A Hard Day's Night'

The "impossible" chord that opens the song has caused endless amounts of excitement for music dorks around the world. It's one of those game-changing moments where expert guitarists and non-musically-inclined listeners alike can appreciate what's going on. Not to mention the song's awesome melody, cowbell accompaniment (more of which we always need) and 12-string Rickenbacker guitar solo. The latter may have led Roger McGuinn to start using said brand of six-string, which would define the sound of the Byrds.

1

'I Want to Hold Your Hand'

From 1963 Single

It would be just plain irresponsible to not include this song -- the one the band played first on 'Ed Sullivan' in front of an unimaginable 73 million people. The 'Sullivan' performance raises a key question: Why don't young female fans scream, cry and pull out their hair at shows anymore? Answer: Because no modern songs are this good.