5 Best Christmas Lights Displays in Rock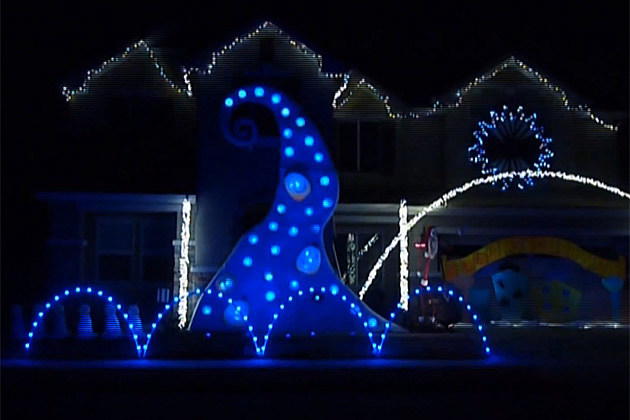 YouTube
Outdoor Christmas lights displays set to rock music have become national phenomena. It all goes back to an enterprising electrician who hooked up thousands of lights outside his suburban Ohio home and synchronized them to 'Wizards in Winter' by the symphonic metal band Trans-Siberian Orchestra. (It was later immortalized in a Miller Lite commercial.) These days, such holiday spectacles can be found all over the place, and as our list of the 5 Best Christmas Lights Displays in Rock attests, the music featured is often much more eclectic -- and at times inappropriate. Check out the following videos and bask in the blinking, multicolored seasonal glory!


A live version of the U2 hit 'Walk On' from the band's 2003 release, 'U2 Go Home: Live from Slane Castle, Ireland,' gets a stunning visual accompaniment in this, the first entry on our 5 Best Christmas Lights Displays in Rock list. It has double the impact, thanks to the mirror image created by the frozen pond in the foreground.


Skrillex, 'First of the Year (Equinox)'
Saint Nick goes dubstep?! Skrillex gets in on the action in this clip, which features the lead single from the electronic producer's third EP, 'More Monsters and Sprites.' The throbbing dubstep bass and 'Nightmare Before Christmas'-themed lights are perfectly synched, bringing the holiday rave scene to somebody's front yard.


Tom Waits, 'God's Away On Business'
Tom Waits is one of 10 artists featured in this, the aptly-titled "Increasingly Inappropriate Christmas Light Displays" compilation. The Pixies, Weezer, the Dismemberment Plan, Elliott Smith and the Decemberists are among the other acts whose tunes show up in the clip, which features a variety of eye-popping lights displays accompanied by music deemed inappropriate for such festivities.


Deadmau5, 'Professional Griefers'
There's nothing quite like a little more dubstep to get you in the holiday spirit, right? The next entry on our list of the 5 Best Christmas Lights Displays in Rock features an early instrumental version of Deadmau5's 'Professional Griefers,' a tune later featured on the Canadian DJ's 2012 release 'Album Title Goes Here' with vocals from Gerard Way from My Chemical Romance.


Coldplay, 'Christmas Lights'
Of course, somebody had to use Coldplay's sublime piano ballad 'Christmas Lights' in a Christmas lights holiday display! "Oh they flicker and they float," Chris Martin sings along to hundreds of colorful flashing bulbs in the shape of trees, stars, circles and snowmen, as cars cruise by taking it all in. Merry Christmas!