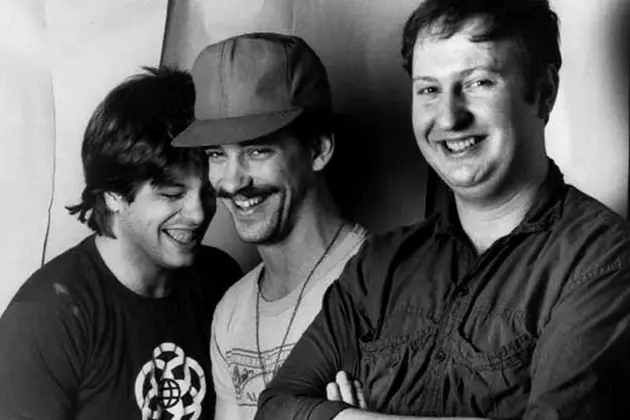 Warner Brothers
Rising out of '80s American post-punk, Husker Du remain something of a mind-boggling phenomenon. These three Midwestern everymen tried on every hat in the underground department -- from art rock to blinding hardcore -- and after falling into their own singular sound. Then they somehow caught the attention of the major labels in a pre-Nirvana world. Through all of those ups and downs, they put out some of the era's most memorable music. Here's a list of the 10 Best Husker Du Songs.
10

'Turn It Around'

From: 'Warehouse: Songs and Stories' (1987)

A highlight from the band's final studio release, "Turn it Around" is a quintessential example of guitarist and vocalist Bob Mould's pop songcraft. It's simultaneously dreamy, crunchy and chiming -- perfect, in other words.

9

'Pink Turns to Blue'

From: 'Zen Arcade' (1984)

When Husker Du dropped a double-LP concept album in the summer of 1984, the punk community was utterly confused. Isn't this the stuff they were against? Those who kept an open mind, however, found Zen Arcade to be an absolutely stunning statement -- one that would take the band out of the confining punk ghetto. The No. 9 on our list of the Best Husker Du Songs is one of the most melancholy tracks, a morose yet sonically sharp tale of finding a loved one dead of an overdose.

8

'Do You Remember'

From: 'Everything Falls Apart and More' (1993)

When the band's full-length debut was re-issued on compact disc back in '93, this was one of the bonus tracks tacked onto the end. "Do You Remember" is a basement recording from early in Husker Du's career, and it serves as the most obvious Ramones bite in their repertoire. It's also a kick-ass tune.

7

'Everything Falls Apart'

From: 'Everything Falls Apart' (1983)

This title track to Husker Du's first full-length is a perfect head-bopper -- at least up until the chorus, when Mould's guitar sound corrodes and shimmers with amazing glory. Everything Falls Apart followed their initial meeting with the renowned punk producer Spot, with whom they'd work until the band flew the indie coop to sign with Warner Bros.

6

'Celebrated Summer'

From: 'New Day Rising' (1985)

"Celebrated Summer," an obvious jewel from this album, is a canny reflection on youth. The track's acoustic dips mirror the ups and downs of growing up, even as they signal Husker Du's career move away fleet, hardcore punk toward more melodic sounds.

5

'Real World'

From: 'Metal Circus' EP (1983)

Released in the fall of 1983, this eight-song EP is the moment when Husker Du finally came into their own. Gone were the goony 30-second hardcore songs, and in their place crisp, hook-laden tracks whose power no one could deny. Lyrically, this opening track plays like a retort to the more politically motivated punk bands of the time. Musically, it's simply blistering.

4

'Hate Paper Doll'

From: 'Flip Your Wig' (1985)

"Hate Paper Doll," from their final album for the revolutionary indie label SST Records, plays like a covert homage to the British Invasion sound of the '60s. Since Mould talked in interviews around this time about his love for the Dave Clark Five, it makes sense.

3

'In a Free Land'

From: 'In a Free Land' EP (1982)

This title track from the band's second EP was a sure indication of where they would be heading in the coming years. Here, Husker Du establish a signature sound, combining the earnest squall of the nascent American hardcore scene with their own songwriting style. It was released, appropriately enough, on New Alliance Records – the vanity label of another group of unique '80s-era American punk pioneers, the Minutemen.

2

'Don't Want to Know If You Are Lonely'

From: 'Candy Apple Grey' (1986)

The breakout, Grant Hart-written track from Husker Du's major-label debut was everything it should have been: a driving, hooky-as-hell, heartfelt tune. "Don't Want to Know If You Are Lonely" is the ultimate kiss-off song for a relationship gone sour.

1

'It's Not Funny Anymore'

From: 'Metal Circus' EP (1983)

Topping our list of the 10 Best Husker Du Songs, "It's Not Funny Anymore" stands as one of punk's ultimate zen statements. With its canny blending of hardcore speed and power-pop hooks, this Grant Hart song also works as a two-minute summation of Husker Du's musical philosophy.