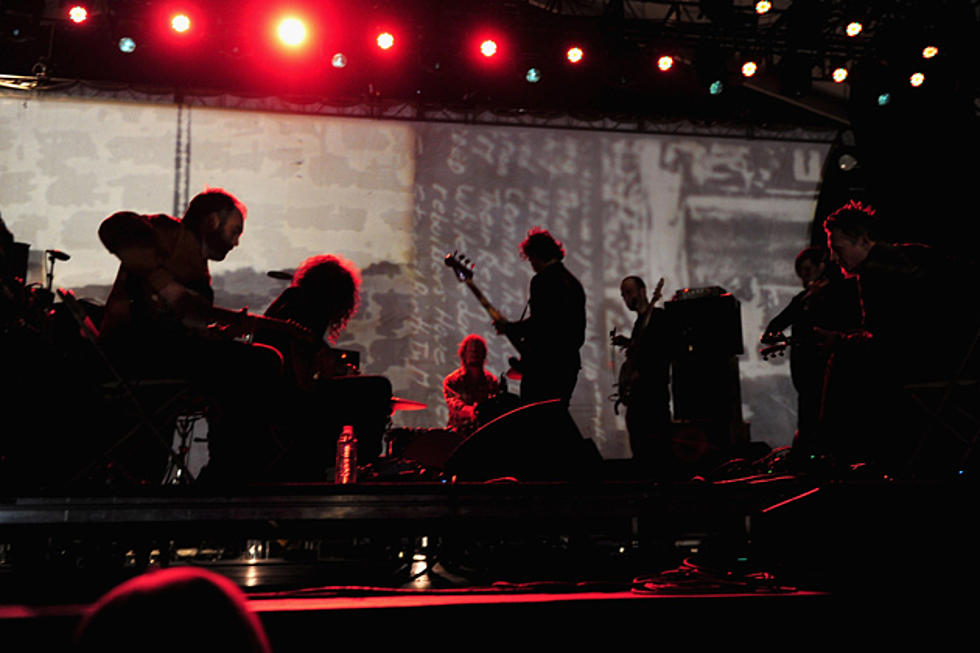 Michael Buckner, Getty Images
Post-rock is an unwieldy genre. The descriptor covers a broad swath of nearly 25 years of music that's manifested itself into skewed visions of jazz fusion, classical and even dance music. The things that tie post-rock artists together are more general musical themes -- a sense of naturalistic grandeur, loud-soft dynamics, lengthy track times, movement-based songwriting, pervasive builds and crescendos -- rather than any one specific sound. With such a wide variety to choose from, we thought we'd take a look at the best the genre has to offer and make this list of the 10 Best Post-Rock Albums.
10

Gregor Samsa qualifies as one of the lesser known post-rock acts, but their 2006 debut full-length, '55:12,' is a high-water mark for the genre. Combining the atmospheric, guitar-driven bombast of Godspeed You! Black Emperor and the slow-core rhythms and boy-girl vocal dynamic of Low, the group reaches some of the highest highs the genre has ever seen. 'Young and Old' is a post-rock anthem up their with Godspeed's 'Moya.'

9

'The Earth Is Not a Cold Dead Place'

Explosions In the Sky

When folks reference post-rock, they usually just mean Explosions In the Sky. The Austin instrumental rock outfit weave sprawling, towering sonic landscapes with a three-guitar attack, and their 2003 album 'The Earth Is Not a Cold Dead Place' is where they perfected their approach.

8

'The Besnard Lakes Are The Dark Horse'

The Besnard Lakes

The Besnard Lakes hail from Montreal and have even collaborated with members of Godspeed You! Black Emperor. '...Are The Dark Horse,' next up on our list of the 10 Best Post-Rock Albums, is a detailed tapestry of influences ranging from Brian Wilson to spy-movie music to psych rock to prog. It coheres behind a beautiful shoegaze-y post-rock sensibility and culminates into some of most unique and beautiful rock music imaginable.

7

'Tarot Sport'

F--- Buttons

There isn't a guitar in sight on U.K. act F--- Button's 2009 masterwork, 'Tarot Sport,' but its post-rock leanings are undeniable. The record is all build, the duo layering distorted and heavenly synth melodies over four-to-the-floor tribal rhythms in a constant race toward transcendence. Call this post-rock's foray into techno -- or vice versa.

6

Scottish five-piece Mogwai are most often credited with inventing the prototypical post-rock sound: huge guitar-driven instrumental rock worksites with a special affection for soft-loud crescendos. Mogwai's debut, 'Young Team,' No. 5 on our list of the 10 Best Post-Rock Albums, finds the outfit at its purest and most powerful, and even after being stripped for parts by every post-rock act that came after it, the record is still a revelation.

5

Sigur Ros' third LP, '( ),' trades in the sweeping, glacial landscapes of their breakthrough sophomore album, 'Agaetis Bryjun,' and constructs a records that's all aching tension and release. '( )' might be the Icelandic outfit's quietest release (though it doesn't lack its share of huge moments), but it's also their most emotionally dense.

4

'Lift Your Skinny Fists Like Antenna to Heaven'

'Godspeed You! Black Emperor"

Godspeed You! Black Emperor's second full-length is a stunner. The Montreal collective perfected their narrative approach to include four twenty-minute tracks, each with its own sprawling story arc. The group weaves vocal sample ambiance and post-rock bombast seamlessly and beautifully in their most elegant release.

3

'Spirit Of Eden'

Talk Talk

Talk Talk's 'Spirit of Eden' might be a point of contention on this list for some, but it's hard to argue the new wave-turned-art rock outfit didn't invent post-rock out of thin air on side one of this album. Combining blues, gospel, jazz, rock and classical into a single cohesive vision, 'Spirit of Eden' remains one of the most fiercely original musical documents of the last 50 years, and it's no wonder it's often cited as post-rock's birthplace.

2

'Agaetis Byrjun'

Sigur Ros

'Agaetis Bryjun' just might just be the most gorgeous album ever recorded. Sigur Ros set the bar for transcendent ambient rock with their sophomore record, layering frontman Jonsi's heavenly falsetto atop organ, bowed guitar, and strings to create music that's almost otherworldly in its beauty. There's nothing quite like the beginning of 'Svefn-G-Englar.' It's the kind of album that'll change you.

1

'F#A#∞'

Godspeed You! Black Emperor

Speaking of albums that'll change you, Godspeed You! Black Emperor's 'F#A#∞" is a world unto itself. The Montreal band's debut is a nightmare vision of the apocalypse that melds country, classical, and punk in equal parts. Godspeed would go onto refine their approach with subsequent releases, but they never truly recaptured the raw emotion and viceral atmosphere of 'F#A#∞,' No. 1 on our list of the 10 Best Post-Rock Albums.