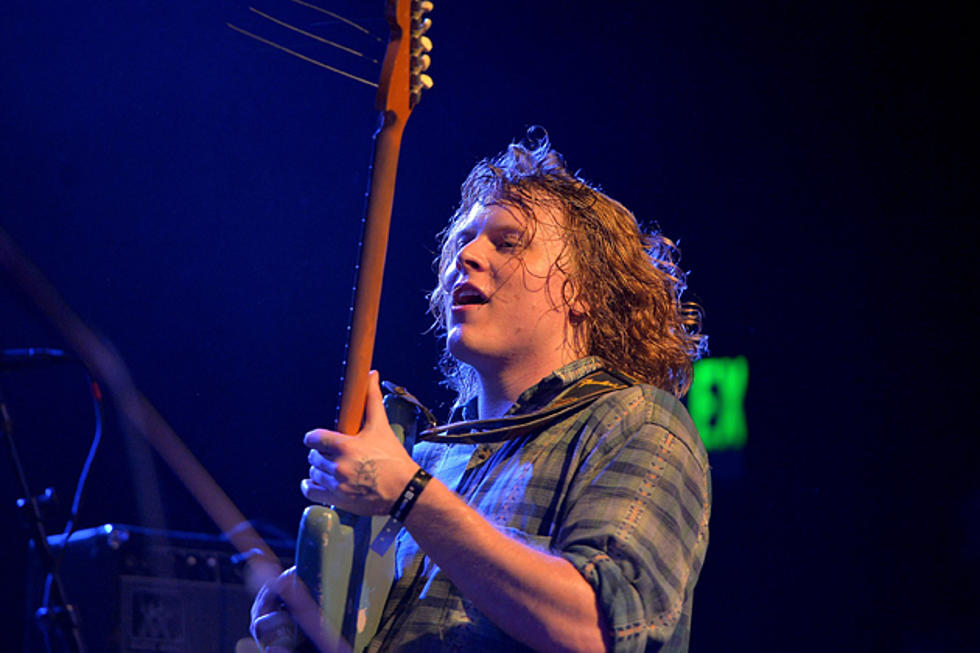 Katie Stratton, Getty Images
San Francisco garage rocker Ty Segall has only been putting out music under his own name for five years now, but he's already released enough material to rival artists who've been at it a couple decades. Segall's catalog spans every facet of garage rock -- from the minimalistic bash-rock of his early singles to the grungy glam of 'Goodbye Bread' to the full-band apocalypse of 'Slaughterhouse.' There are a lot of songs to choose from, and given that he's got a couple more full-lengths on their way, we thought it'd be a good time to make this list of the 10 Best Ty Segall Songs.
10

'Son Of Sam'

'Singles 2007-2010'

From his early dirt-rock days, when Ty was manning guitar and drum duties simultaneously, 'Son Of Sam,' first up on our list of the Best Ty Segall songs, is a mean, raspy take on bare-bones rock 'n' roll. Nothing but chunky power chords and stomping kick drum, the song showcases Ty's knack for build-release songwriting and the madman energy that carries his music.

9

'Tell Me What's Inside Your Heart'

'Slaughterhouse' (as Ty Segall Band)

'Slaughterhouse' is Ty's first recording with a full band behind him in the studio, and the results are stunning. 'What's Inside Your Head' is a relentless downhill plunge with a catchy hook and some acrobatic guitar arpeggios.

8

'You Won't See Me'

'Sleigh Ride/You Won't See Me' 7" (as Fuzz)

It's telling there are two tracks on this list released within the last few months. Ty Segall only seems to getter better with each subsequent release. Fuzz, Ty's collaboration with his touring guitarist Charles Moonhart, hasn't even put out a full album yet, but it's already proving to be Segall's most promising project to date. The b-side from the group's second vinyl-only release, 'You Won't See Me' is full of blues-y proto-metal riffing, jazzy drumming from Segall, and a climatic second half.

7

'I Wear Black'

'Reverse Shark Attack' (w/ Mikal Cronin)

'I Wear Black,' No. 7 on our list of the 10 Best Ty Segall Songs, is an acid-washed take on Black Monk-esque surf rock, with it's bamboozled delay manipulation and stone-faced, baritone delivery of the title: "I-Wear-Black." Off a collaborative album with fellow San Franciscan (and Ty's touring bassist) Mikal Cronin, 'I Wear Black' -- and 'Reverse Shark Attack' as a whole -- explores a primordial rock 'n' roll sound that Ty hasn't really revisited since.

6

'Love Fuzz' is Ty Segall doing his sexiest impression of Marc Bolan. The track bounces atop a sensuous guitar riff and some falsetto vocals with intermittent guitar solos. It's Segall's take on lovers rock and proof he's got more than enough sensitivity in his quiver.

5

'My Sunshine' might be the first glimpse of Ty at full power. From Ty's breakout record, 'Melted,' the track mixes all the elements that have brought the musician all his current glory: punk volume, hook-y riffage and a blown-out vocal centerpiece ("My sun-SHIIINE").

4

'My Head Explodes'

'Goodbye Bread'

'My Head Explodes' is still Ty's most concisely written song, what with its hang-back verses full of chunky acoustic guitar licks. It all builds into arguably Ty's most memorable chorus to date.

3

'Fuzz's Fourth Dream'

'This Time I Got A Reason/Fuzz's Fourth Dream' (as Fuzz)

While the stuff Ty releases under his own name owes some of its success to his pop-music leanings, Segall and Moonhart, together as Fuzz, seem content to let the guitars do the talking. 'Fuzz's Fourth Dream,' third on our list of the Best Ty Segall Songs, is a delicious trek through loud-soft riffage with one of the most diabolically silky guitar hooks in recent memory. The kicker, though, is the tempo downgrade and following stop-start jam near the middle that ultimately explodes into the track's centerpiece build again. Brilliant stuff.

2

'You're The Doctor'

'Twins'

'You're The Doctor' is two minutes of clangorous rock freakout. With its light-speed guitar playing and acrobatic arpeggio hook, it's Ty's most chaotic meltdown to date. The whole thing devolves into a storm of feedback and skronking guitar. Segall hasn't looked back since.

1

'Wave Goodbye'

'Slaughterhouse' (as Ty Segall Band)

'Wave Goodbye,' No. 1 on our list of the 10 Best Ty Segall Songs, makes the case for why 'Slaughterhouse' remains Ty's most powerful album. The live in studio treatment -- as opposed to Segall recording all the instruments himself -- just suits the San Francisco native, and 'Wave Goodbye' is the record's strongest track. We get all of Ty's madman vocal theatrics atop barely-held-together stoner-rock-turned-punk freakout, and it's glorious.