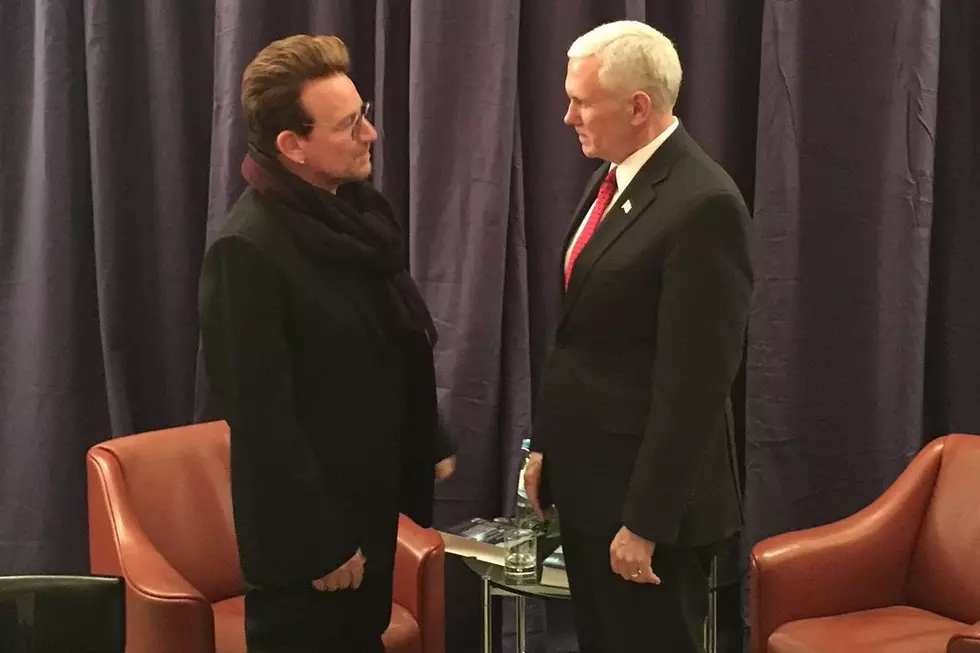 Bono Criticized for Ignoring Mike Pence's Controversial Past Public Health Policy
Twitter @VP
An ideological divide shouldn't be enough to keep us from praising good works done by someone on the opposite side of the aisle, but neither should we be afraid to engage those we disagree with in an honest discussion of the issues. It's a tricky balance attempted by anyone involved in public policy — and critics say Bono fell on the wrong side during his recent meeting with Vice President Mike Pence.
The U2 frontman, long one of the rock world's most visible and financially successful activist-philanthropists, met up with Pence at the Munich Security Conference over the weekend of Feb. 18-19, and as Uproxx notes, he took the opportunity to express his admiration for Pence's support of the 2003 Emergency Plan for AIDS Relief while Pence was governor of Indiana. Of course, that wasn't the only public health policy Pence acted on while he was in office, and a number of fans and pundits have openly challenged Bono for ignoring the less laudable parts of his political past.
Uproxx's report, Pence cut funding to the sole HIV testing facility in an Indiana county — where the disease subsequently surged. As a result, some hold Pence directly responsible for the illnesses and deaths of thousands of Indiana residents — far from the public health paragon you might think after watching their meeting.
With all the work Bono does to try and raise money for charitable initiatives and reduce debt owed by underdeveloped nations, there are bound to be times when it's more prudent to stress the areas where he agrees with various politicians — but it's just as reasonable to expect public criticism when you're working in a public sphere, something Bono must be more than well-acquainted with by now.
U2 Albums Ranked in Order of Awesomeness