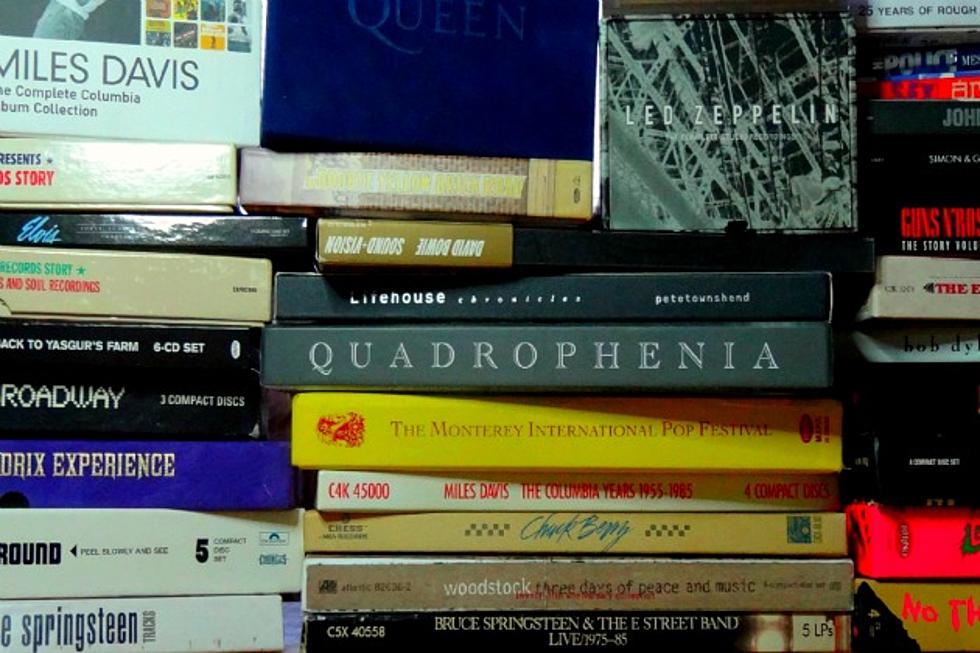 Box Sets Aren't Meant For You (Except When They Are)
James Stafford, Diffuser
Back in August 1931, record executive and talent manager Ralph Peer wrote to his client, the "Singing Brakeman," Jimmie Rodgers:
Victor is preparing a special Jimmie Rodgers album which the dealer can give away with every sale of ten Rodgers records or some such scheme. The album will be very attractive, containing a special article on your life history.
In his book, Ralph Peer and the Making of Popular Roots Music, author Barry Mazor goes on to say America's Blue Yodeler, "as the handsome if record-free album jacket was called, marked the first arrival of the idea of having albums by a popular artist, years ahead of its time[...]"
This was the era of 78RPM records, each of which usually contained a single song on each side, so gathering "ten Rodgers records or some such" into a "photo album-like leatherette cover ... with intimate liner note biographical information" quite literally marks the birth of the popular album. (The same packaging concept was already used by Victor for longer classical works and for the wildly popular operatic tenor, Enrico Caruso.)
It would be a few more years before we dropped the speed to 33 and 1/3, thereby making space on those magical black platters for what we now know as an album, but Peer and the folks in Victor's marketing department planted the seed for something even bigger back in '31: the box set. Such was the popularity of Jimmie Rodgers in the early '30s that the promise of some liner notes and a leatherette cover were enough to keep the fans coming into the stores.
Let's jump ahead about 50 years. The current holder of the Jimmie Rodgers baton is one Bruce Springsteen, a globally popular musical storyteller coming off of the biggest album of his career. Born in the USA would eventually sell 30 million copies worldwide. (To put that in perspective, hit your thumb with a hammer. Now do that 29,999,999 more times. Thirty million is a lot; also, put some ice on that thumb.)
The safe bet in a situation like this is to release a safe follow-up -- Born in the USA 2: Electric Boogaloo or some such -- but Bruce fans are (like Rodgers fans were) a loyal bunch. Springsteen describes what happens next:
In November of '85 Jon Landau sent a four-song cassette of "Born in the USA," "Seeds," "The River" and "War" down to my house with a note attached saying he "thought we might have something here." Over the following months we listened to 10 years of tapes, the music did the talkin', and this album and its story began to emerge.
"This album" is Bruce Springsteen & the E Street Band Live/1975-85, five LPs of jaw-jutting, sweaty concert performances from the Boss. Also included: a 33-page booklet, handsomely illustrated and containing lyrics to the box set's songs, not to mention a reproduction of the handwritten note from Springsteen quoted above. The album, CD and cassette versions all were packaged in 12"x12" boxes, but the lettering on the boxes was either red, white or blue depending on the format -- catnip for collectors.
Released in November 1986, just in time for the holiday season, Live/1975-85 sold in the millions. It was the Ralph Peer/Victor marketing strategy all over again, but now in full color and spanning multiple formats. Bruce proved that if you package it they will come -- and the box set boom was on.
They were bulky beasts with price points far north of what a casual fan might be willing to pay, but for the diehards they were a steal. The opportunity to read the stories behind the songs, hear demos and studio outtakes, and thumb through rare photographs made box sets must-haves for record collectors.
The classic rockers got there first: Eric Clapton's Crossroads, Bob Dylan's Biograph and Rod Stewart's Storyteller rode in the wake of Springsteen's success. Chess Records put out an outstanding line of boxes in the late '80s and even won a Grammy for their Chuck Berry set.
By the end of the decade, David Bowie's Sound + Vision set a new standard for box sets that catered to true fans. Across six LPs or three CDs, this release featured demos, alternate takes and B-sides, including this German version of his classic "Heroes":
When the '90s dawned, Peer's great idea by way of Bruce turned a bit cynical. Led Zeppelin, a band that released nine studio albums during its career, released four boxes between 1990-1993. (In 2008 they released another: The Definitive Collection.) Much more interesting were genre-oriented boxes released by repackagers like Rhino. Both their No Thanks! The '70s Punk Rebellion and What It Is! Funky Soul and Rare Grooves are worthy of their superfluous exclamation points.
The current trend in box sets centers around neither genre nor career retrospective but rather specific albums. Tears for Fears have given the deluxe treatment to both The Hurting and Songs From the Big Chair, the latter weighing it at six CDs. Pink Floyd continue to re-release their catalog in budget-busting editions for obsessed completists. Elton John's five-CD Goodbye Yellow Brick Road 40th Anniversary Box includes nine popular artists (Ed Sheeran, Imelda May, Zac Brown, Fall Out Boy) covering that classic album's songs.
And so while we in the media continue to report on the inevitable death of physical media, any artist who attracts enthusiastic fans remains a candidate for a lavish box set. As I write this, I'm staring lovingly at my Miles Davis: The Complete Columbia Album Collection. I'm also shaking my head at the online auction prices for Insane Clown Posse's recently released The First Six which is, of course, a seven-disc set that's fetching prices not too far below the great Miles' 53-disc box.
I can shake my head all I want, but the simple truth is that  ICP didn't make The First Six for me any more than Victor made that very first Jimmie Rodgers album for fans of Enrico Caruso. It's a priceless treasure to the Juggalos, and that's why the idea of the box set remains a viable one even after 80 years.
But seriously, Led Zeppelin, enough already.