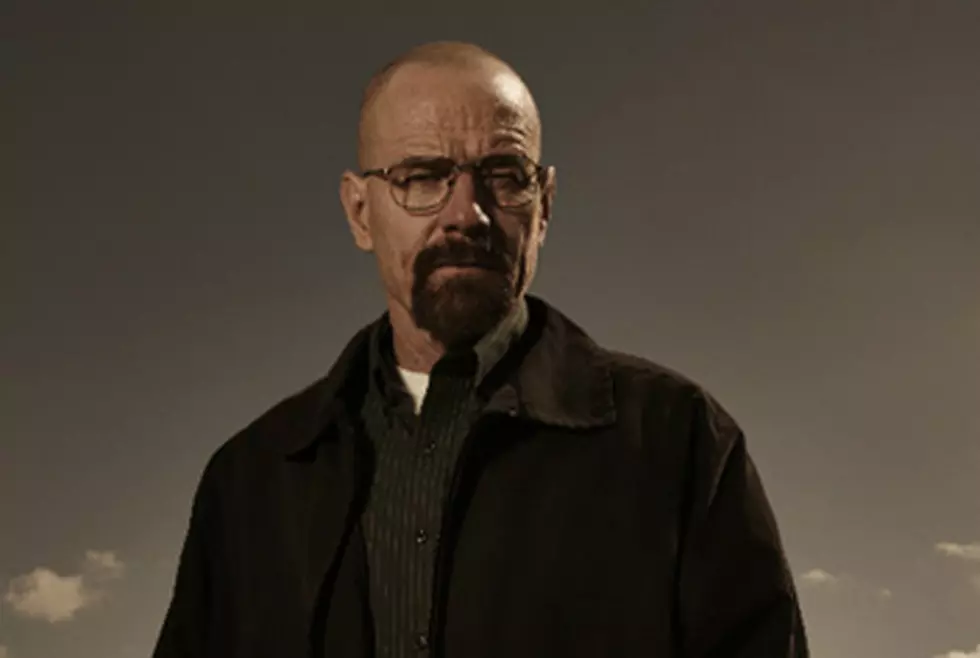 'Breaking Bad' Playlist: Songs Walter White Might Have on His iPod
AMC
AMC's 'Breaking Bad' has come a long way since its first season in 2008, and that's evident in the utter transformation of the show's antihero main character, Walter White (portrayed by Bryan Cranston). The show has followed Walt as he morphed from genial high school chemistry teacher, husband, father and general pushover with lung cancer to a morally bankrupt crystal-meth-production ringleader going by the name Heisenberg. To mark the upcoming Aug. 11 premiere of the second-half of 'Breaking Bad''s fifth and final season, we gathered some songs that we think Walter White might relate to -- you know, were he still capable of feeling emotions. Check them out below.
'Just Be Simple' – Songs: Ohia

'The Magnolia Electric Co.' (2003)

Now that we're in season 5, it's been a long time since Walter has wanted to be "simple again" — the central plea in this mournful tune by Songs: Ohia. Once Walt had more than enough money to pay for his medical bills and support his family, there were a couple of times when he attempted to resign from his booming meth business. However, White seems too far gone to go back now, so perhaps the more pertinent line of the song is when the late Jason Molina sings, "And everything you hated me for, / honey, there was so much more, / I just didn't get busted." It's a sentiment that Walt could very well convey to his wife, Skyler, as she may know some of his secrets, but in reality, she doesn't know half of the terrible things he's done.

'Ego Tripping at the Gates of Hell' – The Flaming Lips

'Yoshimi Battles the Pink Robots' (2002)

In Walt's transformation from likable chemistry teacher to heartless drug lord, he's developed an uncompromising and merciless attitude. It's gotten to the point where if something gets in the way of his ambitions, Walt has no problem putting himself or -- more likely those close to him -- in danger. He's one of the most egomaniacal characters out there, so maybe this Flaming Lips song would be found on his iPod.

'Gangsta' – Tune-Yards

'Whokill' (2011)

So why is Walt still in the meth business anyway? He has more money than he knows what to do with, but instead of quitting, his ambition and actions have become even more insidious. One plausible explanation is that Walt is just one power-hungry dude. He's consistently gained this power through fear and intimidation, so Walt might like this Tune-Yards jam that proclaims, "Ain't never move into my hood, / 'cause danger is crawling out the wood."

'Wolf Like Me' – TV On the Radio

'Return to Cookie Mountain' (2006)

Since Walt was told his lung cancer is in remission, he no longer has that or supporting his family as somewhat morally justifiable excuses for his behavior. Therefore, he must just get some sort of twisted thrill from his life as Heisenberg. We think he might sing, "But god, I like it," in time with this TV on the Radio song.

'Guest Room' – The National

'Boxer' (2007)

Upon discovering his double life as a meth cook, Skyler told Walt to leave, but he refused, insisting it's his home, too. Now, she runs the books for their cover business and is equally entangled in the mess. Skyler once even called herself Walt's hostage, and in that vein, he might relate to this song by the National, in which Matt Beringer gloomily croons, "Just tie your woman to your wrist. / Give her room to tie the other."

'For Real' – Okkervil River

'Black Sheep Boy' (2005)

Without the justifications he had back in the first season, Walt may simply enjoy the violence of his crimes, and it that's the case, he might also like listening to Okkervil River frontman Will Sheff howl for blood, knives and guns in the opening of 'For Real.'

'Where Is My Mind?' – Pixies

'Surfer Rosa' (1988)

'Breaking Bad' creator Vince Gilligan has said in interviews that his intention with the show was to turn a protagonist into an antagonist. Well, our hats are off to Gilligan, because Walt really doesn't have any redeeming qualities left. He broke bad and then some, leaving viewers wondering: Where is his mind?

'Seven Nation Army' – The White Stripes

'Elephant' (2003)

Walt seems to have every intention of taking over the Southwest meth market, and he's not taking any prisoners on his road to the top. So, for a guy as bad as Walt, we think he just needs some equally bad (in the best way possible) anthems. 'Seven Nation Army' by the White Stripes fits those requirements, and we can imagine Walt singing along with Jack White, "I'm gonna fight 'em off, / a seven nation army couldn't hold me back."

'Combat Baby' – Metric

'Old World Underground, Where Are You Now?' (2003)

Walt is definitely on a quest for power, but we also wonder if he was just bored with his ordinary life as a husband, father and teacher. After all, there are a lot of above-the-board ways to make some extra cash other than cooking meth. If you buy that theory, then you might agree that Walt would dig this Metric song, which finds frontwoman Emily Haines singing of violence as a means to "fight off the lethargy."

'Gimme Danger' – Iggy and the Stooges

'Raw Power' (1973)

When Skyler asks Walt to admit that he has put himself in danger by succumbing to his life as Heisenberg, it causes Walt to deliver one of the most famous 'Breaking Bad' lines to date, "I am the danger." That alone makes us think Walt needs to put this Iggy Pop classic on his iPod.