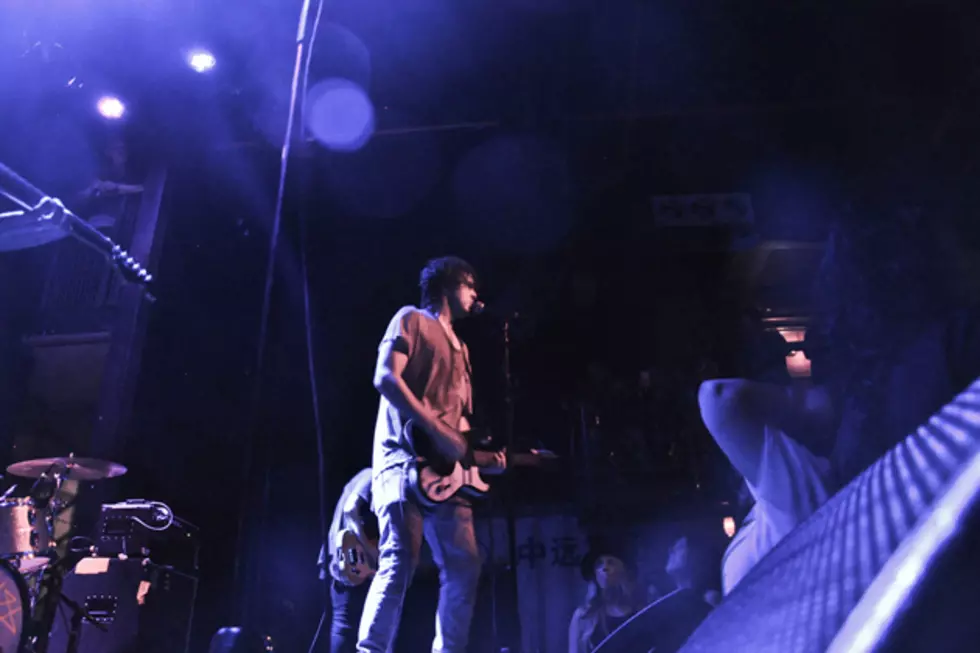 Broncho Get Hot and Heavy at New York City's Rough Trade
Emily Tan, Diffuser
The weather was less than stellar with the off and on showers in New York City on Saturday night (May 16), but that didn't stop Broncho from putting on a high energy set.
Winstons and Strange Faces kicked off the show as the night's openers, but even with the crowd's support, it was clear everyone was at Rough Trade in Brooklyn for one reason: Broncho. The Oklahoma rockers started their set with "Kurt," "It's On" and "What," off their latest album, Just Enough Hip to Be a Woman, which hit the streets in 2014 via Dine Alone Records. And from the first guitar riff and drum beat, the fans went wild and danced all over the floor of the venue (which, by the way, is part of the biggest record store in the Big Apple).
As they went through their set -- which felt like a sprint opposed to a marathon -- each song seemed to turn up the temperature just a little bit more. And at one point, it seemed that frontman Ryan Lindsey was dripping in sweat ... but hardly anyone noticed because they were experiencing the same thing. The gig took another turn when one fan managed to hop on stage and not only dance around while the band played but also even took the mic away from Lindsey to belt out herself. Unlike other shows that would probably have involved security, Broncho continued to do what they were doing, unfazed by what just happened.
After the Brooklyn show, Broncho will be taking a little break before heading to Sasquatch! They will then continue their summer tour beginning June 5 in Dallas; you can find all of Broncho's tour dates here.
Check out our exclusive photos and the setlist from Broncho's show below:
Broncho -- New York City's Rough Trade
Broncho -- Setlist, May 16, 2015
"Kurt"
"It's On"
"What"
"Deena"
"Stay Loose"
"NC-17"
"I'm Gonna Find Out Where He's At"
"Stop Tricking"
"Try Me Out"
"I Don't Really Want to Be Social"
"Pyschiatrist"
"Taj Mahal"
"Losers"
"Record Store"
"Class Historian"