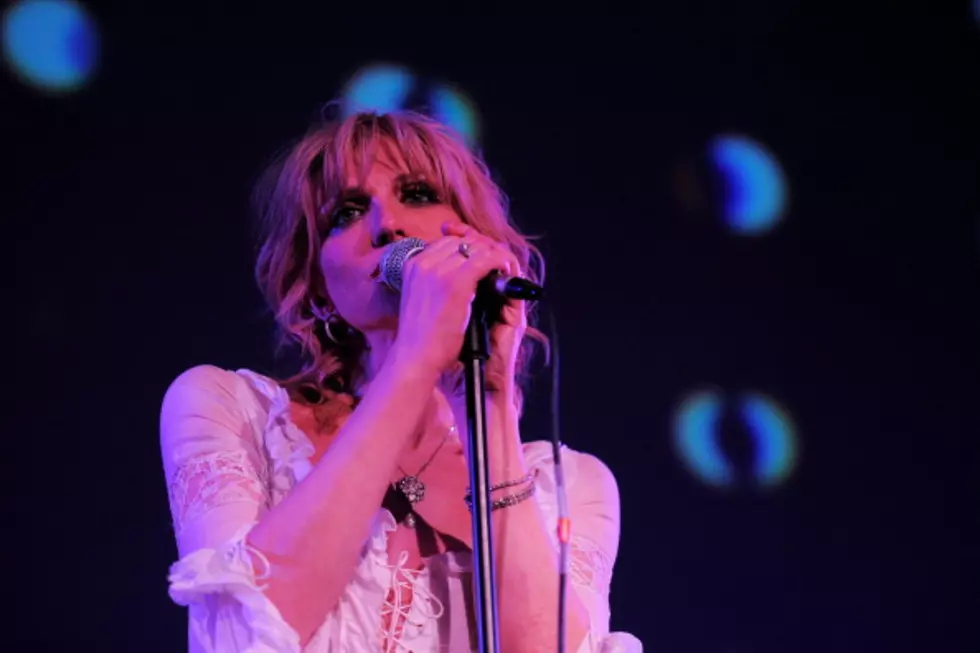 Courtney Love's Autobiography: 6 Questions We Hope Her Book Answers
Jemal Countess, Getty
For someone who tends to put every passing thought on Twitter for the world to read, Courtney Love somehow manages to remain a bit of an enigma, which is why the prospect of her forthcoming tell-all book is so enticing. From her "rocky relationship with her hippy parents," as an Amazon product description puts it, to the time she worked as a stripper, as well as her battles with drugs, marriage to Kurt Cobain, relationship with her daughter and topsy-turvy musical career, there's plenty of material for Love to cover in an autobiography. There's probably enough for a trilogy, and we can't wait to find out what secrets she's been holding back over the years.
Despite initial rumors the book would hit shelves on Dec. 15, an official release date has yet to be confirmed, which leaves us wondering when (if ever) it will be made available, and what Love will cover in it. Below are six key issues we hope to see addressed in the book. Then again, whatever she decides to write about will likely be well worth the read.
Will 2014 see a Hole reunion?

Had we asked this question a month ago, we'd probably think a Hole reunion was a long shot. But last week, Courtney Love tweeted a picture of herself with Hole lead guitarist Eric Erlandson, along with the message "2014 going to be a very interesting year xc." She also tagged bassist Melissa Auf Der Maur and the band's former manager Peter Mensch. Considering that less than a year ago, Love accused Erlandson of stealing 74 guitars -- including 18 of Kurt Cobain's -- from her storage and told the 'Opie and Anthony' show that she'd "never take Eric back" in the band, this is certainly a good sign. Of course, we may very well hear about a reunion prior to the release of the book, but we'd enjoy reading about how it all happened.

What's the beef with Dave Grohl?

There are few people Love seems to despise more than Dave Grohl, and she definitely makes no attempt to hide it from the world. In 2012, she accused Grohl of trying to seduce her daughter, Frances Bean Cobain (and later apologized via Twitter for believing "the gossip"), and complained about his allowing 'Smells Like Teen Spirit' to be used in 'The Muppets' movie. And then she called him an "a--hole" for forming Sirvana (which she called "hilarious") with Paul McCartney, claiming it was done purely for financial gain. And that's just scraping the surface of the feud. But maybe she'll use this book to finally clear the air rather than simply slag him off. Maybe.

How are things with Frances Bean?

Another tumultuous relationship in Love's life has been with her daughter, Frances Bean. Of course, a great deal has probably been exaggerated by the media. For instance, in 2012, it was reported that Frances Bean had accused her mother of killing their cat as a result of her drug addiction. Love, meanwhile, claimed a mountain lion had offed the feline and called the story "trash." That same year, there was talk of Frances Bean taking out a restraining order against her mother. But recently, Love has said she's started talking with her daughter again, so it sounds like things are working out. Or so we hope. We'd really like to find out whether they've been able to mend their broken relationship.

What's the deal with her social media defamation case?

In 2010, Love posted some tweets about her former lawyer Rhonda Holmes, claiming that she had been "bought off" after "they got to her" regarding the management of Kurt Cobain's estate. That particular case is set to go to trial this month, so if the book is still in the process of being written, it will certainly make for interesting reading material, depending on what she can legally reveal. Also, while on the subject of legal troubles, the singer reportedly owes the IRS more than $260,000 in unpaid back taxes, which could make for an equally interesting chapter.

Vittorio Zunino Celotto, Getty

Vittorio Zunino Celotto, Getty

Can we expect more artwork?

In 2012, Love launched her first ever art show, 'And She's Not Even Pretty,' in New York. Featuring more than 45 drawings -- done in pastel, watercolor and colored pencil -- along with poetry excerpts and lyrics, the show included a drawing of Gwyneth Paltrow and lipstick-stained John Galliano wedding dress with the words "f---" and "c---" embroidered on it. (Love apparently meant to wear the dress at her wedding to Edward Norton.) At the time, she told the Huffington Post, "I don't know when I'll do this again. [But] if this works with me, there are gonna be a whole lot of other ones." We'd love to find out if she has more shows planned. Maybe she'll even feature pictures of new artwork inside the book.

Will she stand by her 2014 New Year's resolution?

In a Facebook post she appears to have deleted, Love opened up about her relationships with her exes, vowing to be friends with them. She wrote: "I think at nearly 50 the basis of any relationship should be restraint and pragmatism before the big dramatic tsunami -- s--- I wish I knew this at 20, and to become best friends and to make sure your exes dont all hate you. its important to leave romances nicely -- and its 2014 so im letting alot of grudges just go, i dont have time . . . none of it matters -- thank you dave navvaroo and peter mensch." Considering she's allegedly said her book will touch upon her relationships Billy Corgan, Trent Reznor, Edward Norton and of course Kurt Cobain, it'll be interesting to see how she approaches the subject.