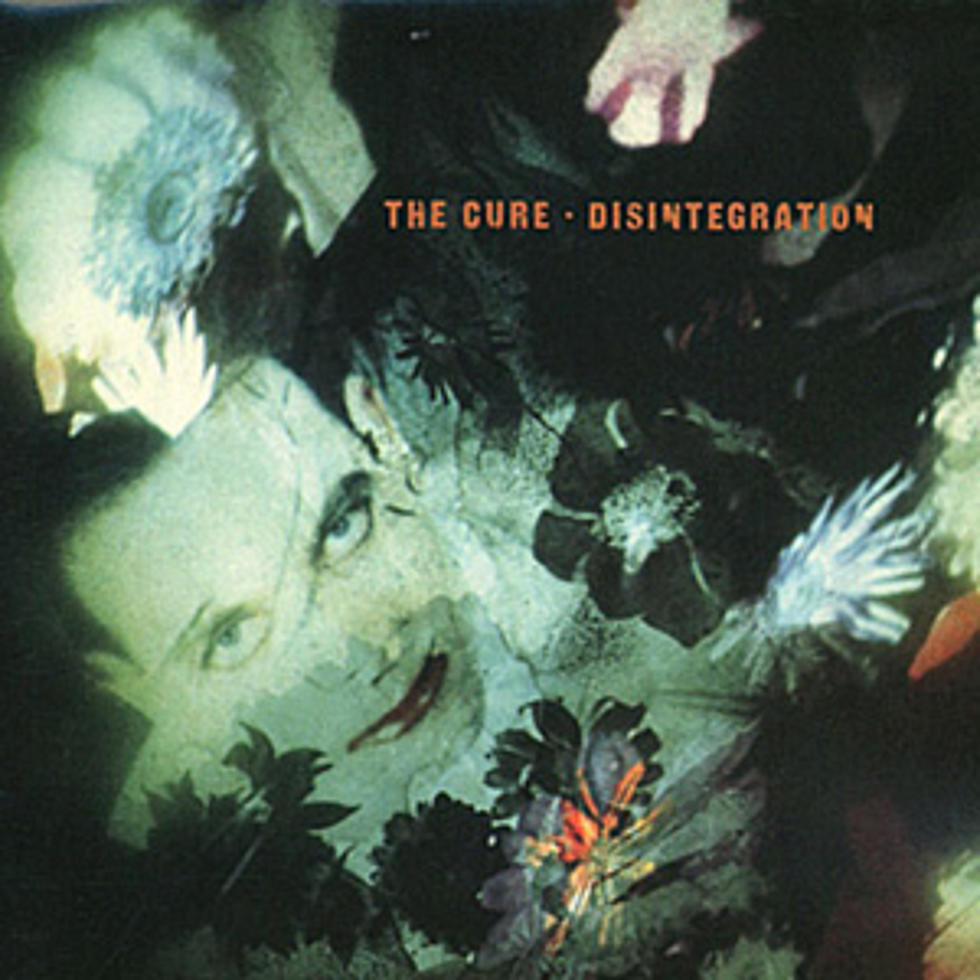 24 Years Ago: The Cure's 'Disintegration' Album Released
Elektra Records
The Cure had been building toward 'Disintegration' ever since their debut album was released in 1979. It took a decade to get there, but the slow climb was marked by good records ('Kiss Me, Kiss Me, Kiss Me') and not-so-good records ('Pornography'). By the time their eighth LP was released on May 1, 1989, the Cure had cataloged enough gloom, pop and wild mood swings to make an album that was worthy of their growing reputation.
Three years earlier, the 'Standing on a Beach' compilation assembled and surveyed the band's earliest records via its singles – the best way to hear the Cure at that point. On 1987's two-disc 'Kiss Me, Kiss Me, Kiss Me,' they effectively began their second chapter; 'Disintegration' is the highlight of the era. A sprawling, epic piece that's part desolation-row reflection and part Top 40 hug-fest, the album, in 70-plus minutes, sums up the Cure better than anything that came before or after it – even 'Standing on a Beach.' It's dark, despairing and filled with misery beats; it's also loose, playful and romantic.
With eight of its 12 songs clocking in at more than five minutes each (the last four songs make up the album's last half hour), 'Disintegration' isn't a breezy listen. But it isn't meant to be. Frontman Robert Smith, wary and suspicious of the creeping mainstream success that pop-leaning songs like 'Just Like Heaven' were bringing, turned back to the long, moody set pieces that marked some of the Cure's earlier albums. Supplied with a sense of purpose and a stash of drugs, Smith made the band's masterpiece, balancing spooky ballads ('Lovesong,' 'Lullaby') with noisy freakouts ('Fascination Street').
The album – which celebrates its 24th anniversary today – was a hit, despite Smith's turn back to less-accessible music. It reached No. 12, the band's highest chart position at the time, and eventually went double platinum. Four singles (the aforementioned three songs plus 'Pictures of You') landed on the charts, with 'Lovesong' peaking at No. 2 and becoming the Cure's all-time biggest hit. 'Disintegration' set the stage for the Cure's modern-rock dominance: They returned three years later with the super-pop of 'Wish,' which debuted at No. 2. Since then, Smith has swung back and forth between his two moods. 'Disintegration' connects them like nothing else in his long career.
Listen to the Cure's 'Disintegration'