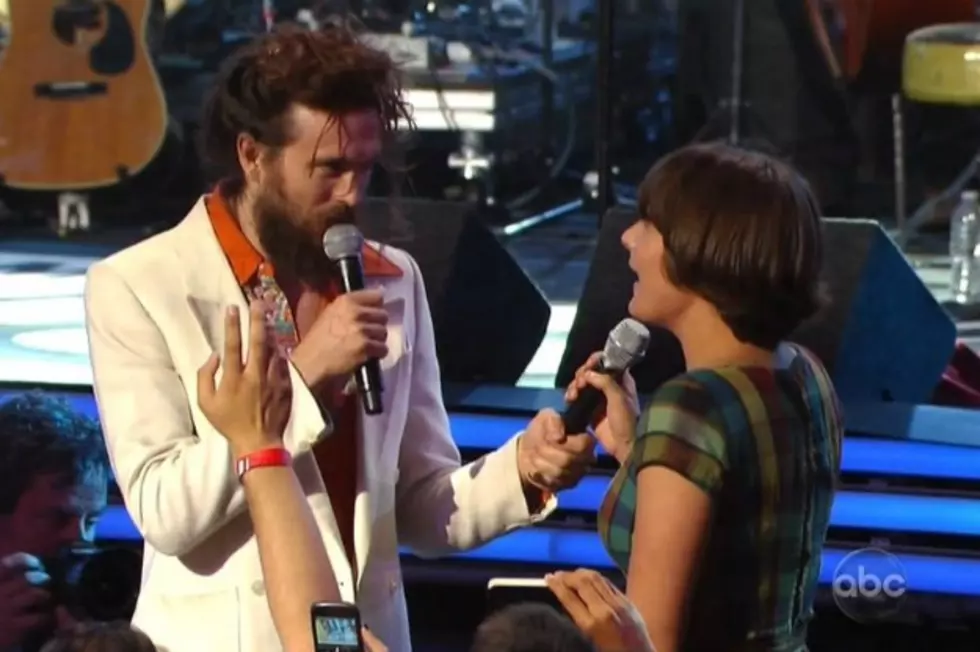 Edward Sharpe and the Magnetic Zeros Play New Music on 'Kimmel'
Edward Sharpe and the Magnetic Zeros celebrated the one-week birthday of their new album, 'Here,' by paying a visit to 'Jimmy Kimmel Live' last night (June 5) and performing a pair of songs: 'That's What's Up' and latest single 'Man on Fire.'
During a recent interview with Spin, frontman Alex Ebert described the band as "relaxed" during the 'Here' sessions, saying, "With regard to the songwriting I would also throw in 'confident.' I think we've learned how to allow the songs to breathe."
Ebert went on to explain, "On the first album, production-wise, every moment felt like an event. We didn't feel pressure to do that again. We eased off, and let the events that do happen become more memorable and important as a result."
But don't worry that the band is forgetting its wild and woolly sonic roots. Ebert teased the existence of a whole new Zeros record just waiting to be released: "It's funny to know that there is another album we recorded at the same time as 'Here' that's wilder and more psychedelic. Hopefully that will come out later this year."
Ebert also described his overall sonic aesthetic, saying, "I try to give the music more of a campfire feel as opposed to a library atmosphere. I like when you can hear people hanging out in the songs and doing a little shuffling. It creates a feeling of participation." There was definitely plenty of that going on during the band's 'Kimmel' performance, which you can check out below. When you're done, take a look at the official 'Man on Fire' video right here.
Watch Edward Sharpe and the Magnetic Zeros Perform 'That's What's Up' and 'Man on Fire'