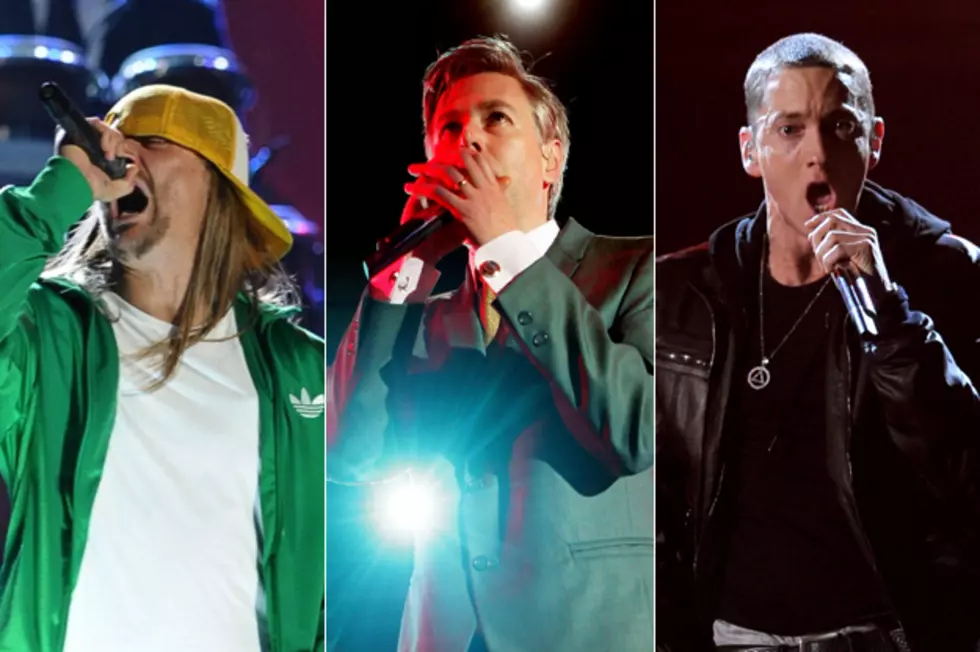 Eminem, Kid Rock, Nas Pay Tribute to Beastie Boys' Adam Yauch
The death of founding Beastie Boys member Adam 'MCA' Yauch has affected artists from all music genres, and tributes have been pouring in since news of Yauch's passing broke. Hip-hop icons Eminem and Nas, along with rapper-turned-rocker Kid Rock, are the latest to show respect for their fallen peer.
It's clear to most people that the Beastie Boys made a huge impact on artists like Detroit natives Eminem and Kid Rock. The former told MTV News how much the trio meant to him.
"Adam Yauch brought a lot of positivity into the world and I think it's obvious to anyone how big of an influence the Beastie Boys were on me and so many others," Em said in a statement. "They are trailblazers and pioneers and Adam will be sorely missed. My thoughts and prayers are with his family, Mike D., and Ad-Rock."
Kid Rock took to his website to express his admiration for the Beasties. Not only did he name-check them in his 2000 hit 'American Badass,' the musician performed a medley of the rap group's hits at last month's Rock and Roll Hall of Fame ceremony.
"I thought I was the 4th member of Beastie Boys in 7th grade," wrote Kid Rock. "You couldn't tell me I wasn't. The first time I ever saw them on stage was a very early show of theirs before 'License to Ill' came out, opening for Run DMC at Joe Louis Arena [in Detroit]."
He continued: "When I heard the news, a crazy chill went through my body like no other. I don't wanna sound all dramatic, but that's the truth, that's the impact he had on me. When I was asked to play MCA in a tribute to the Beasties at the Rock 'n Roll Hall of Fame, I said to my buddy,'S---, I've been training for this my whole life!' My heart absolutely bleeds for my friend Mike D. and for Ad-Rock."
Brooklyn, N.Y., rapper Nas worked with the Beastie Boys on the song 'Too Many Rappers.' The track appeared on the group's last album 'Hot Sauce Committee Part Two.'
"One of my greatest moments in music was when I worked with the Beastie Boys. ... Now today I'm hearing our brother is gone," told MTV News. "I prayed this would not happen. MCA was so cool, man. We had great talks about what it was like for them in the beginning, getting into the rap game. I'll never forget that experience for the rest of my life. MCA is a true legend who influenced me. God bless his soul and his loved ones."