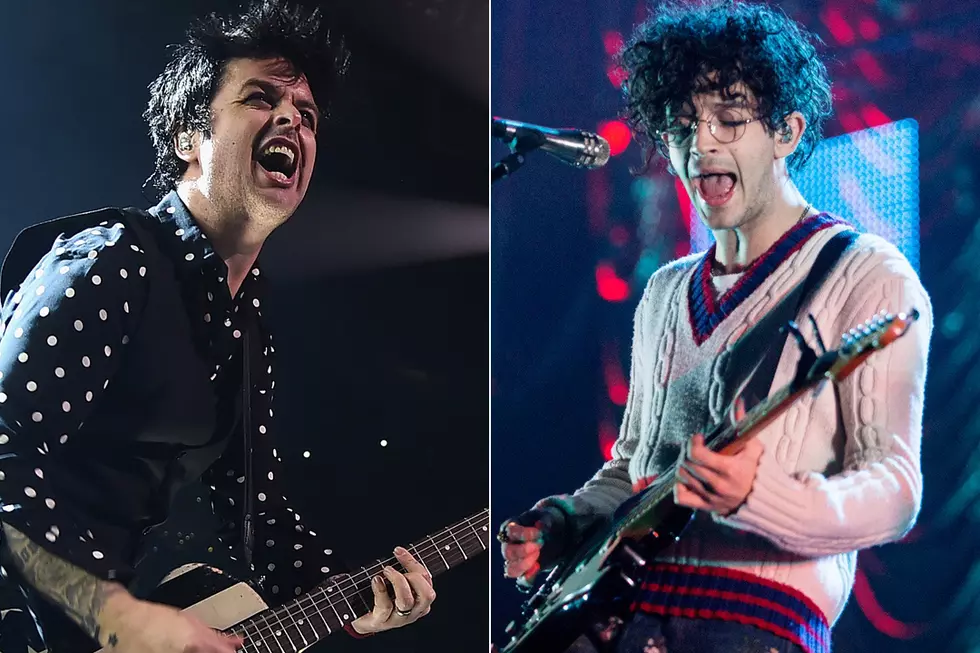 How Green Day Pulling Fans on Stage Led to the Formation of the 1975
Theo Wargo / Ross Gilmore, Getty Images
Green Day's habit of pulling fans on stage to play during their shows is a pretty nifty gimmick — and one that's had a life-altering impact on some of the people who've been part of it. Take, for example, Matthew Healy, frontman for the 1975.
As Healy told Spin in 2016 (via RiffYou), he was all of 13 when Green Day bassist Mike Dirnt singled him out and hauled him up on stage. "I jumped up, and he put his bass on me...10,000 people in f---ing Newcastle Arena! It was a defining moment for me. Looking out and thinking, 'OK, this is awesome.' I still have the pick."
It's a story that's since gotten back to Green Day frontman Billie Joe Armstrong, who looked back on the start of the band tradition during a recent interview with Rolling Stone. As Armstrong recalls, the first time it happened was during the world tour in support of their fourth album, 1995's Insomniac.
"We were playing a show in New Orleans and having a rough time. I just remember feeling like it was a drag," said Armstrong. "I remember going, 'I don't want to play anymore. Who else wants to play?' So we brought someone up onstage and when the kid started playing, the whole room lit up and it changed the show for me. It was an amazing experience."
Adding that there's "no science" to who they pick, and insisting that there can be "magic" whether or not the lucky fan can actually play, Armstrong noted that he's aware his off-the-cuff venting mechanism has come to mean a lot to many of the people whose lives it's touched.
"I would imagine," he agreed. "I think some kids ended up forming bands because of that. I think that's what happened to the guy from the 1975."
Green Day Albums Ranked in Order of Awesomeness