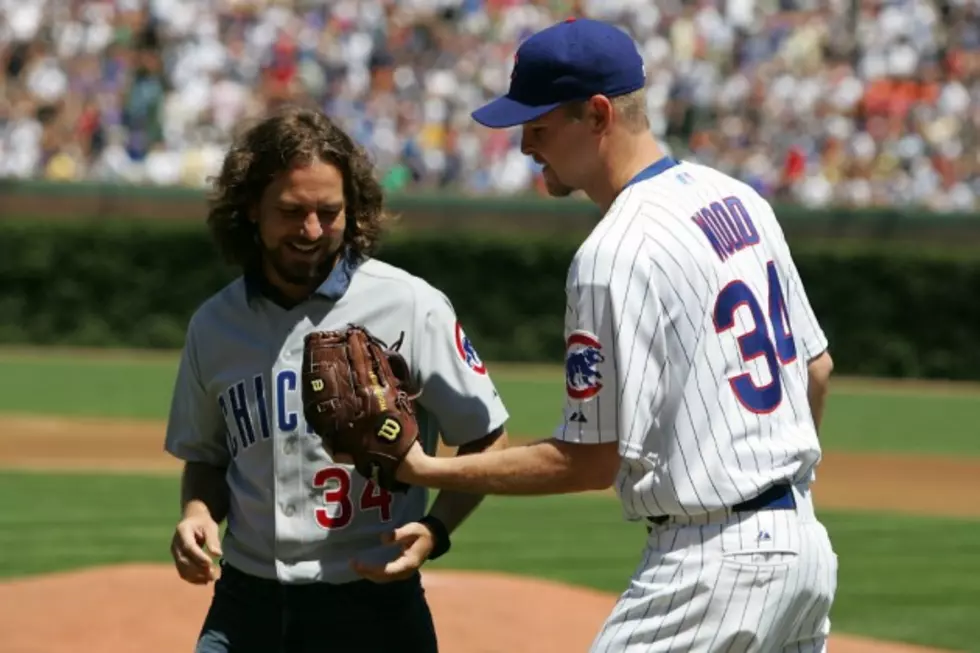 Touch 'Em All: 15 Hits (and Other Songs) About Baseball
Jonathan Daniel, Getty Images
If you're of the mind that all lists of songs about baseball are bound by law to include John Fogerty's "Centerfield," you're not going to like this one. Not every song about baseball has to remind you of Bull Durham or specifically mention Cracker Jacks by name.
America's national pastime has been inspiring songwriters since the 1850s and while some (like Fogerty and his Grammy-winning 1985 crowd-pleaser) approach the subject literally, others use baseball as a metaphor for myriad aspects of life.
In this list, we call up a few of the more recent indie, folk and alternative songs about baseball. While it's by no means a complete roster (if you're keeping score at home, there will definitely be a ragtag group of omitted songs shouted out from the peanut seats in the comment section), we think it's a solid lineup.
(We can't, however, guarantee that none of the musicians used performance-enhancing drugs.)
1

"All the Way"

Eddie Vedder

The Pearl Jam frontman might be synonymous with Seattle now, but he's an Illinois native and lifelong Chicago Cubs fan. While at a fantasy baseball camp one year, Cubs legend Ernie Banks asked Eddie Vedder to write a song about the team and he churned out "All the Way" in one evening.

2

"Joe DiMaggio Done it Again"

Billy Bragg and Wilco

British singer Billy Bragg teamed up with alt-country all-stars Wilco in the late '90s to write music for old lyrics by Woody Guthrie. One song they recorded for 2000's Mermaid Avenue II centers on what Guthrie wrote about "the Yankee Clipper" himself – Joe DiMaggio – in 1949.

3

"Ichiro's Theme"

Ben Gibbard

When beloved Seattle Mariners outfielder Ichiro Suzuki was traded to the Yankees in 2012, Death Cab for Cutie frontman Ben Gibbard unearthed this song he'd written about the Japanese sensation a few years earlier.

4

"Movement and Location"

Punch Brothers

Singer, mandolinist and Cubs fan Chris Thile of Brooklyn bluegrass collective Punch Brothers said this song on 2012's Who's Feeling You Now? is a reference to ex-Cubs pitcher Greg Maddux. Thile thought Maddux's obsession with the ball's movement and location could also apply to everyday life.

5

The original version of "Tessie" – the longtime anthem of the Boston Red Sox – came from a 1902 Broadway musical called The Silver Slipper. In, 2004, hometown heroes the Dropkick Murphys wrote this new version that's become a staple at Fenway Park.

6

"31 Seasons in the Minor Leagues"

Magnolia Electric Co.

During the spring of 2003, the late singer-songwriter Jason Molina announced he was changing the name of his band from Songs: Ohia to Magnolia Electric Co. In this song from the 2005 EP Hard to Love a Man, he uses baseball as a poignant metaphor for life.

7

Bob Dylan and Jacques Levy wrote this tribute to future Hall of Fame pitcher Jim "Catfish" Hunter for Dylan's 1976 album, Desire, but didn't include it. Although Joe Cocker covered it that same year on Stingray, Dylan's version wasn't released until 1991's The Bootleg Series Volumes 1-3.

8

"Cubs in Five"

The Mountain Goats

Prolific indie-folk outfit the Mountain Goats make a lot of references to things that are unlikely to happen in the first song on the 1995 EP, Nine Black Poppies, but none more prominent than the Chicago Cubs beating every team in the league. (It's worth noting they're better than they used to be.)

9

"Piazza, New York Catcher"

Belle and Sebastian

It might seem a little strange for Scottish indie pop group Belle and Sebastian to write about American baseball -- and former New York Mets catcher Mike Piazza in particular. But frontman Stuart Murdoch makes reference to both Piazza and Hall of Fame pitcher Sandy Koufax in this song – and it's likely Murdoch is more interested in how both players were rumored to be gay.

10

"My Oh My"

Macklemore and Ryan Lewis

Following the death of legendary Seattle Mariners play-by-play announcer Dave Niehaus in 2010, rapper Macklemore released this tribute in his honor. Macklemore and Ryan Lewis performed it on Opening Day at Safeco Field in 2011. "My oh my" was Niehaus' signature phrase.

11

"Baseball Song"

Matt the Electrician

Austin singer-songwriter Matt Sever (an actual electrician) has released nine albums since 1998 and his blue-collar approach is obviously apparent in the title track from his debut, Baseball Song. It's about more than just doing a two-person wave (but a little bit about that).

13

"America's Favorite Pastime"

Todd Snider

Americana singer-songwriter Todd Snider hails from Oregon but this song from 2009's The Excitement Plan is about the day in 1970 that former Pittsburgh Pirates pitcher Dock Ellis threw a no-hitter while under the influence of LSD.

14

"Cardinal Rules"

Someone Still Loves You Boris Yeltsin

Someone Still Loves You Boris Yeltsin might immediately conjure images of frozen tundra and vodka, but this song from the Missouri outfit couldn't be more all-American. They wrote it for the St. Louis Cardinals' minor league team based in Springfield.

15

"Monument Park"

The Baseball Project

You could actually choose any song from the Baseball Project for this list. They're a supergroup featuring Peter Buck and Mike Mills of R.E.M., Scott McCaughey of the Minus 5 and Steve Wynn of Dream Syndicate and they've released three albums filled with nothing but songs about the national pastime.