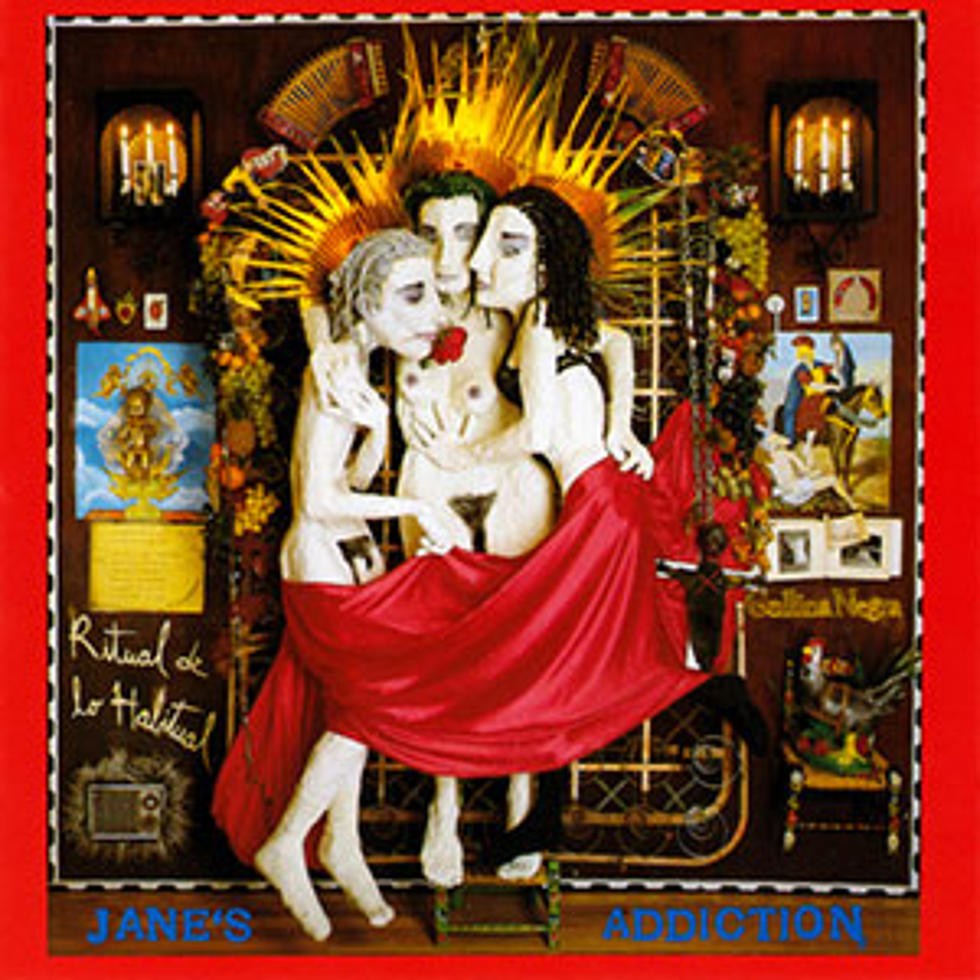 25 Years Ago: Jane's Addiction Release the Sprawling 'Ritual de lo Habitual'
Warner Bros.
"Ladies and gentlemen, we have more influence over your children than you do. But we we love them. Born and raised in Los Angeles, Jane's Addiction."
Those are the words that open Jane's Addiction's second studio album, Ritual de lo Habitual, released on August 21, 1991. If you don't recognize them, don't feel bad: They were spoken in Spanish by an actress named Cindyana Santangelo, or Cindy Lair, who Jane's lead singer Perry Farrell described as "a Latin Marilyn Monroe."
The next words, however, were clear as day. "Here we go," Farrell wails, and the album that launched the '90s was off.
Like the bulk of the material on Ritual, "Stop" was actually an old song, predating both Nothing's Shocking and the band's 1987 self-titled indie debut.  The cut was a staple of their live set from the beginning; in fact, when the band played a triumphant run of homecoming dates in April 1989 at Hollywood's Jon Anson Ford Theatre, "Stop" was in the set.
Why mention an obscure run of dates? Because Farrell and his girlfriend, Casey Niccoli, named the Ford dates "Ritual de lo Habitual." He recycled the title a year later for the next Jane's album because "I thought it was funny."
Those dates -- like most Jane's dates -- featured a stage cluttered with candles, tapestries, paintings, religious iconography, dolls, and whatever else caught Farrell's eye. He was like a Santerian crow, lining his nest with shiny fetish objects. The aesthetics of the religion informed not only Farrell's stagecraft (and Ritual's album cover), but his home. Brendan Mullen quotes Niccoli in his book Whores: An Oral Biography of Perry Farrell and Jane's Addiction:
We had a room we called 'the love garden.' It was decorated with plants and tapestries and candles. It was really romantic. There were three small rooms, and the bedroom part was actually a patio. When it rained, you got wet. When you slept on the bed you got wet because it wasn't really insulated.
Niccoli's role in Jane's Addiction's early career borders on immeasurable. She was Farrell's girlfriend, co-dependent, muse, artistic collaborator and fellow junkie. Where Casey slept in the rain so did Perry, but she wasn't the only love in his life.
Dating back to his pre-Jane's days with Psi Com, Farrell befriended Lisa Chester, a.k.a. Xiola Blue, described by Niccoli as "a trust fund baby" and "a hardcore heroin addict." Farrell  recalled (also in Mullen's book):
When I first met her she was wearing a chartreuse and yellow dress and her hair was green -- in dreadlocks. And I think she was wearing yellow lipstick, yellow tights, and she had very light freckles and a very pale face. She was was the kind of girl who looked like a 1920s cigarette ad, except in vivid ultra color.
She must have made quite an impression: Farrell not only sported green dreadlocks for a time, but he also recorded the song "Xiola" with Psi Com.
Years passed. Xiola moved to New York to attend art school and Farrell and Niccoli were strung out and in love. Jane Bainter -- that's Jane from "Jane Says" -- noted that Blue "came out to visit Casey and Perry, and they had a long weekend together of sex and drugs." That long weekend lasted three days. Not long after that visit she was found in her New York apartment dead from a heroin overdose, age 19.
That's what lies at the ghostly heart of Ritual. Exposure magazine reported in December 1989:
Currently, the band is in the studio working on their next album, Ritual Delo Habitual [sic], due out early next year. 'It means ritual of the habitual,' explains Perry. You know, those little things that we do every day. 'And to tell you the truth,' he continues in his description of the album, 'it involves a love affair between three people, that's the majority of the album.'
Xiola is not the album's only ghost. Farrell's mother, an artist, committed suicide when he was just a toddler. In the album's most poignant moment, the singer arranges a heavenly visit between Xiola Blue and his long lost mother:
Will you say hello to my ma?
Will you pay a visit to her?
She was an artist, just as you were
I'd have introduced you to her.
Farrell wrote "Then She Did" after Blue's overdose. Jane's drummer Stephen Perkins has stated that the song was originally titled "Then She Died."
Death wasn't the only gorilla in the room. The band not only was barely on speaking terms, but they were in various states of drug rehabilitation (or not). Dave Navarro once claimed that "My memory of recording Ritual lasts about five minutes. In my head, we spent five minutes in the studio." And no wonder: The guitarist was in and out of rehab throughout the recording sessions.
Bassist Eric Avery had cleaned up, and was taking astronomy classes at Santa Monica College during the period that the band was recording Ritual. Drummer Perkins was apparently as rock steady as always, which leaves Farrell. The singer made neither apologies nor excuses for his drug use; in fact, he made no apologies for anything. In the May 1991 issue of The Face, the singer said:
If I don't challenge myself then I don't feel like I'm moving forward. It's like the song I wrote, "Ain't No Right," where I talk about cutting myself. I did that because I thought about doing it and I was scared. So I cut myself 365 times with  a razor. Aesthetically, I thought it would look cool, but, what was more important to me was the thought, 'If I can take this then what can stop me?'
Just prior to "Ain't No Right" on Ritual -- and right after "Stop" -- lies an unlabeled invocation. It's not just a bridge between the two tracks but a message to the band's new management company. Both the band's and Perry's reputations preceded them, so when they parted ways with their previous management, new managers Lippman Kahane Entertainment tried to get Farrell to consent to drug testing. "My sex and my drugs and my rock and roll are all my brain and body need," Farrell sang. "So get your f---ng piss cup out of my f---ng face."
Lippman Kahane did not last as Jane's Addiction's management company.
The drugs and the drama led to "Three Days" being the only track on the album that features all four band members in the studio at the same time, but their fingerprints are all over every song: Perkins' precise drumming, Avery's lyrical bass lines, Navarro's washes of sound and intense leads (even if he can't remember playing them) and Farrell's lyrics and banshee wail. The diversity of talent is what made the lineup so magical. In the same Face article, Farrell explains:
The band was put together to fall apart. Nothing I do will ever last more than five years. You have to keep moving. But the sparks between us work. It makes the music. You have one person who likes Joy Division, another who likes Metallica and Brahms, another who loves James Brown. That's how it comes to sound like the glorious mess that it is.
"The band was put together to fall apart" was the third gorilla in the room. Farrell made no secret of the fact that he wanted out of the band, telling Rolling Stone in February '91: "I don't think I'll better Ritual; the songs I'm working on I plan to save for other projects."
Farrell's busy mind was on to other projects, including Gift, a film that he was making with Niccoli. The movie was a mix of fact and fiction, including the couple getting married in a Santeria ceremony in Catemaco, Veracruz. "We had to be cleansed before we would agree to it," Niccoli recalled. "They roll the egg over your body. And then they break the egg open and if it's black, it means there's evil in you." The couples eggs were "a bloody mess," according to Gift producer Allan Wachs, "which means a lot of toxins."
By the time the movie was complete, the couple were no longer together, but both the video and song "Classic Girl" remain a lasting tribute to Niccoli's impact on Farrell.
Niccoli actually directed the video for the band's biggest hit, "Been Caught Stealing." The clip won Best Alternative Video honors at the '91 MTV Video Music Awards, where Niccoli gave a drunken, rambling acceptance speech. "Perry disappeared the day before the show with some chick he'd picked up at 7-Eleven," she says in Whores. "He saw the show sitting in her bed. That's why I mad such a fool out of myself."
"I was nice and high," Farrell says in the same book. "I just didn't feel like getting out of the house; it wasn't that important to me."
The success of "Been Caught Stealing" caught everyone by surprise. Rock radio initially refused to play it for fear that it would promote delinquency. The band saw it as no more than a novelty song. Bassist Avery was "appalled that is was going to be a single," according to former band manager Tom Attencio.
It was a hit nonetheless, thanks in part to Farrell's dog, Annie, who was barking at the door of the vocal booth, trying to get in to retrieve one of her toys.
Critics were kind to the album, frequently citing Jane's as "the new Led Zeppelin" or "the next Guns n' Roses. Rolling Stone called Ritual "ballsier, more personal and more ambitious than its predecessors." In June '91 Spin reported that:
"1990 was a strange and terrible year for Jane's Addiction, during which Ritual de lo Habitual went gold while the band's overt sensualism and simple refusal to compromise invited catcalls from everyone. Hard-rock figured these guys were fags, as usual, and Pop thought they were some Art Thing. Half the metalheads in America didn't dare love Jane's Addiction until some chicks convinced them they were heavy."
Upon hearing the album, Warner executive Mo Ostin told the band, " You guys have made a record that changed everything." It did, too. After a miserable tour that gave birth to Lollapalooza, the band called it quits until 2003's Strays, but Ritual de lo Habitual punched the hole in the mainstream that Nirvana, Pearl Jam, Nine Inch Nails and every other '90s alternative band marched through.
As for that album cover featuring Perry, Casey, and Xiola Blue nude and wrapped around each other; well, of course it was met with controversy, just as Nothing's Shocking's cover stirred the pot a couple of years earlier. Farrell refused to change it, instead opting for an alternate sleeve that reprinted the first amendment. But that's a "Cover Story" for another day.
Worst to First – Every Jane's Addiction Album Ranked