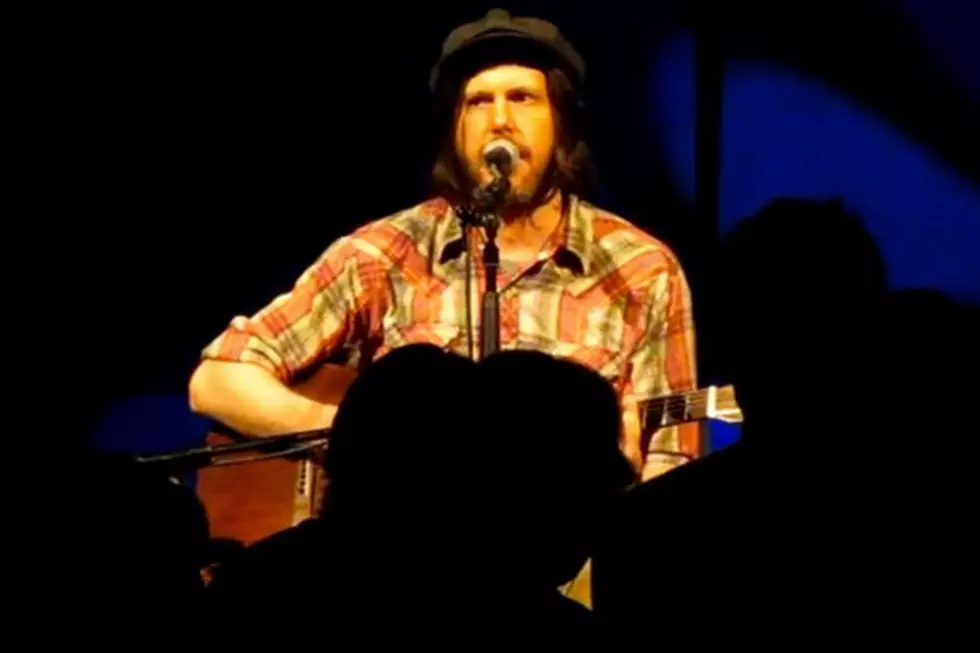 Jeff Mangum Plays Intimate Show, Tells Audience They'll Never Hear His New Songs
YouTube
It seems like everyone has the same question for Jeff Mangum, the elusive artist behind the legendary late-'90s band Neutral Milk Hotel: Has he written any songs in the past 15 years? Last night, at Mangum's sold-out concert at MASS MoCA -- an art museum in North Adams, Mass. -- an audience member yelled for a "new one." And Mangum replied:  "You'll never hear those."
Fans also ask, Why play little towns like Poughkeepsie and North Adams? What's Ruston, La. like? (We've always wondered about Mangum's hometown.) And, most of all: Why, after all these years hiding out, is Mangum touring again?
MASS MoCA, located in rural western Massachusetts, is currently hosting a show on contemporary Canadian art. We could go on about the parallels between the super-self-conscious rustic art on display and the manic imagery and identity crises found in Mangum's music, but we'll save the dissertation.
The Music Tapes, featuring onetime Neutral Milk Hotel member Julian Koster, played a delightful opening show. They messed around with a seven-foot metronome and a singing TV, creating a huge sound out of horns, organ and banjo. Koster, sporting a dopey winter hat and scarf, strummed a banjo and sang "Pointing hands, pointing hands, somehow we all played in musical bands that toured through the lands" punctuated by booms of baritone horn, crashing cymbals and bonging bells.
Meanwhile, Mangum's set could have been pulled from a concert in 1998, the year Neutral Milk Hotel released 'In the Aeroplane Over the Sea,' their last album. He sang his joyous songs like they were fresh, with a truly impressive amount of energy behind his vocals. He filled the entire room with his voice during "King of Carrot Flowers." It was a wonder there was any space left for air to circulate.
He performed "Oh, Comely" with the vocal fury and staggering changes in volume and pace that you'll find on bootlegs of Mangum's solo shows from the '90s. "Your father made fetuses with flesh-licking ladies, while you and your mother were asleep in the trailer park," he sang with every tooth in his mouth bared against the backdrop of his beard.
"Play a new one!" someone in the audience yelled. "You'll never hear those songs," Mangum replied. The room went silent. "What?" he smiled. "It's not that they don't exist ..." He then continued with the concert, leaving everyone yearning for something new.
Throughout the show, Mangum asked the audience to sing along. But because it was a small room, and Mangum accompanied himself with only a guitar, the audience often drowned out the singer, especially on songs like "In the Aeroplane Over the Sea" and "Two Headed Boy, Pt. 2" – the ones everyone knows. As misanthropic as Mangum sometimes seems (no cameras were allowed at the show, and no interviews were granted during the entire tour), he sounded truly ecstatic last night.
Mangum told the crowd that he "didn't know what to expect" on his first tour in 15 years. "But I'm very touched by everyone who has come to hear me play." As the college kids in the audience sang along with him, he smiled like he was grateful for the attention.
And maybe that's the answer to one of the questions. Maybe Mangum is touring because he misses hearing his words sung back to him. It must be awesome to see how much people become absorbed in his dream-flow storytelling. Not to mention that he's become an underground legend in the 15 years since his masterpiece was released. But one last question: Why won't he sing us those new ones?