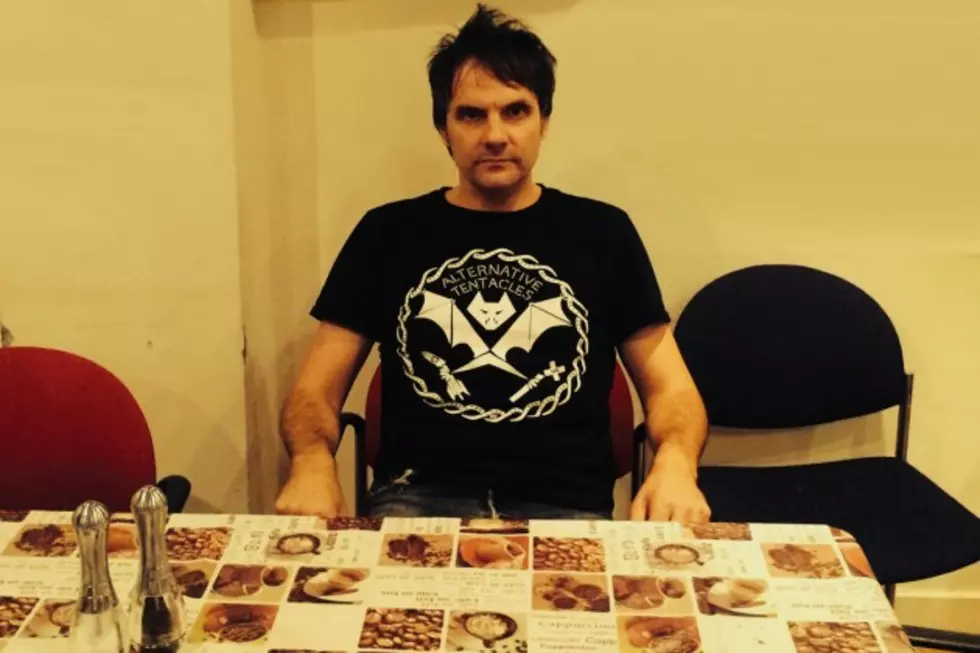 Mike Viola on Working With Ryan Adams: 'It's Paid Off for Both of Us in Artistic Ways'
Pax-Am
That's how Ryan Adams begins the description of Mike Viola's first-ever Pax-Am 7", "Stairway to Paradise," and after spinning the single (backed with "Doctor Feel Blue" and "Clink Glasses, Salud"), we feel compelled to agree with him.
During a recent trip to Nashville for a two-night stint at the legendary Ryman Auditorium with Adams (and an in-store performance at Grimey's in support of his new single), Viola spared a few minutes to catch up with us about the story behind this particular 7", what his upcoming full-length looks like and what it's like working with Adams. Check out our exclusive chat below:
This is your first solo release with Pax-Am, right?
What's the story behind these songs?
Basically, it all started ... I was hanging out with Ryan, we were friends. I was busy doing stuff and he was busy doing stuff. He invited me to come by the studio when he was working with some guys and I came in and he just put a guitar in my hand and I stepped up to the mic. They were tracking at the time and Ryan told me to write the saddest Big Star song that I could think of, right on the spot. So I did. I was just yelling out chords to the bass player, we didn't even know what the melody was. We wrote it in real time. So, that was ridiculous and fast. Ryan was like, "I love it!" I thought it was derivative sounding, but he loved it so much and was like, "We should do more of these things. I'll give you a topic and then you write the song when you get in the studio." Ryan's idea was that some people overthink when they're writing and maybe I was falling victim to that. He was trying to free me up. All these songs were written that way, at Pax and recorded at Pax. The reason why it sounds like a collection is because it was recorded over the course of the three years that I've been working with Ryan. Every time he has a free spot, he's like, "We have to make your record! We have to make your record!" I have a ton of songs but I wasn't recording them. You know, I've made a bunch of records, so I wasn't sure I wanted to make anymore. He was really pushing me to do this.
Is this the first time that you've recorded like this, on the spot?
Yeah. I mean, I've played songs like that before just goofing around, and yeah, sometimes really great stuff comes out of that. But I've never actually recorded quite as haphazardly as that. Ryan just kept saying, "I love it. It's the best thing you've done. It's perfect." And I'm like, "Are you sure? It sounds kind of messed up?" I've never done that where I let anybody make that kind of call when I felt questionable about songs. But, I felt like it was a good time to try it. The longer it's been, the more I understand what he was going for.
Maybe at the time it felt weird and you didn't quite believe in it, but with the 7" out, are you happy with them now?
Yeah, I definitely think so. Especially the lyric part of it because they were written so fast. I had no time to overthink them. I've made records before where I had a good melody or a good groove and I didn't really have the lyrics and I had to do them quickly in the studio. And actually, those are some of my favorite songs and I had kind of forgotten about that. I've definitely become more of a songwriter for other people, and a producer, over the past four or five years. I've evolved into that and I feel really lucky to be able to do that, but it's funny, it's hard to use the tools that I use on other artists, including Ryan, on me. He was using some of the same tools I use on him on me! It's like, when you're in artist mode, it's impossible to use your own tools on yourself, you know?
My dad was a carpenter, but my house was all f---ed up. We had sharp corners and unsanded things and nails sticking out all over the place ... but he was a really good carpenter. He just didn't really apply it at home, and it's sort of the same thing for artists. I know how to produce someone and help them. But with myself? It's really hard to do that, I think very few people can do that. Ryan really did that for me, and yeah, looking back, if he hadn't been there, I would've never done this. I really do love these songs, and I probably would've never put them out without Ryan. [Laughs] It's crazy.
Do you find it hard writing for yourself when you're on the road?
I make a real practice out of it. It's hard when we're on the bus all the time, but we do stay in hotels every three or four days. Whenever I get a hotel room, I set up my little area and I go to work. I actually have a lot of songs ... I've been working on this record, I think it's going to be called I'm Gonna Kill You. It's basically me now going back and annihilating my past. Ryan came up with this really funny idea for the cover which would be ... my first major label record was called Falling Into Place, and I'd be standing in the front yard with a gas can in suburbia, looking like I'm going to burn it down. His idea is that I'd be in the house looking at my old self with a gun or something, ready to shoot myself. [Laughs] I don't know, it's another wormhole that I might willingly fall into.
You just have to put up your hands and say, "Okay!"
I might! When I'm working with him, he takes a lot of chances that he normally wouldn't take, and he does that for me, too. Working together has paid off for both of us in artistic ways.
You mentioned at the beginning of this conversation, when you headed down the road of putting out this 7", you weren't really interested in putting out more records. Why do you think I'm Gonna Kill You is the right full-length to put out?
I think maybe because ... that's a really good question. I haven't asked myself that. It's probably because, it seemed so effortless. It seems like "Stairway to Paradise" is a continuation of what I've been doing. It took three minutes to write that song, but really it took like three minutes and four years, you know? I feel like it would be interesting to make a whole record like that, songs that I write really fast. I've already recorded 10 or 12 songs with Ryan producing that were written in the exact same way. The album is already sitting there if I want it. Ryan is like -- and I agree with him -- just keep writing and when we get time we'll do it. I think that's why I want to do it because it would make an interesting record. If we got this far with "Stairway to Paradise," it'd be interesting to see what a whole album could be, especially if I could tie them together in a casual way. Yeah, I think that's why.
Do you have plans to hit the road as Mike Viola anytime soon?
No I don't actually. I've been out with Ryan for about a year now and I've been producing records in between. I'll probably play a bunch of shows in Los Angeles, that's where I live right now. I might play a bunch there to see if I can get something going. But yeah, no real plans to tour.
Fair enough, Mike. I loved hearing the stories about these songs -- thanks for the opportunity.
Thanks for taking the time to talk about this!
You can pick up Mike Viola's new 7", "Stairway to Paradise," at Ryan Adams' online store. Make sure to head over to Viola's official website to stay up-to-date with everything happening in his world.