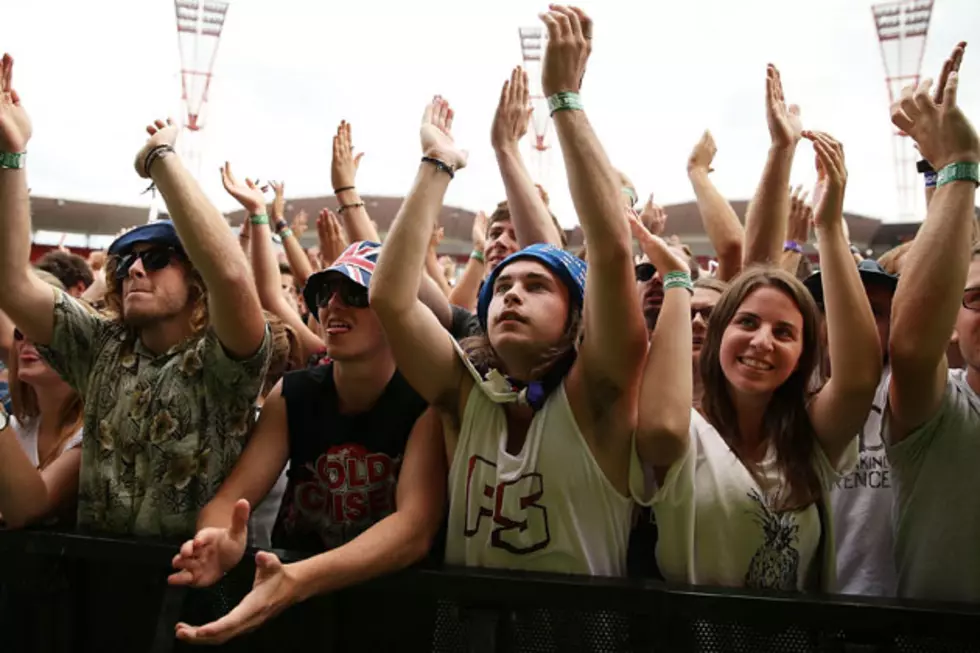 Worst Music Festival Disasters Ever
Mark Metcalfe, Getty Images
In a way, we really shouldn't be too surprised that there have been a number of music festival disasters over the years. After all, whenever you get thousands of people together in one place, dozens of dangerous factors -- some of which can be prevented, some we have no control over at all -- can turn a totally cool all-day fest into the biggest bummer of the summer. Whether it's too many fans drinking too much booze or an uncooperative Mother Nature, it seems like these music festivals were flirting with disaster from the start.
1969 Altamont Free Concert

The granddaddy of music festival disasters is also the most notorious of the bunch, a 1969 s---storm that started as a free concert hosted by the Rolling Stones but turned into tragedy with a murder caught on film. The Hells Angels were hired as security for the California show (which also featured Jefferson Airplane and Santana), and were reportedly paid in beer. Things got out of hand quickly as violence trumped any peace-and-love vibes. Three others died under ghastly circumstances too.

The annual Monsters of Rock fest, which took place at England's Donington Park for more than 30 years, celebrated hard rock and metal in all its raging glory. In 1988, one of the biggest bands on the planet, Guns N' Roses, was the most anticipated group on the bill. More than 10,000 fans rushed to the front of the stage to see GNR, but crappy weather caused a muddy mess up front, causing fans to lose their footing. Two fans were crushed to death while Guns N' Roses played their set. The next year, promoters canceled Monsters of Rock.

To celebrate the 30th anniversary of the original Woodstock festival -- a mass gathering of unwashed hippies who embraced the era's peace-and-love ethos -- somebody had the bright idea to bring together a bunch of aggro bro bands from the '90s, like Korn, Limp Bizkit and Rage Against the Machine. Not so surprisingly, things turned aggressively violent, as multiple fires were set, stages were vandalized and numerous reports of sexual assault were logged. Way to honor all that peace and love, a--holes.

On June 30, 2000, Pearl Jam took the stage of Denmark's Roskilde Festival in front of 50,000 fans. Within 45 minutes, nine fans were dead, crushed to death as concertgoers rushed to the front of the stage (when will they ever learn that this rarely turns out well?). Pearl Jam ended up canceling the rest of their tour and later wrote a song as tribute to their fallen fans.

Glastonbury has a reputation for being a mess. In 2010, more than 600 portable tents collapsed because of bad weather, leaving drugged-out fans even more confused than usual. But the biggest disaster at the annual British festival happened in 2005, when a downpour turned the grounds into a pond, with fans wading through four feet of dirty, most likely bacteria-infested, water. Plus, lightning hit the stage numerous times, putting bands like the White Stripes at risk.

This German electronic fest had gotten so huge that Berlin refused to host it anymore. So they moved the whole thing to a smaller city. And then they set one entrance to the venue: in a tunnel. Almost a million and a half people were on the grounds that were supposed to hold way less than a quarter of that number. It didn't take long before something or somebody triggered a stampede in the tunnel. And when it was all cleared out, 21 people had died.

On Aug. 13, 2011, Sugarland were to headline a country-music festival at the Indiana State Fair. A powerful storm began brewing in the area, which resulted in 70 mph winds ripping over and through the stage. Scaffolding holding lighting equipment and other gear began to sway before it all eventually toppled on the shocked and surprised audience below. Six people were killed.

Taking place a mere five days after the 2011 Indiana State Fair tragedy detailed above, the Pukkelpop Festival in Belgium suffered a similar fate when a ferocious storm blew in, sending screens, gear and stages to the ground and on top of the crowd gathered below. Five people were killed and more than 70 were injured. A bunch of artists -- including Eminem and Odd Future -- were among those scheduled to play before the fest was canceled.