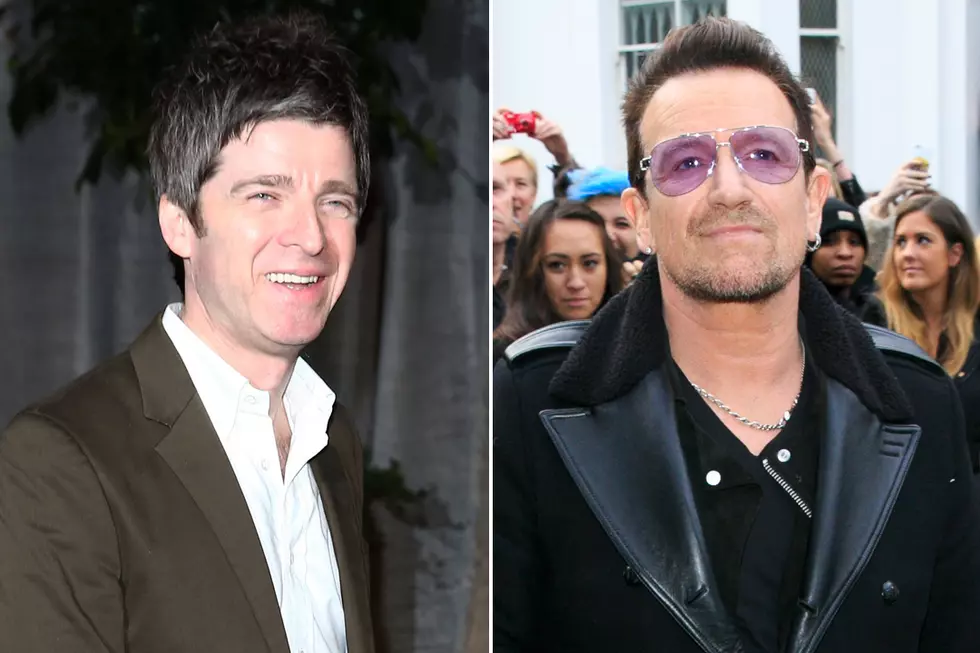 Noel Gallagher Applauds U2's Live Show, Calls It a 'Game Changer'
Tim P. Whitby / John Phillips, Getty Images
Noel Gallagher might be busy touring with his High Flying Birds, but he had a chance to catch U2 live in San Jose on Wednesday night (May 20) ... and he didn't just attend the gig, but he loved it and compared it to "theater."
"It starts off as a punk rock gig but then it gets intimate, there's a lot of truth in it about where they come from and the people that they are," he told U2.com, saying he was touched by the images of Bono's mom and kids.
Gallagher also went into detail about a screen that plays "inside of a video screen and it's something else, it's like watching a television but you kind of forget sometimes that they are actually there on stage and they are playing live. It's a psychedelic experience."
When he first heard about this screen, Gallagher admitted that he had no idea what the band was talking about. However, once he finally got to see it in person he felt like it was a "game changer, not only for them but for shows in general. It is something completely different."
He also added, "You don't expect to have that screen in that position and doing that thing ... and the beauty of it all is that it still does not take away from what a great band they are."
The Oasis member also admitted that he's been a fan since 1983 when he heard "New Year's Day" and has seen U2 numerous times. "With the greatest respect in the world when I saw the 360 [Degree] Tour I thought that was the end of something, and not in a bad way," he said. "I thought, this is so staggering and huge and tall, so amazing, I thought this was the end of something and I wondered what the beginning of the next thing will be -- and here it is."
Noel also revealed he will be back to catch another U2 concert soon.
Worst to First: Every Oasis Album Ranked