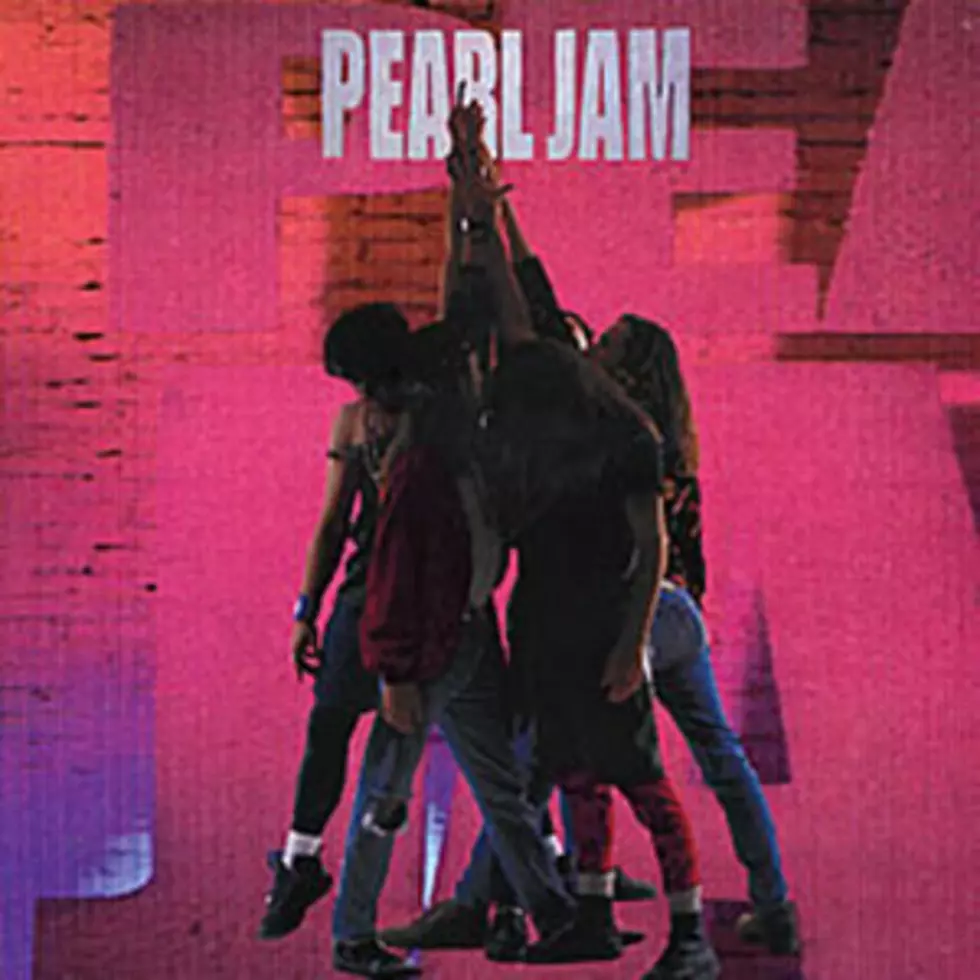 22 Years Ago: Pearl Jam's 'Ten' Album Released
Epic
Eddie Vedder may have the most distinctive -- and most imitated -- voice of the alt-rock '90s, and it was on this day 22 years ago the world first heard that signature howl.
Pearl Jam's debut album, 'Ten' -- named in honor of their previous band's namesake, NBA star Mookie Blaylock, who wore No. 10 -- is iconic right down to its cover. It's a photo of the band in a sort of '90s-dude pregame prayer. The group members' outstretched hands lead up to a single point, as if they're reaching for some higher power, willing fans to join the cult and follow along.
The band's prayer would be answered, and 'Ten' would become a smash hit, spawning numerous singles and ultimately climbing to No. 2 on the Billboard charts. (Miley's daddy, Billy Ray Cyrus, held the top slot with 'Some Gave All,' mostly on the strength of earworm 'Achy Breaky Heart.')
As a sonic unit, Pearl Jam were light years ahead of many of their chart-busting brethren, and they had a lot to prove -- and to lose. 'Ten' arrived midway through a busy year for music, as Nirvana's 'Nevermind,' U2's 'Achtung Baby,' the Red Hot Chili Peppers' 'Blood Sugar Sex Magik,' Guns N' Roses' 'Use Your Illusion I' and 'II,' and R.E.M.'s 'Out of Time' were all on record store shelves. What helped these Seattle upstarts find their footing was that they fit snugly into the niche quickly forming on the West Coast, where scene godfathers the Chili Peppers ('Mother's Milk'), Jane's Addiction ('Nothing's Shocking,' 'Ritual de lo Habitual') and Soundgarden ('Louder Than Love') had paved the way.
While Jane's Addiction's lead singer, Perry Farrell, supposedly coined the term "Alternative Nation," the bands associated with this California-based movement are better described as the 'Point Breakers,' in reference to the 1991 movie about surfers and bank heists. Chili Pepper Anthony Kiedis was even in it. While the unique-sounding, ruggedly handsome Vedder was Pearl Jam's breakout star, guitar nerds can immediately hear the virtuosity of lead axman Mike McCready and his on-point interplay with rhythm guitarist Stone Gossard. Also of note: the outside-the-box bass lines of Jeff Ament, as heard on singles like 'Jeremy' and 'Once.' All in all, this was a powerhouse lineup -- not just a freak-of-nature frontman blessed with magical pipes.
Singles from the album included 'Even Flow,' 'Jeremy' (bolstered by a disturbing and unforgettable video that foreshadowed some of the decade's school shootings), 'Alive' and 'Black.' The production work of Rick Parashar suits the '90s version of the band quite well, but compared to other albums put out that year -- 'Nevermind,' 'Achtung Baby,' 'Blood Sugar Sex Magik' and Teenage Fanclub's 'Bandwagonesque' -- it has a decidedly dated sound, rife with the day's effects du jour (lots of chorus pedal, slide-y fretless bass and guitar passages too twinkly for their own good).
That said, tunes like 'Jeremy' highlight Parashar's masterful layering. From start to finish, it's one of the spookiest songs ever put to tape, and it's almost as if the producer is a member of the band.
While 'Ten' hit No. 2, it didn't reach that peak until well into 1992, and its slow rise speaks to how much of a grower the album was. On first listen, it sounded decent, but after 10 spins, it revealed itself as a gem. Back in the day, word-of-mouth and MTV and radio airplay meant everything, and once 'Ten' caught on, it just kept selling and selling. To date, it's moved 13 million units in the U.S. alone, and while Pearl Jam topped the charts with their next three albums and became one of the biggest bands in the world, 'Ten' remains their best-selling effort.