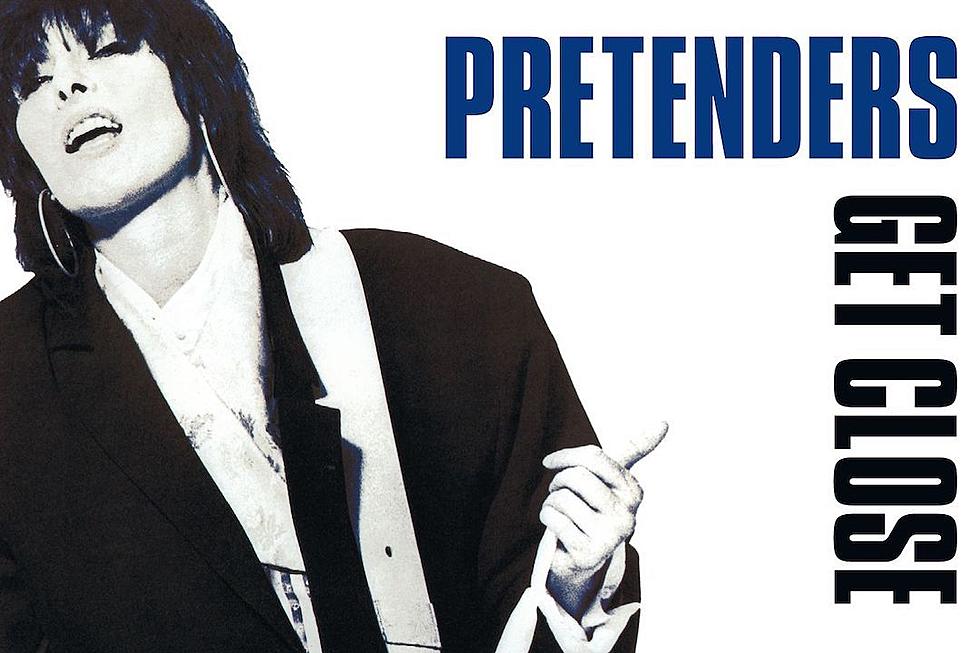 30 Years Ago: The Pretenders' 'Get Close' Arrives During a Restless Period for Chrissie Hynde
Sire
The Pretenders had long since become Chrissie Hynde's band when Get Close arrived on Nov. 4, 1986. In keeping, it delved ever more deeply into her identity then as a new mother and wife. But the album also underscored a growing musical restlessness.
"I can remember exactly where I was sitting when the Beatles first appeared on TV," Hynde told the New York Times in 1986. "I felt plugged in to something that was totally from another world. Since then, the music and the culture have become completely domesticated. For me, the pinnacle of rock was the late 60's because almost everything you did had never been done before. It's so rare now to hear anything fresh and experimental. I think the music may have exhausted its potential for growth."
To combat that creeping malaise, she turned definitively away from the post-punk pop that dominated the Pretenders' earliest albums. Instead, Hynde and an evolving lineup still anchored by Learning to Crawl guitarist Robbie McIntosh dove head long into sleek, R&B-shaped sounds. Producers Bob Clearmountain and Jimmy Iovine rounded things out with a series of outside collaborators, notably keyboardist Bernie Worrell of Parliament-Funkadelic fame.
Suddenly, the Pretenders were touching on Motown (the Top 10 U.S. hit "Don't Get Me Wrong"), Southern soul ("Chill Factor"), funk ("How Much Do You Get for Your Soul?"), even reggae ("Tradition of Love"). They'd never stretched further out of the comfort zone, completing the album with the group's first-ever power ballad ("Hymn to Her"), a Jimi Hendrix cover ("Room Full of Mirrors") and a paean to domestic bliss ("My Baby"). Even amid a changing musical climate, to say nothing of built-in expectations about the Pretenders, Hynde was determined to follow her muse.
"I think if I lost an edge or the music didn't have the aggression or whatever ... I still think if you have something original in what you do and you keep doing that, then you're all right," she told Interview in 1986. "If you're purely derivative in what you do, then you could very easily get lost along the way."
Listen to the Pretenders Perform 'My Baby'

The appearance of a Hendrix song was no accident, as Hynde often railed against the '80s-era sell outs she saw happening all around her band.
"I'm sure that if Jimi Hendrix were here today, he would not be making soft-drink ads," Hynde told the Times. "Rock and roll used to be anti-establishment, but it has been overexposed in magazines and on television. In America, MTV has taken the excitement and magic out of rock and roll and turned it into the musical equivalent of McDonald's. The fact that musicians probably spend more time making a video for a song than working the song out musically says a lot about the condition of rock."
Unfortunately, this determination to pursue a more individualized vision for the Pretenders came at the expense of the group's only other founding member. Drummer Martin Chambers – who stayed on after guitarist James Honeyman-Scott and bassist Pete Farndon died within a year of each other in the early '80s – was summarily replaced after Hynde said he had trouble connecting with the group's shift in musical tone.
More change was on the way, as Hynde continued a fidgety search for musical fulfillment.
Six shows into the tour for Get Close, she was seemingly already bored by this new direction and fired both Worrell and new bassist T.M. Stevens after a stop at the Spectrum in Philadelphia. McIntosh departed not long afterward, later joining Paul McCartney, whom he had met during the Get Close sessions because Hynde and the late Linda McCartney were friends.
"In this group, nobody is an official member," Hynde told the Times. "It's a floating situation. It used to be the ideal of many rock groups to be self-contained units. But musicians who work together for a long time can become too familiar with each other, and then the music gets stale."
50 "Last True" Rock Stars