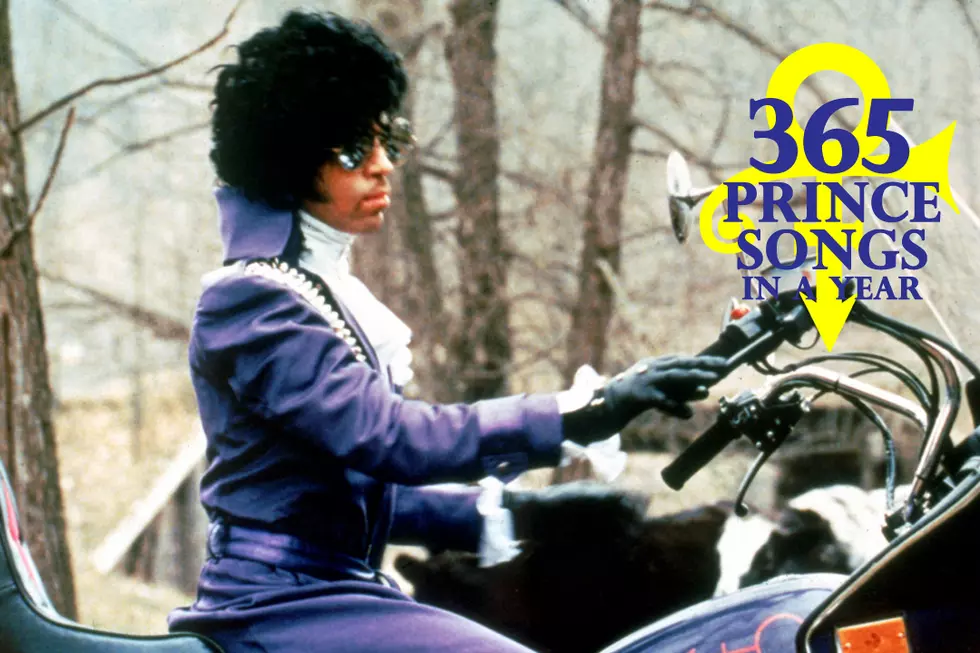 Prince Exiles One of His Best Songs,'17 Days,' to a B-Side: 365 Prince Songs in a Year
Warner Bros.
To celebrate the incredibly prolific, influential and diverse body of work left behind by Prince, we will be exploring a different song of his each day for an entire year with the series 365 Prince Songs in a Year.
Prince's list of B-sides is long. His list of great B-sides is pretty long too. His best and most prolific period -- pretty much the entire '80s, when you get down to it, but we'll narrow it down to the five-year span from 1982-87 to keep things manageable here -- yielded B-sides that any other artist would kill for as their A-sides. The Purple Rain sessions alone gave us "17 Days," "Erotic City" and "Another Lonely Christmas," which rank as some of his all-time best songs, but he treated as throwaways.
There are enough B-sides during this period to make a killer album, and one that would probably hold together pretty well as an LP. And we can't think of a better opening song for that record than "17 Days," the flip side to the "When Doves Cry" single that was released in May 1984.
Originally extended with the Princean subtitle "The rain will come down, then U will have 2 choose. If U believe, look 2 the dawn and U shall never lose," "17 Days," like several Prince songs from the era, began life as a demo recording for one of the many side projects he was juggling at the time.
In this case, the song was written for Vanity 6's second album. But after Vanity, who was Prince's girlfriend for a while, left the all-girl trio for a solo career, Prince replaced her with a new singer, renamed the group Apollonia 6 after her and kept the mid-tempo song -- which was intended to be sung by Vanity/Apollonia member Brenda Bennett -- for himself.
The demo -- which was made in his Minneapolis home studio -- dates back to summer 1983, but sometime in late December that year and in early January 1984, Prince re-recorded "17 Days" in Hollywood with Revolution members Wendy Melvoin and Lisa Coleman adding backing vocals. The song was credited as "Produced, Arranged, Composed and Performed by Prince and the Revolution," marking the first time the band was given credit on record, even though Prince plays every instrument you hear. (Prince, Melvoin, Coleman and Matt Fink hold the copyright to the song.)
Either way, the "When Doves Cry" / "17 Days" single not only checks in as Prince's best A- and B-side combo, it's also one of the greatest singles in the history of popular music -- a flip side as equally rewarding as its main song. (The follow-up, "Let's Go Crazy" / "Erotic City," is right up there too.)
And its colorful imagery, and heartbreak theme, fit in perfectly with Purple Rain's mood swings. Musically, Prince revisited parts of "17 Days" a year later on Sheila E.'s "A Love Bizarre," a song he co-wrote and sings on, and on his own "Pop Life," which ended up on Around the World in a Day but was recorded during the productive Purple Rain sessions.
In addition to being relegated to a B-side, the song was also somewhat neglected onstage. It eventually became part of Prince's set lists during the massive tour in support of Purple Rain, but it took a while to earn a spot. After that, Prince dragged it out only occasionally in concert.
Still, the song is a fan favorite. The same year it showed up on Prince's The Hits/The B-Sides compilation, 1993, Living Colour included a cover of "17 Days," appropriately, on the B-side of their single "Ausländer."
"His songs can withstand reinterpretation, and that's one of the things I dig about his music," Vernon Reid, the band's guitarist, tells Diffuser. "I started with that synthesizer line, and thought, 'You know, this could work on guitar.' His music could be very complex, but like Miles Davis, he had this kind of sad little simplicity, he had a channel into things that were simple and profound."
The song's lyrics also appealed to Reid, especially Prince's decision to pinpoint the time of heartbreak to a precise day, a format he'd use even more specifically on "Nothing Compares 2 U." "There's an understanding of the human condition that's inside of that song," Reid says. "The idea of 17 days, it's a little more than two weeks. There's something very poignant about counting the hours and counting the days. That's the beauty of it -- it's not 18 days, its not 19 days."
It all makes for one of Prince's greatest songs, a B-side that should have been on the flip or at least part of Purple Rain. It's that good, and that deserving.
Prince Albums Ranked in Order of Awesomeness