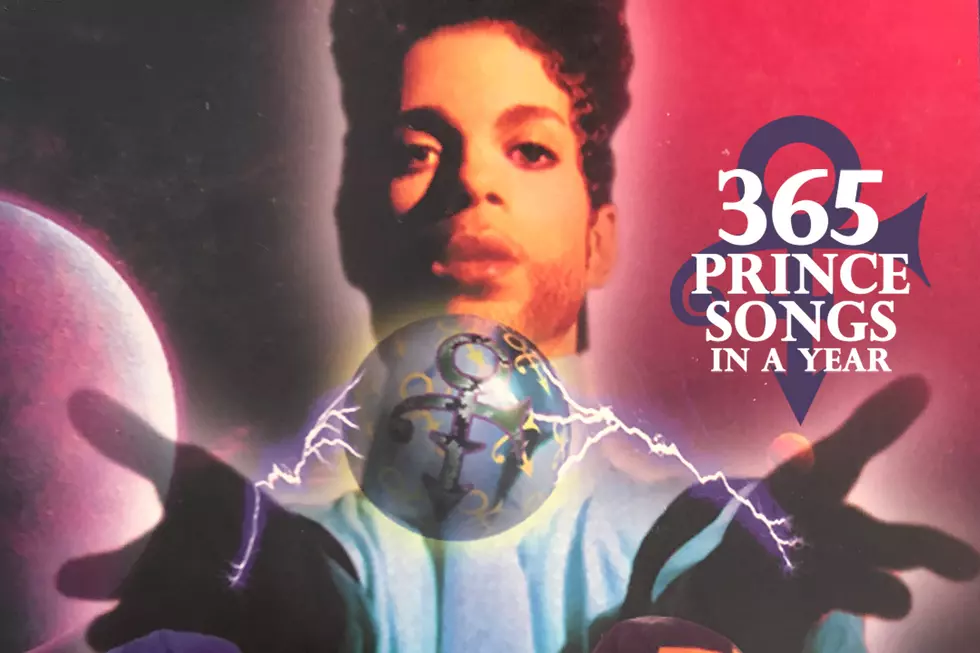 Prince Struggles With Love's Implications on '3 Chains O' Gold': 365 Prince Songs in a Year
Warner Home Video
To celebrate the incredibly prolific, influential and diverse body of work left behind by Prince, we will be exploring a different song of his each day for an entire year with the series 365 Prince Songs in a Year.
In love, as in so many things, Prince could be inscrutable. Occasionally, however, his art would provide important clues – and "3 Chains O' Gold" appears to be one of those times.
The song, and the film which took its title, found Prince portraying a smitten character who was nevertheless wavering. So was Prince, who had fallen in love with a young woman named Mayte Garcia.
As the heart battled the mind for control of his destiny, Prince was left adrift. "I'll want to kiss you and then I won't," he sings in 1992's "3 Chains O' Gold." "We both do nothing, and call it love. Is this love? Is this love?"
Mayte eventually emerged as a central figure in the era leading up to 1992's Love Symbol Album, serving as Prince's muse, a back-up vocalist and featured dancer in the videos. 3 Chains O' Gold, a forgettable companion film, also starred Mayte as an Egyptian princess who falls in love with Prince after asking him to serve as protector of the Three Chains of Turin. In the script, as in life and in the song, Prince takes a while to come around.
"Woven through the film and its music are all the elements that occupied his mind in that moment: an enhanced form of storytelling that was operatic and held nothing back," Mayte says in The Most Beautiful: My Life with Prince. That included "the idea of one soul being born into the same circle again and again, his growing fascination with the sound and style of Egypt, and his growing fascination with me."
"3 Chains O' Gold" made that last part crystal clear. Still, the always-restless Prince seemed of two minds about it all. In fact, as late as 1994, Prince was still hedging on the idea of settling down.
"I decided that things like family don't have a big part to play in my future," he said in Prince: Purple Reign. "I'm dedicated to music, to the point that I see all of life through it." By then, 1994's "The Most Beautiful Girl in the World" – a song many saw as an unabashed paean to Mayte – had already gone No. 1 around the globe.
Oddly enough, Prince seemed more committed than ever in other parts of his life. The period was defined musically by a quickly growing creative symbiosis between Prince and the New Power Generation. A lengthy period on the road in support of 1991's Diamonds and Pearls had drawn his new group of collaborators almost telepathically close.
In keeping, "3 Chains O' Gold" is a full-band effort, as Prince is joined by drummer Michael Bland, bassist Sonny Thompson, second guitarist Levi Seacer Jr., keyboardist Tommy Barbarella and a tough five-piece horn section led by Michael B. Nelson. An orchestral arrangement by Clare Fischer rounds things out.
These fertile January 1992 sessions also produced six other new songs including "Damn U," and a reworked version of "Sex," as Prince's reliably torrid pace allowed him to avoid his own feelings. Along the way, he produced Mayte's European-released 1995 solo album Child of the Sun, and she was featured on "Race" from 1994's Come, two tracks on 1995's The Gold Experience, and throughout 1996's Emancipation.
Still, there was only so long Prince could delay the inevitable, it seems. He married Mayte on Feb. 14, 1996, concluding a four-year courtship.