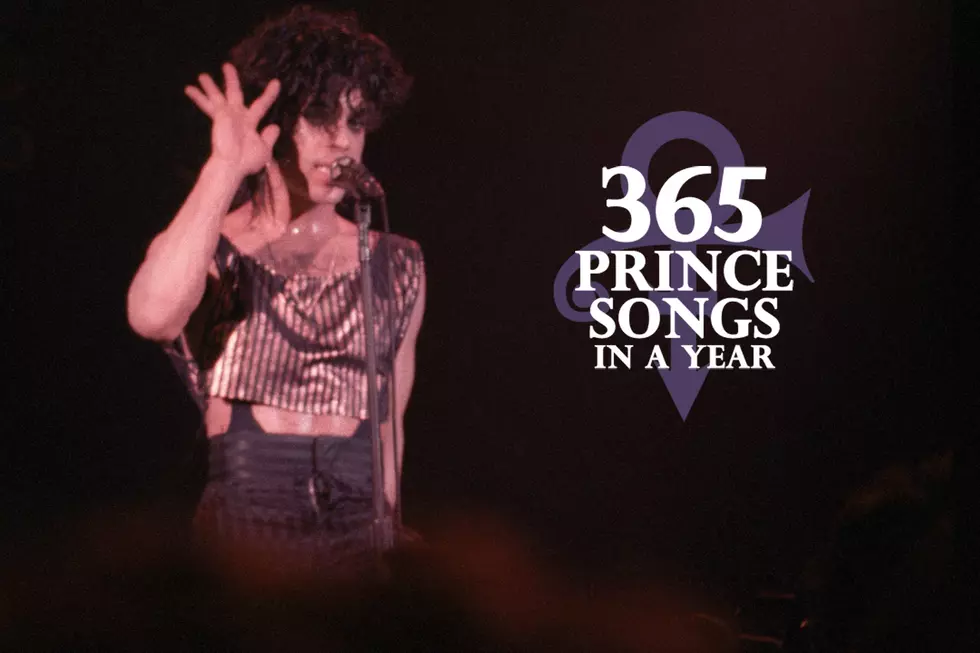 Prince Dips a Toe Into Rap With 'Irresistible Bitch': 365 Prince Songs in a Year
Jim Steinfeldt, Getty Images
To celebrate the incredibly prolific, influential and diverse body of work left behind by Prince, we will be exploring a different song of his each day for an entire year with the series 365 Prince Songs in a Year.
Beginning with 1981's "Gotta Stop (Messin' About)," Prince began using top-quality unreleased recordings on the b-sides of his singles. The first of those to generate Billboard chart ink was 1983's "Irresistible Bitch." The propulsive dance jam made its debut appearance alongside "Let's Pretend We're Married," the fourth single from his breakthrough release 1999.
According to Per Nilsen's The Vault: The Definitive Guide to the Musical World of Prince, "Irresistible Bitch" was originally recorded in 1981. Two years passed before Prince decided to revisit and revise the song. Most analog elements of the original were removed, leaving the bare-bones sound of a bass and a drum machine. Synthesizers were added to the chorus and the bridge, and background vocals were added by Prince's keyboardist, Lisa Coleman, and new band recruit, guitarist Wendy Melvoin. It was the first Prince song to feature vocals from Wendy, who would go on to be a trusted collaborator and feature heavily in Prince's work for the next three years. The final touches were put on "Irresistible Bitch" in September 1983, and it was released less than two months later. It made its CD debut a decade later on the Hits/B-Sides compilation, and Prince even snuck a tidbit of it into 1995's "Purple Medley."
The song finds Prince unable to escape the clutches of a woman who clearly has no interest in being exclusive to him. Judging from the first line, there's a good chance that Prince isn't even the primary interest in her love life: "Every other night I call your butt up on the phone / A deeper voice answers, says you're not at home." Far from being turned off by his lower place in line, Prince finds himself unable to pull away from this woman's lure, letting her drive his car and take his money. Despite his friends' astonishment at Prince appearing to be taken for a fool, Prince himself says that this lady's bedroom game is so strong that he doesn't mind being taken advantage of.
Two things separate "Irresistible Bitch" from most of Prince's catalog up until that point. One is the title, which was likely unable to pass by radio censors in 1983. Elton John was able to score a Top 20 hit with "The Bitch Is Back" a decade earlier, and Hall & Oates worked the word into the chorus of "Rich Girl," which hit No. 1 in 1977. But Elton at that point was a superstar, and Hall & Oates had a few hits under their belts, but Prince was still a star in ascension, and he also presented a much more sexually and culturally sinister image than Elton ever has.
Instead, "Irresistible Bitch"'s play came mostly as a result of open-minded club DJs, which brought the song (listed along with its a-side) a few spots short of the Top 50 on Billboard's Dance/Disco chart in early 1984. "Let's Pretend We're Married" charted in the middle of the pop and soul charts, but "Irresistible Bitch" was not listed, possibly due to the fact that Billboard policy at the time didn't allow b-sides to appear on the Hot 100 or Hot Soul Singles. This policy would be reviewed and revised several times over the ensuing decade and a half.
Secondly, and perhaps more important than any speculation regarding radio censorship, "Irresistible Bitch" marked Prince's first foray into anything that could remotely be called rap. While Prince would embrace hip-hop more openly as the '90s began, "Irresistible Bitch" found Prince dipping a pinky toe into a genre that was just beginning to break through commercially.
In a 1997 interview with Spike Lee, Prince said, "I've gotten some criticism for the rap I've chosen to put in my past work. ... It's an old style and I've always done it kind of differently-half sung. You know, like 'Irresistible Bitch.'"
It's worth noting that while Prince does seem to be nodding slightly towards hip-hop with "Irresistible Bitch," the conversational tone he employs during the song has very little in common with the booming rap style that was popular at the time courtesy of emcees like Melle Mel and Run-D.M.C. In the early '00s, Philly rapper Eve made the connection between Prince's song and hip-hop clearer by releasing an interpolation of the song entitled "Irresistible Chick."
Let's see ... we've got a dance floor filler with a filthy title, rapped/spoken rather than sung, on the flip-side of an even filthier single, and it turns out to be something of a hit? "Irresistible Bitch" was a song that made it clear that Prince was not your typical Top 40 artist making safe, traditionally radio-friendly music. It was also the last new music released under Prince's name before the equally avant-garde single "When Doves Cry" secured Prince's legacy in the pantheon of pop superstars forever.