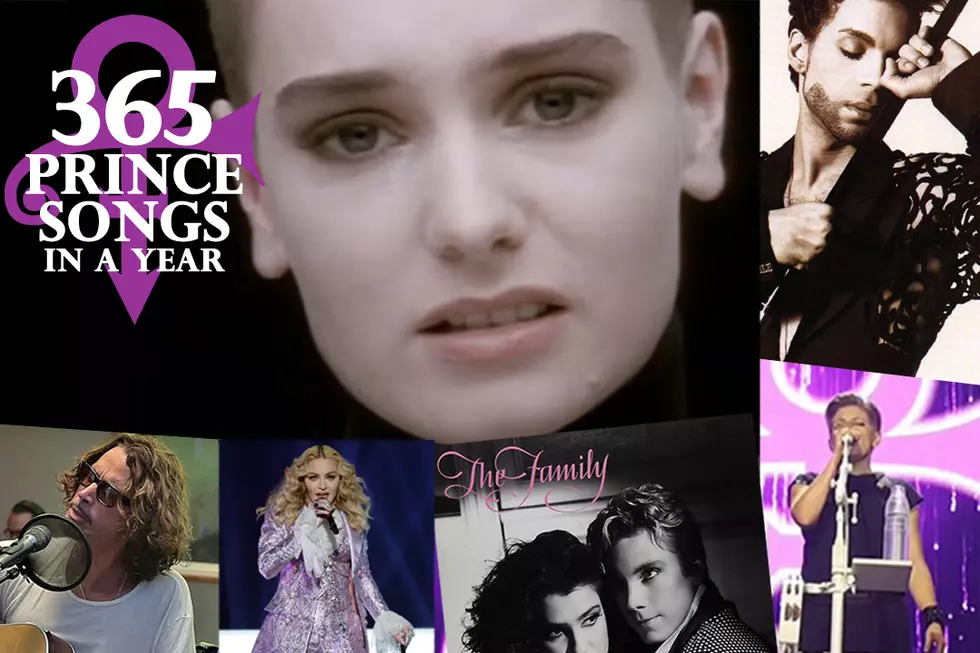 'Nothing Compares 2 U' Takes a Long, Strange Road to Immortality: 365 Prince Songs in a Year
Chrysalis / Warner Brothers / Sirius XM / Getty Images / Paisley Park / YouTube
To celebrate the incredibly prolific, influential and diverse body of work left behind by Prince, we will be exploring a different song of his each day for an entire year with the series 365 Prince Songs in a Year.
By the mid-'80s, Prince, between his albums, movies and side projects, had usurped James Brown's title as the hardest-working man in show business. With irons in so many fires, some of his work naturally fell through the cracks. However, with the help of Sinead O'Connor, one of those forgotten tunes, "Nothing Compares 2 U," eventually became one of his most beloved songs.
Since O'Connor's hit 1990 recording, "Nothing Compares 2 U" has taken on a life of its own and is now as closely associated with Prince as anything he released under his own name. Since his April 2016 death, it has been performed in onstage tributes by some of the biggest names in rock, pop and country.  Read below to discover the journey the song has taken.
1984: From Humble Family Beginnings ...

In 1985, an unsuspecting future hit was quietly released into the world. The Family, one of Prince's many side projects, put out their first and only album. On it was the Prince-scribed "Nothing Compares 2 U," which is the only writing credit he claimed on the album, although, according to PrinceVault, he penned seven of its eight songs and played nearly all the instruments.

He drew his inspiration for the song from Sandy Scipioni, who had been his personal assistant in 1980, until she left suddenly following her father's death. Despite the general tenor of the song, the two were not romantically involved.

Prince originally recorded "Nothing Compares 2 U" on July 18, 1984, at the Flying Cloud Drive Warehouse, the same day "Let's Go Crazy" was released as a single. St. Paul Peterson and Susannah Melvoin later overdubbed vocals, while Clare Fischer added orchestral overdubs.

The song, like the album, received little attention, and Prince quickly became occupied by the making of his next film, Under the Cherry Moon. He couldn't have imagined the drama that would later ensue, all with "Nothing Compares 2 U" at its root.

1990: Enter Sinead O'Connor

"Nothing Compares 2 U" was resurrected when Irish singer-songwriter O'Connor took a liking to it, and recorded her own arrangement six years later. She put it on her second album, I Do Not Want What I Haven't Got, and it quickly shot up the charts, becoming a worldwide hit. In the U.S., it reached No. 1 on the Billboard Hot 100 on April 21, 1990 -- 26 years to the day before Prince died — and claimed the No. 3 spot for the year.

She also shot a video for the song, which was in heavy rotation at MTV. It featured O'Connor against a stark background, singing about her various states of grief. "The closeup of me singing 'Nothing Compares 2 U' was supposed to be only one part of the video," she said. "But the song reminded me of my mother, who had died three years previously. … I made an emotional connection, which I was not expecting — it didn't hit me when I was recording the song. It only kicked in when I was being filmed. So I was sitting there, thinking about me mother, and trying hard not to bawl my eyes out."

Prince Restakes His Claim

Following O'Connor's surprising success with the track, Prince immediately began adding it to his live sets, where it remained in regular rotation. In 1993, he captured and released a duet performance of it with Rosie Gaines on The Hits 1 that reached No. 62 on Billboard's Hot R&B/Hip-Hop Songs chart. Then in 2002, he released another live version on his first live album One Nite Alone ... Live! He had played it live as recently as the week prior to his 2016 death.

The worldwide success of "Nothing Compares 2 U" seemed to throw O'Connor for a loop. "I loved his music, but I had absolutely no idea or expectation that that single would be such a big hit, not at all," She said in an interview, Digital Spy reported.

As quickly as the song rose to popularity, she became uncomfortable with the attention. Though her recording earned her a Grammy in 1991, she boycotted the ceremony and refused the award, saying it was protest against the extreme commercialism the Grammys represented.

Furthermore, it turns out that O'Connor and Prince didn't get on well at all. According to her, they "detest" each other, partially because of his distaste for her swearing in public. "He summoned me to his house after 'Nothing Compares 2 U.' I made it without him. I'd never met him. He summoned me to his house — and it's foolish to do this to an Irish woman — he said he didn't like me saying bad words in interviews. So I told him to f--- off," O'Connor told a Norwegian radio station. "He got quite violent. I had to escape out of his house at five in the morning. He packed a bigger punch than mine."

You don't have to read very deeply into the lyrics of Prince's 1994 track "Days of Wild" to see that he disputes O'Connor's account of their encounter. In it, he sang, "A woman every day should be thanked / Not disrespected, not raped or spanked / And if a woman ever said I did / She's a motherf---ing liar and I'm a set-up kid."

The saga didn't end there. In 2015, O'Connor announced that she would never perform "Nothing Compares 2 U" again because she no longer emotionally identified with the song, according to Billboard. The singer claimed the first principle of Bel Canto, the style in which she was trained, stipulates that you only sing that which you connect with emotionally.

O'Connor's public behavior became increasingly erratic over the years, as she openly struggled with mental illness. When Prince died in 2016, she accused comedian and talk-show host Arsenio Hall of providing him with drugs, and claimed she had tipped police off to this fact. Hall filed a $5 million defamation suit against O'Connor, which he dropped after she apologized and retracted her accusation, according to the L.A. Times.

A Radio Tribute Fit for a Prince

On May 4, 2016, at 5:07PM CT (Minneapolis, Prince's hometown, is in Central Time), radio stations across the U.S. broadcast "Nothing Compares 2 U" from The Hits 1. The idea began at Minneapolis public radio station the Current and they encouraged others to follow suit. They chose the date because it was exactly "seven hours and 13 days" since Prince had died, referencing the song's opening line. O'Connor had changed it to "15 days."

A Grunge King Pays His Respects

The day Prince died, Chris Cornell of Soundgarden uploaded a version of him singing "Nothing Compares 2 U" to Facebook. "Prince's music is the soundtrack to the soulful and beautiful universe he created," Cornell wrote, "and we have all been privileged to be part of that amazing world." Cornell had been performing "Nothing Compares 2 U" since 2015, according to Setlist.fm, including a filmed performance during an Artist Confidential session at Sirius XM's studio. In a sadly ironic twist, after Cornell's death in 2017, Prince's former band the Revolution began playing his version of the song over the P.A. after their concerts.

Nothing Compares to the Dixie Chicks

The day after Prince's untimely death, the Dixie Chicks performed a stunningly stark version of "Nothing Compares 2 U" during their concert in Horsens, Denmark. It has remained a regular staple of their set lists ever since, including a show at the Minnesota State Fair in St. Paul four months after Prince's death.

The Queen Salutes the Prince

As part of a tribute at the 2017 Billboard Music Awards, his longtime frenemy Madonna, sang "Nothing Compares 2 U." But when her performance earned bad reviews, she wrote on Instagram, "Anyone who wants to do a tribute to Prince is welcome to. Whatever your age Gender or skin Color. If you loved him and he inspired you then show it!!!! I love Prince 4 ever."

Prince's Original Recording Surfaces

As the second anniversary of his death approached in April 2018, Prince's estate released his original 1984 recording of "Nothing Compares 2 U." It was accompanied by a video comprised of previously unseen footage of Prince and the Revolution rehearsing their stage show in his Flying Cloud "Warehouse" in Eden Prairie, Minn.