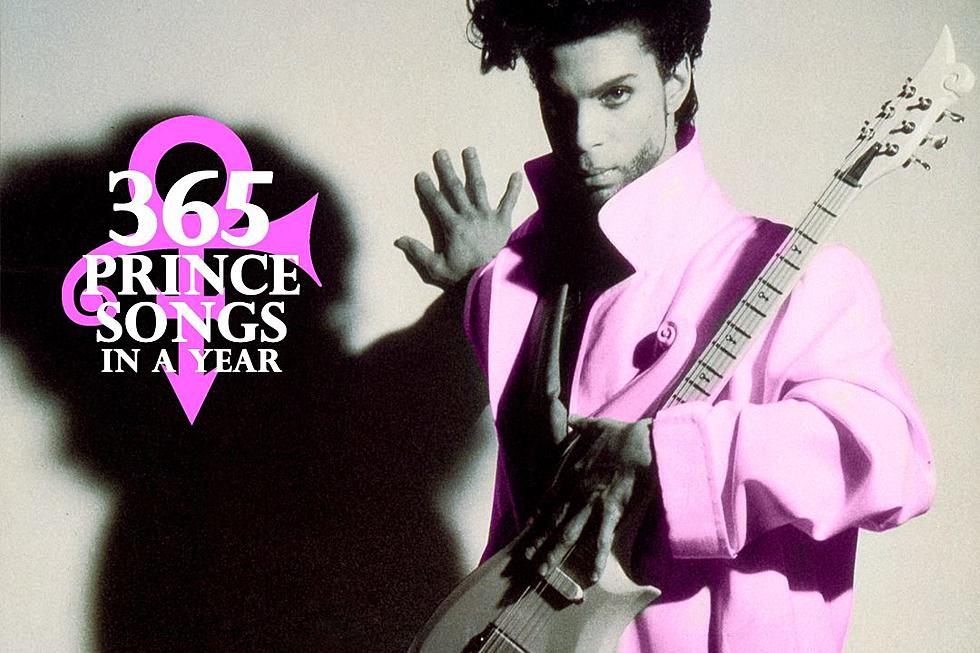 Prince Gives Anna Fantastic a Birthday Gift of 'Pink Cashmere': 365 Prince Songs in a Year
Warner Brothers
To celebrate the incredibly prolific, influential and diverse body of work left behind by Prince, we will be exploring a different song of his each day for an entire year with the series 365 Prince Songs in a Year.
The spring and summer of 1993 marked a time of great upheaval in the life of Prince, so it's somewhat strange that "Pink Cashmere," released in August of that year, served as a look into the artist's romantic past.
In the months prior to its release, Prince made a pair of major announcements. In late April, he said that he would no longer make new studio albums in order to focus on a variety of outside ventures, including film and "interactive media." Then, on June 7, his 35th birthday, he revealed that he was going to change his name to the unpronounceable symbol that served as the title of his previous album. Both decisions were the result of his deepening rift with his label, Warner Bros. In order to fulfill his contract with them, he said, future releases would contain music from his vault.
Warner Bros. responded by releasing a retrospective package. The Hits/The B-Sides was comprised of two discs -- which were also sold individually -- of classic singles, and a third that put many of his legendary B-sides on compact disc for the first time. Prince also added new material to the package, with the first taste being the single, "Pink Cashmere."
But "Pink Cashmere" wasn't entirely new. The song was originally recorded in 1988, after Prince met and began dating a young singer named Anna Garcia at a concert in her native London. Prince, who had dubbed her "Anna Fantastic," commissioned a present for her 18th birthday. Garcia recounted the event on her Facebook page: "I walked into the house from a long trip visiting my family in the U.K. to spend my 18th bday with Prince, there was a beautiful song playing I didn't realize what it was about until moments later when he brought out the coat as my 18th bday gift. It was the most romantic thing I've ever experienced till this day and my best bday ever."
Subsequently, a song was born — although it wouldn't be completed until 1990, when Prince added orchestral overdubs to the mix. By that time, Garcia was no longer in the picture. However, it was only one of several songs Prince wrote with Garcia in mind, in addition to the Batman soundtrack cuts "Vicki Waiting" and "Lemon Crush."
"Pink Cashmere" found Prince in chill mode, initially. "Here I go again / Falling in love all over," he sings in his trademark falsetto over an insistent drumbeat and pretty acoustic guitar. As the song continues, Prince's singing grows more feverish. After listing the things he wants to do to her (presumably Anna) — touch her, be her guru, tell her a bedtime story — the song ends with a lengthy and impassioned guitar and strings coda. It doesn't immediately announce itself as a classic the way, say, "Kiss" or "When Doves Cry" does, but "Pink Cashmere" works its magic subtly.
The song was a moderate hit on the Billboard charts, landing at No. 50 on the pop side and making its way into the Top 15 on the R&B list. While a video exists, Prince did little to promote the song or its parent compilation, a symptom of his steadily worsening relationship with Warner Brothers and his overall indifference towards The Hits/The B-Sides.
While a relative footnote in his catalog to the average Prince fan, the artist himself remained quite fond of "Pink Cashmere," performing it well into the twilight of his career. He last performed the song in early 2016, just weeks before his tragic passing.
Prince and Garcia's romance fizzled out by 1990, when the young singer returned to Europe. Since then, she has continued to release music, including a cover of Marvin Gaye's "Sexual Healing." She still performs (including hosting a New Year's party in 2016 with fellow Prince ex Jill Jones), and produced a documentary on Prince's chief rival, Michael Jackson. Following Prince's passing, Garcia admitted to gossip site TMZ that she still owns the pink coat Prince gave her nearly 30 years ago.
Prince Albums Ranked in Order of Awesomeness