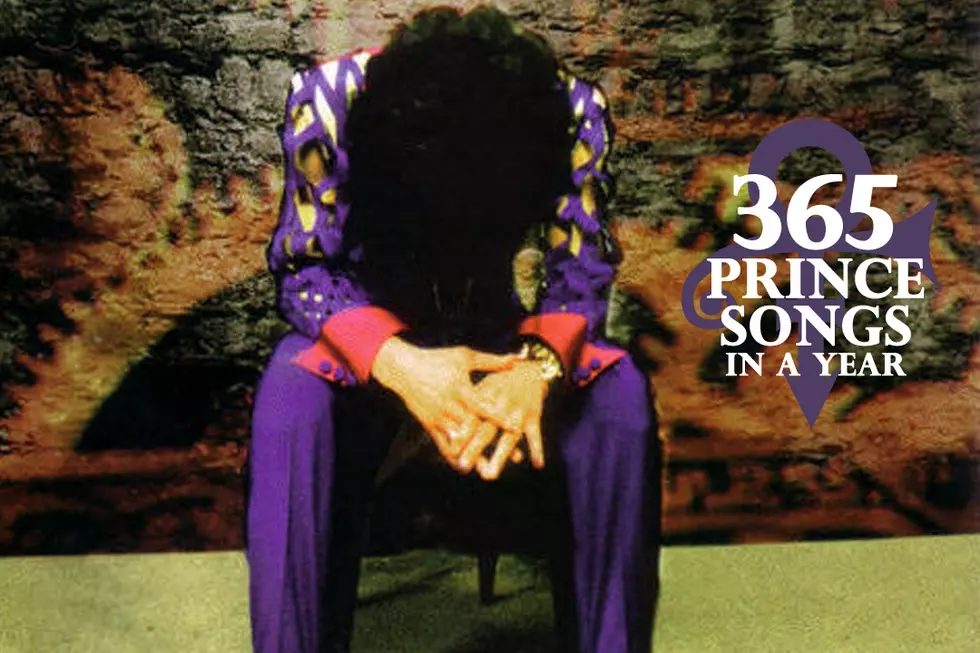 How a Throwaway Archival Project Hid Prince's Funky Gem 'Sarah': 365 Prince Songs in a Year
Warner Bros.
To celebrate the incredibly prolific, influential and diverse body of work left behind by Prince, we will be exploring a different song of his each day for an entire year with the series 365 Prince Songs in a Year.
In a moment of brutal honesty, Prince called 1999's appropriately titled The Vault: Old Friends 4 Sale a "contractual obligation." It wasn't really an album, so much as 10 songs that Warner Bros. still had lying around, years after their former star's unhappy departure.
Songs like "Sarah," however, showed that even his table scraps could be quite tasty. A compulsively fun full-band collaboration, the track finds Prince in a winking, salacious mood – the polar opposite of the angry Warner Bros. employee who used to scrawl "slave" on his face before performing.
There was reason to celebrate. The Vault: Old Friends 4 Sale represented the final album on Prince's old contract; the label shortened it by one studio project after he took a reduction in royalty advances. Prince quickly fashioned the needed releases, which were subsequently issued as 1996's Chaos and Disorder and then Old Friends 4 Sale three years later.
In the meantime, Prince had finally begun to produce music at his own rate, choosing any configuration and following his muse where ever it led him. "They all told me, 'Do what worked before,'" Prince said in the 1999 interview with the Philadelphia Inquirer. "You know, 'Why can't you just get with something like "Let's Go Crazy"?' I was like, 'I don't have to; I already did that.' It's almost like they want it for them. The instant you go back like that, it stalls. The effort of going back kills the inspiration."
Warner Bros. had other ideas. They had no say in which songs Prince selected for inclusion – but he, in turn, couldn't dictate when this final pair of archival albums was released. In what can be seen either as an unhappy coincidence or as one final jab, Warner Bros. issued Old Friends 4 Sale just before Prince's latest, guest-packed original album Rave Un2 the Joy Fantastic arrived via a new independent agreement with their competitor Arista.
"Sarah," despite its cool call back to Sly and the Family Stone-era grooves, got lost in the shuffle. It happened for two reasons. First, it was part of an album that simply vanished under the grinding gears of a new partner's promotional machine. Second, it quickly became clear just how, well, old the rest of this stuff actually was.
Old Friends 4 Sale, which generally took a more jazz-focused turn after the rock feel of Chaos and Disorder, included tracks dating all the way back to 1985 – and some had been widely heard in one configuration or another.
For instance, "She Spoke 2 Me" had already appeared in a different version on the soundtrack to the 1996 Spike Lee film Girl 6. "5 Women" was earlier given to Joe Cocker, while other songs (including "The Rest of My Life" and "My Little Pill") had originally been part of a scrapped 1994 James L. Brooks musical called I'll Do Anything. The album was rounded out with songs that were considered but ultimately left off of 1986's Parade.
No surprise, then, that many wrote off the whole enterprise – including "Sarah" – as nothing more than cobbled together odds and ends. Prince didn't help, noting in the booklet for Chaos and Disorder that this was the "last original material recorded for Warner Bros. Records." Both sets of liner notes reminded fans that these tracks were "originally intended for private use."
Yet, "Sarah" stood out – or it should have. This represented the newest song collected in The Vault: Old Friends 4 Sale, emerging from sessions dating to February 1996 with New Power Generation drummer Michael Bland, bassist Sonny Thompson, keyboardist Tommy Barbarella and a muscular horn section. They catch a groove and absolutely never let go, even as Prince tosses off some of his bitchiest put-downs.
In the end, nobody is going to confuse Old Friends 4 Sale with a career-defining masterwork like Sign O' the Times. Still, "Sarah" provides a notable excuse for sorting through what could sometimes rightly be described as the detritus of Prince's Warner Bros. era. It's the proverbial diamond in the funky, funky rough.
Prince Magazine Cover Tributes From Around the World