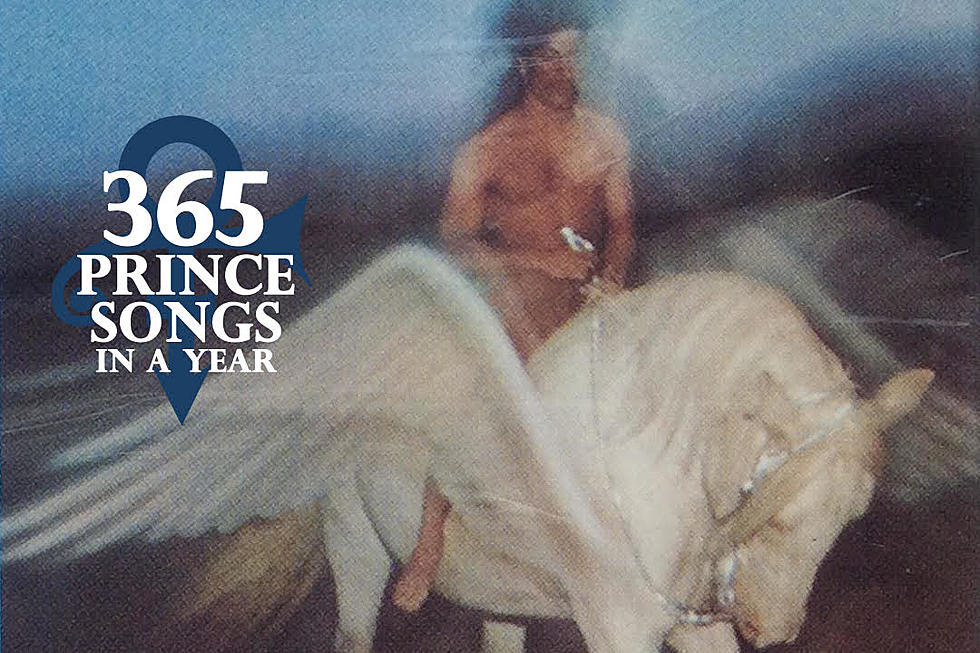 Prince Goes for Dance Club Glory on 'Sexy Dancer': 365 Prince Songs in a Year
Warner Bros
To celebrate the incredibly prolific, influential and diverse body of work left behind by Prince, we will be exploring a different song of his each day for an entire year with the series 365 Prince Songs in a Year.
The disco-funk masterpiece "Sexy Dancer" was a highlight of Prince's early catalog. The tune hailed from Prince's self-titled breakthrough second album, continuing the groove on side one after the one-two punch of lead tracks "I Wanna Be Your Lover" and "Why You Wanna Treat Me So Bad?"
While it was not commercially released as a single in the U.S., "Sexy Dancer" received quite a bit of play in dance clubs and on urban radio. Soul Train dug it enough to give it a featured slot and let their dancers have their way with the song. "Sexy Dancer" was also one of the Prince tracks that caught the attention of critics, with New York's popular black periodical The Amsterdam News calling it a "freaky, synthesized boogie tune."
Freaky and synthesized are par for the course when it comes to Prince, but several things make "Sexy Dancer" a somewhat atypical addition to Prince's repertoire. One, the song is largely instrumental. There's one quick verse to establish that Prince is, indeed, lusting after a lady that has him "just a-creamin'." There's also a lot of panting, some chanting and not much else in terms of lyrics. Clearly, the song was designed to show off Prince's instrumental prowess, which it does capably. Prince plays everything -- drums, bass, guitar, and synthesizer -- and adds a pretty piano solo about three-fourths of the way in.
Two, "Sexy Dancer" became the first Prince song to be released as a single outside the U.S. but not in the U.S. The U.K. iteration of the single was backed by the hard-rocking "Bambi," while the Japanese single boasted "Why You Wanna Treat Me So Bad?" as the B-side. Alas, "Sexy Dancer" didn't make any chart noise in either country. It did, however, get some Billboard ink at home in the U.S, where it peaked at No. 3 on the Disco chart alongside "I Wanna Be Your Lover." A 12" version of the song, released only in the U.K., is an extreme rarity. In this extended iteration, "Sexy Dancer" is doubled in length and includes a patch of fiery guitar shredding from Prince.
Rolling Stone's review of Prince noted that many of Prince's "compositions begin and end in sexual heat," and "Sexy Dancer" was no exception. It's a clearly erotic song, and fits neatly alongside of the more aggressively sensual disco songs of the time (for example, the not-quite-double entendre of "In the Bush" by studio group Musique). Despite the uniqueness of the song, it's possible that Prince was hedging his bets ever-so slightly, aiming for maximum dance floor exposure in the heyday of the commercial disco era.
In later years, Prince would bring "Sexy Dancer" back into his live repertoire, often substituting the lyrics of Chic's smash "Le Freak" for his own. Prince and Nile Rodgers were certainly members of a mutual admiration society, performing together during 2014's Essence Music Festival. Although the connection between Prince and disco hasn't been explored with much detail, it's possible the lyric substitution wasn't a conscious effort to underline his ties to that particular era of music.
Prince: 40 Years of Photographs, 1977-2016