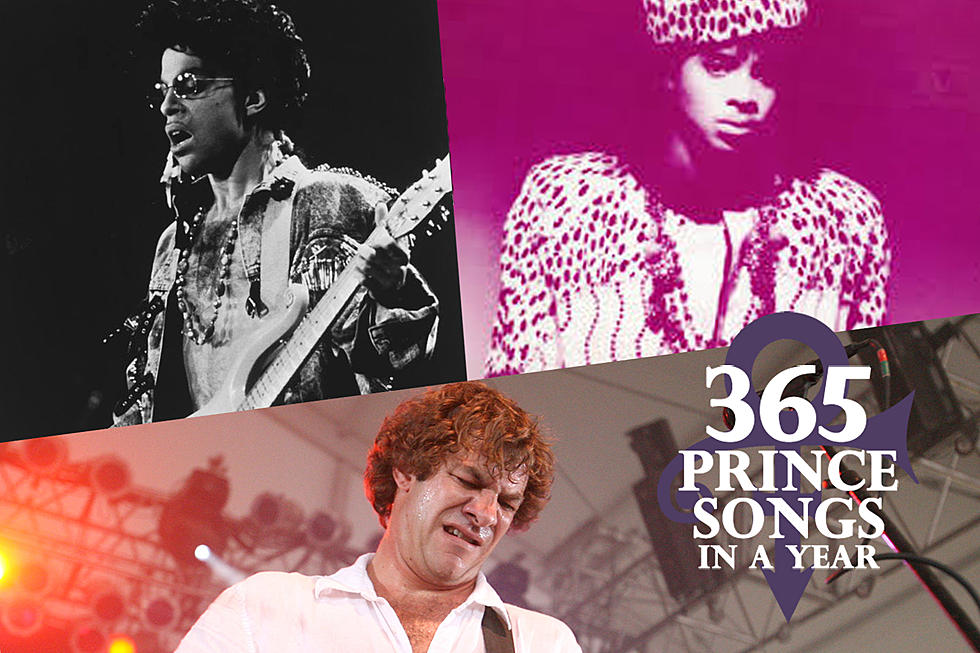 The Strange, Three-Sided History of 'Shockadelica': 365 Prince Songs in a Year
Warner Bros. / A&M / Jason Merritt, Getty Images
To celebrate the incredibly prolific, influential and diverse body of work left behind by Prince, we will be exploring a different song of his each day for an entire year with the series 365 Prince Songs in a Year.
Three years after he attempted to one-up Jesse Johnson by releasing a track with the same title as the former Time guitarist's then-new album Shockadelica, Prince himself was outdone -- at least in terms of sexual bluntness -- by Ween's cover of that same song.
Frustrated at the fact that he and his bandmates were not allowed to actually perform on the Time's studio albums (which were largely written and recorded by Prince and Morris Day), Johnson left the group for a solo career soon after appearing in the 1984 movie Purple Rain. "I was like, Now I'm famous, but I'm real poor, so I'm gonna go make some money," he explained in a 2017 stage monologue. "I went and did my own thing, did it myself all the way through, just me."
With the first single from his upcoming second solo LP already riding high on the charts, Johnson says Prince reached out with what could either be considered a generous offer -- or an attempt to maintain control over a former employee. "I had an album named Shockadelica," Johnson said. "I was real fortunate, the album was on fire. I had a single on the charts, No. 1 at the time, with Sly Stone, 'Crazy.' Susan Rogers [Prince's sound engineer at the time] kept calling me, saying, 'Jesse, Prince wants to go to dinner with you.'"
After Johnson declined the offer, Rogers explained that Prince had written what he envisioned as the missing title track for Johnson's yet-to-be released album. "So the song comes over," Johnson said. "In the middle of the night, it's on my doorstep." However, maintaining his creative independence was paramount to Johnson: "I said, 'I'm good, I don't need this song, you keep that.'"
That's when the offer allegedly turned into a threat. "He said, 'Well, if you don't put it out, I'm gonna put it out -- and when they think of Shockadelica, they will think of me. I was a young motherfucker then, and still pretty fucking crazy, but my reaction was like, 'Hey man, do what you gotta do.' That's all I could say ... I had to just zoom, mellow, check out, back away from that shit, because I was a very young father."
Prince indeed put the song out -- as the B-side to "If I Was Your Girlfriend," the second single from his 1987 double-album masterpiece Sign O' the Times. Singing in the guise of his alter-ego Camille, Prince accuses a friend of letting his romantic partner have far too much control over his life. One line in particular -- "She got you tied with a golden rope / She won't let you play your guitar" -- raised speculation that Johnson was his target.
"That was when we stopped talking," Johnson concluded, "until he reached out to me during [the filming of the 1990 Purple Rain sequel] Graffiti Bridge."
Around the same time as that film was enjoying its extremely brief theatrical run, Ween was preparing to release their first full-length studio album, God Ween Satan. The longtime Prince fans (guitarist Dean Ween would later eulogize the Purple One as "my John Lennon") not only included a cover of "Shockadelica," they significantly upped the song's shock factor.
"That was our favorite Prince song -- it's still one of my favorites," Dean Ween tells Diffuser. "That was our jam, that and 'Housequake.'" In the tradition of taboo-busting Prince songs such as "Head" and "Darling Nikki," after a fairly straight-ahead run through the original arrangement, the group veers into new and much more sexually explicit territory, culminating in the repeated "let me lick your pussy" plea that would give their version its new title: "L.M.L.Y.P." (As seen and heard on the 31-minute version included on Live at Stubb's, the concert setting is both a showcase for Ween's talk-box skills and inspiration for NSFW audience participation.)
So did Prince every hear "L.M.L.Y.P."? Ween is hopeful but uncertain. "Somehow word get back to him as we tried to clear the license for that," Ween says. "We didn't even know how to do it. I called and wrote a letter to the William Morris agency." When they received the green light to release their version, he says, "I kind of got this feeling, that I got a direct response from him, like he checked it out and loved it. Or maybe that's just wishful thinking."