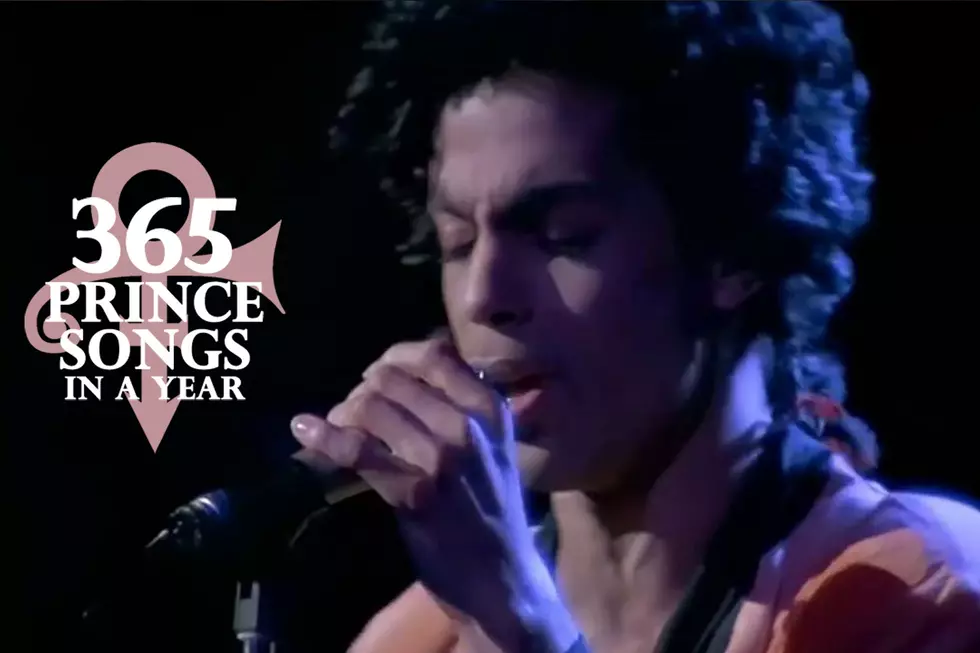 Prince Makes 'Slow Love' With Carole R. Davis: 365 Prince Songs in a Year
MCA Home Video
To celebrate the incredibly prolific, influential and diverse body of work left behind by Prince, we will be exploring a different song of his each day for an entire year with the series 365 Prince Songs in a Year.
Prince must've had a thing for race cars in the late '80s — at least as metaphors. "It makes me dance, it makes me cry / And when I touch it race cars burn rubber in my pants," he sings on the title track of 1988's Lovesexy. And just one year earlier, on the double album Sign O' the Times, he employs a similar analogy again on "Slow Love": "You can see through race car drivers / Let me show you what I'm made of / Tonight is the night for making slow love," he sings.
But it's not the lyrics that stand out the most on this breezy ballad, recorded in June 1986 at Prince's home studio in Chanhassen, Minn. The impeccable horn lines by saxophonist Eric Leeds and trumpet player Matt "Atlanta Bliss" Blistan really give the song enough luster to compete with the other tracks on the masterpiece.
"He'd sing them to us," Blistan said in an interview with Pittsburgh's WPXI, describing how Prince would sometimes dictate parts to musicians. "It was just incredible to be with him and see the creativity sparking just right there."
Apart from the Leeds-Bliss dynamic duo, it's a treat to hear Prince sing in his low register on "Slow Love," given how so many of his classic ballads are delivered in his falsetto. Wendy Melvoin and Lisa Coleman handle backing vocals, but it's another woman who arguably plays the most significant role in the song: co-writer Carole R. Davis.
"He was a musical genius," Davis said. "He knew what would sound good with what, what was layered over what. … He skipped over notes like they were stepping stones on white water. He just knew instinctively where to go."
Biographies have labeled Davis one of Prince's girlfriends, but she said they were just friends, first meeting in the mid-'80s. Davis went on to sign a record deal with Warner Bros. (on her own, without Prince's assistance), releasing the Nile Rodgers-produced album Heart of Gold in 1989. She recorded her own take on "Slow Love" for the project.
In addition to singing and songwriting, Davis has also had an acting career, with roles on such TV shows as Sex and the City, Scrubs, Veronica Mars, 2 Broke Girls and Madam Secretary. She's also an animal rights activist and a writer, having penned a novel called The Diary of Jinky, Dog of a Hollywood Wife and numerous articles about cruelty to animals.
Though she and Prince didn't always stay in touch, they retained a special bond. "It'll never go away," she said. "I was happy that he was in this world, happy to be alive in the same world that he was in."
Erica Thompson is a journalist in Columbus, Ohio. She is currently writing a book on Prince's spiritual journey and the spiritual themes in his music, which was the source of the interview with Davis. Keep up with the project at A Purple Day in December.