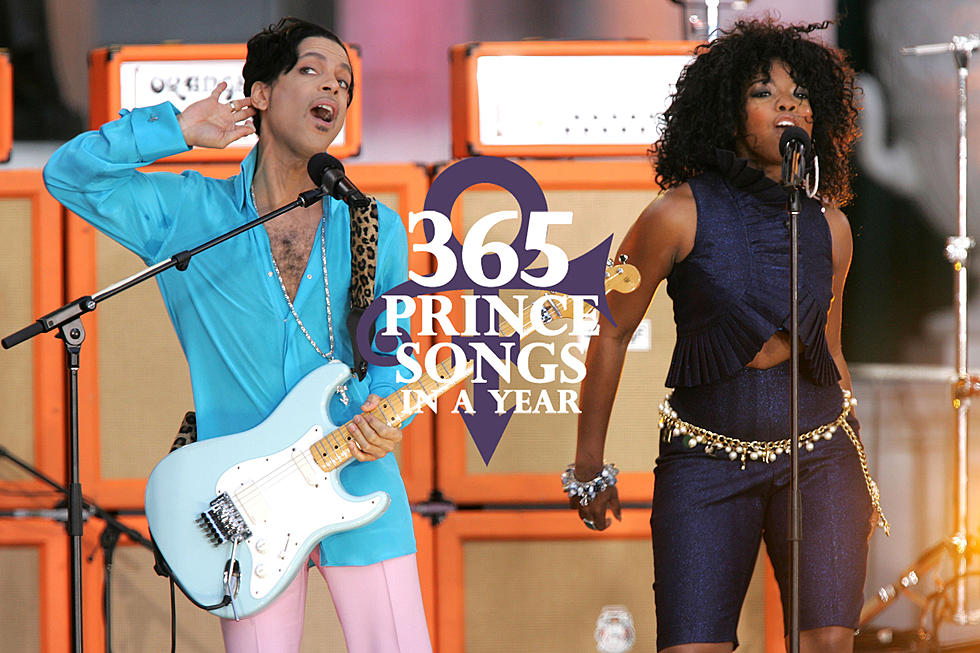 'Uncle' Prince Helps Tamar Davis Feel 'Beautiful, Loved & Blessed': 365 Prince Songs in a Year
Peter Kramer, Getty Images
To celebrate the incredibly prolific, influential and diverse body of work left behind by Prince, we will be exploring a different song of his each day for an entire year with the series 365 Prince Songs in a Year.
To Tamar Davis, Prince wasn't an idol, but he was a whole lot more than a collaborator. She called him "Uncle Prince," he noted her talent and seemed compelled to help her progress as an artist. One of the ways he did so was by contributing "Beautiful, Loved and Blessed," a Grammy-nominated song that she co-wrote and sang on, to her debut album.
At one of Prince's famous Paisley Park parties in 2004, Prince met and auditioned Davis, a member of the girl group Girl Tyme - the predecessor to Destiny's Child. But interestingly, he had shown his first interest in her career a decade earlier when he received one of her demos. Davis was a child star, but also studied her craft at a performing arts high school and in college in Texas. Over the years she auditioned for a variety of talent shows including Star Search, American Idol and The Voice.
But it was meeting Prince that fast-tracked her career in the early aughts, letting her join the ranks of other female artists mentored by Prince such as Vanity, Sheila E. and Apollonia, among others.
"[Choreographer Fatima Robinson] invited me to a video shoot and he was there," Davis said of her first encounter with Prince on Blessed Beatz. "She never said who the video shoot was for. We were in there, it was like 3 in the morning, and the lights are dark, and I felt this — literally, no lie — this wind behind me. So when this wind came behind me, I remember looking and it was him, and all of a sudden they were like 'cut!'"
Davis says Prince even enjoyed the fact that she knew little of his work and his past, and the dramatic start led to a close friendship and mentorship. A version of the song, "Beautiful, Loved and Blessed" appeared on Prince's own 3121 in March 2006, with Davis singing backup on several of the album's tracks. (A different version of the song was also released as the B-side to "Black Sweat.") Davis supported the album publicly as well, appearing with Prince on Saturday Night Live, Good Morning America and the Brit Awards. But the song was also selected, with Prince's blessing, as the title track of Davis' debut record, on which he performed nearly all the instruments as well as producing duties, and as its lead single.
"I'm not going to waste my blessings. God has over-blessed me, but you have to appreciate what you have, and to do that, you have to break down a lot of walls, meaning that you're not afraid anymore. If you look at earlier performances of mine, my eyes were closed," Prince told Giant Magazine in 2007. "Over time I've started to understand that it's really the love of music. When you have a real love for music, you kind of let go. When you let go, I don't care if you're a writer or a dancer or a musician or a lighting guy doing the spots above the stage. Sometimes I look at our lighting guy sitting up there, and he'll be watching me during a show, looking at me like, 'I got it.' It's little things like that. I mean, we could be dead; we could be non-existent, but we're not. We're all alive. It's the acceptance of the gift of life."
Not only did Prince understand the gifts bestowed upon him, he wanted to share them with up-and-coming artists. He wanted to help create great music and develop talent, not compete with other musicians. "I don't know what [retirement] is," he said in an interview with Rolling Stone that wasn't published until after his death. "There's always some way to serve. ... It feels like I'm teaching at a school, but also a student at one. I never felt like I had a job – does that make sense? So those words, 'job' and 'retire' ..."
So the icon was not only willing to mentor Davis, and lend the song to her first solo effort — credited as Tamar feat. Prince — he even toured with her as a sideman. Her record was eventually renamed to focus attention on another song from the track list, "Milk & Honey." While her debut was initially planned to coincide with 3121, and a flyer announcing her record was included with his album, its release was delayed from March to May, and then August, for reasons unknown, according to Prince Vault. The release was eventually canceled altogether, except for some promotional copies that slipped out in Japan. Instead, Davis leaked the album to her own website.
In October 2006, however, she released an EP of songs from Milk & Honey called Prelude to Tamar, which as its title suggested, was meant to precede an independent album that also included some songs from the abandoned record. It, too, was abandoned, and Davis' official debut didn't come until 2010's John Elmore III and Terrell Sass-produced My Name is Tamar.
Since then, Davis' career has gone in a variety of directions. She introduced a philanthropic and educational brand, "College, Career, and Empowerment Summit: Inspiring the Future, Recapturing the Essence of Greatness," in 2013, and in 2016, she competed on Christina's Aguilera's team on Season X of The Voice. She's starred in several Tyler Perry plays, including The Marriage Counselor, Laugh to Keep From Crying and Madea's Big Happy Family, and understudied the role of Diana Ross in Motown: The Musical. In 2016, she competed on Christina's Aguilera's team on Season X of The Voice.
According to Davis, Prince supported other aspects of her career as well prior to his death last year. He attended many of her performances, and her competition on The Voice. 
Prince's Bandmates: Where Are They Now?