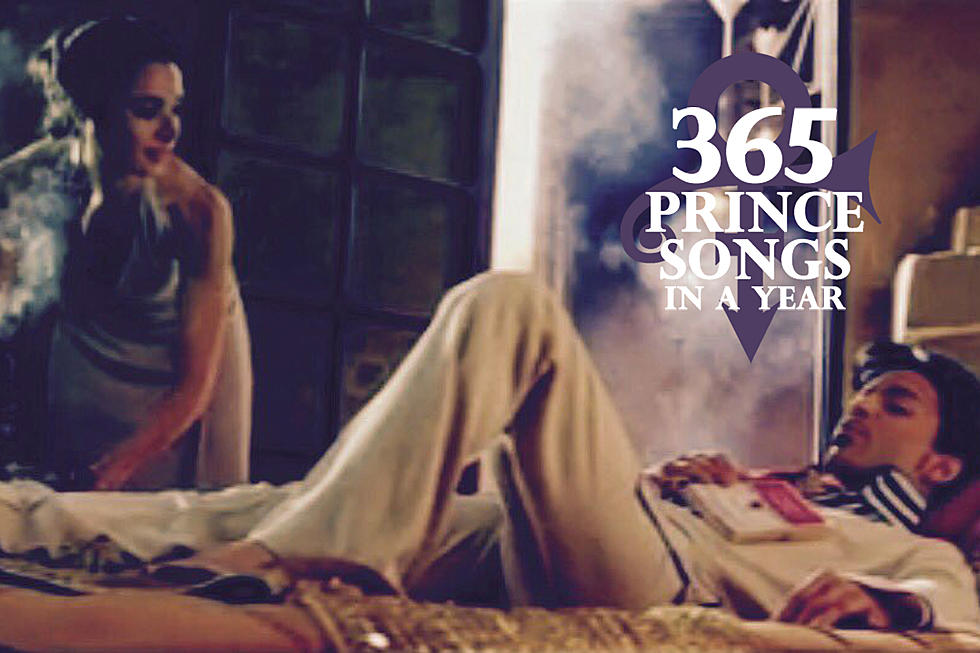 Prince Says 'Te Amo Corazon' to Salma Hayek: 365 Prince Songs in a Year
Universal
To celebrate the incredibly prolific, influential and diverse body of work left behind by Prince, we will be exploring a different song of his each day for an entire year with the series 365 Prince Songs in a Year.
Musicology gave Prince his first Top 10 album since The Gold Experience hit No. 6 nearly 10 years earlier in 1995. To keep up the momentum, he enlisted his friend Salma Hayek to direct the video for the first single from 3121, "Te Amo Corazon."
"Salma heard the song and came up with the original concept," Prince told CBS. "Salma is the most thoughtful, attentive director I have ever worked with. An absolute joy."
Hayek spoke of it as being more of a collaborative effort between the two, and only happened because Prince took the initiative. "He was always telling me that I should go back to directing, because I had done one little thing for television," she told W magazine. "And then one day, he said, 'Okay, today's the day. You have to do this song for me.' And I said, 'Oh god, I don't know. A music video! I don't watch them; I cannot do this.' It's not my thing, you know? And he's known for being a control freak. So, I said, 'If I'm going to do this, you have to listen to what I say. What if we're fighting ...' And he said, 'No, we're going to choose the thing and do the thing.' So, I said, 'Okay, let's go have fun.' ... There was no fight. It was very easy; he was really relaxed. He didn't even realize it was work. A lovely, lovely memory. ... We had a great time; we didn't really feel like we were working."
They filmed "Te Amo Corazon," which you can watch here, in Morocco, with Hayek's Frida co-star Mia Maestro serving as his love interest. For all of Hayak's star power, however, the single failed to chart. But Prince didn't need it to be a hit. 3121 debuted at No. 1, marking the first time a Prince album had topped the Billboard 200 since Batman in 1989.
The plan to jumpstart Hayek's directing career also hasn't panned out as Prince hoped. According to her IMDB page, she hasn't been behind the camera since that video, although she served as the producer for Ugly Betty, which ran for four seasons on ABC.
Earlier this year, Hayek appeared on The Graham Norton Show where, after hearing that Britain's Got Talent judge David Walliams had an awkward experience when he met Prince, she recalled his "strange" sense of humor. "He didn't crack jokes," she said, but added that "we'd go somewhere and ... I would start going for the food, like I always do, and I would try to get something and he'd be very serious. ... He would go [grabs Walliams' arm], "Sister, stay away from the buffet."
Salma Hayek Talks About Prince's Sense of Humor
Hopefully, Prince was showing off his sense of humor when he released "Valentina" on 2009's MPLSound. The song, named after Hayek's daughter, was a love letter to the actress. Although he doesn't mention her name, he refers to a "Mexican bombshell" who is "curvier than a Fender Stratocaster guitar" and praises her for going "from no green card to superstar." He conveys his desires in the chorus through her daughter: "Hey Valentina, tell your mama she should give me a call when she get tired of running after you down the hall." Towards the end, he suggests, as only Prince could, inviting Maestro and Penelope Cruz along.
But if he was serious, we certainly can't blame him for trying.