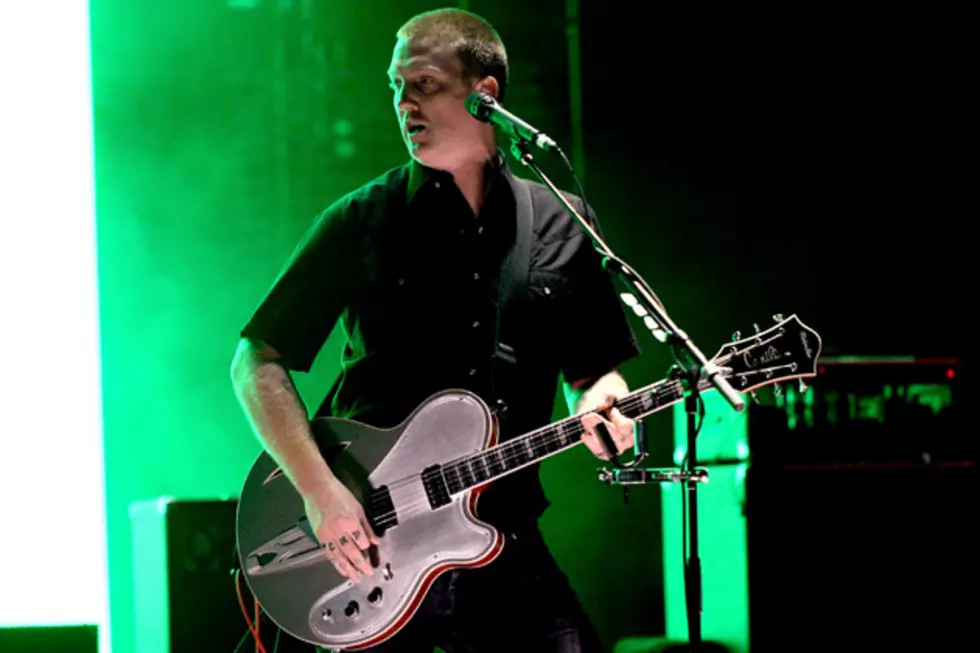 Queens of the Stone Age's Best Cover Songs
Kevin Winter, Getty Images
Queens of the Stone Age  have a reputation as one of the world's premier stoner-rock bands. If your breakthrough song is called 'Feel Good Hit of the Summer,' and it consists entirely of "nicotine, Valium, Vicodin, marijuana, ecstasy and alcohol / Cocaine!" repeated for almost three minutes straight, that sorta thing happens. But as our list of Queens of the Stone's Best Cover Songs proves, they're way more varied than that constricting label allows.
'Bloody Hammer'

Original Artist: Roky Erickson and the Aliens

Roky Erickson is sorta the American version of Syd Barrett, Pink Floyd's original leader who blew out his already fragile mind with some heavy-duty drugs. Erickson led Austin garage rockers the 13th Floor Elevators in the '60s before mental illness sidelined his career. He recorded the verbally twisting 'Bloody Hammer' in the early '80s with his group the Aliens. Queens of the Stone Age's acoustic cover is from the double-vinyl edition of 2002's 'Songs for the Deaf.'

Elliott Smith wrote and recorded the brooding 'Christian Brothers' for his second album, 1995's self-titled one. But frontman Josh Homme makes it sound like a natural fit for Queens of the Stone Age, who beef up Smith's skeletal frame a bit for a cover that appeared on the single for 2007's 'Sick, Sick, Sick,' the first single released from the band's fifth album, 'Era Vulgaris.'

Josh Homme doesn't have Tom Waits' hard-living growl down, and the original 1992 version's trashcan percussion section is missing from Queens of the Stone Ages' 'Goin' Out West.' But there's a suitably ragged rhythm guiding QOTSA's take, which is part of the same single that Elliott Smith's 'Christian Brothers,' elsewhere on our list of Queen of the Stone Age's Best Cover Songs, comes from.

'Needles in the Camel's Eye'

Original Artist: Brian Eno

One of Brian Eno's toughest rockers -- from his terrific 1974 debut solo album, 'Here Come the Warm Jets' -- gets even more amp power from Queens of the Stone Age, who stick pretty close to Eno's original arrangement. Their juiced-up cover of 'Needles in the Camel's Eye' comes from a B-side to 2007's 'Era Vulgaris'' third single, 'Make It Wit Chu.'

'Never Say Never'

Original Artist: Romeo Void

Romeo Void's original version of 'Never Say Never,' released in 1982, is one of post-punk's greatest moments. Queens of the Stone nail the song's staccato rhythm, and Josh Homme does a pretty good replication of Debora Iyall's robotic vocal. But the song was meant to be sung from a female perspective, something that's probably not lost on QOTSA's winking take (found on the deluxe edition of the 'Rated R' album).