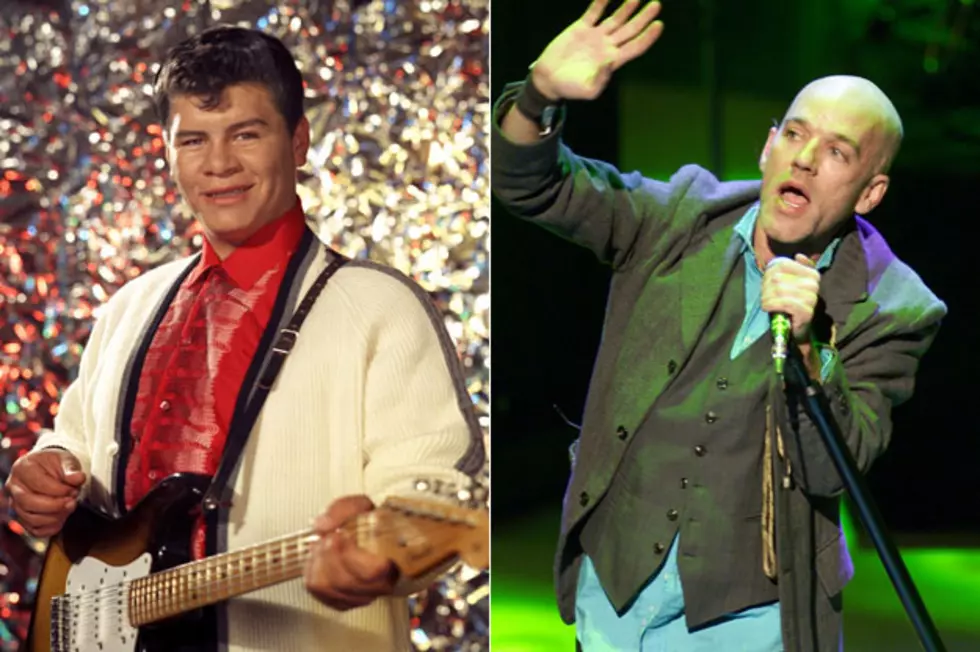 Ritchie Valens vs. R.E.M. – Song Parallels
One of the architects of rock 'n' roll -- as well as a victim of one of its first tragedies -- Ritchie Valens scored a string of hits during his brief career, influencing countless artists over the decades since his shocking death in 1959. Artists like, for instance, R.E.M.
Of course, the '80s alt-rock heroes were far from the first (or most obvious) to owe Valens a musical debt, but when they sat down to write their 1988 hit 'Stand,' they ended up building the song's main hook around the signature riff from Valens' version of 'La Bamba,' the traditional Mexican folk song he took to the Top 40 in 1958 -- a melodic echo that can be plainly heard in the opening notes from each song.
Although it was 30 years old by the time 'Stand' was recorded, 'La Bamba' was fresh in pop audiences' minds in 1988, because a new version -- recorded by Los Lobos -- had just topped the charts the previous year. Released as a single from the soundtrack to a Valens biopic starring Lou Diamond Phillips (also titled 'La Bamba'), it capped a wave of retro rock revivalism on Top 40 radio that included a return engagement for Ben E. King's classic hit 'Stand by Me.'
According to R.E.M. frontman Michael Stipe, the band was actually thinking of '60s bubblegum pop by bands like the Monkees when they wrote 'Stand,' but Valens' influence is still pretty clear here -- and given that it broke the Top 10 on the Billboard Hot 100, it's hard to argue with the end result. Listen to these clips and let us know what you think.
Listen to Ritchie Valens, 'La Bamba'
Listen to R.E.M., 'Stand'