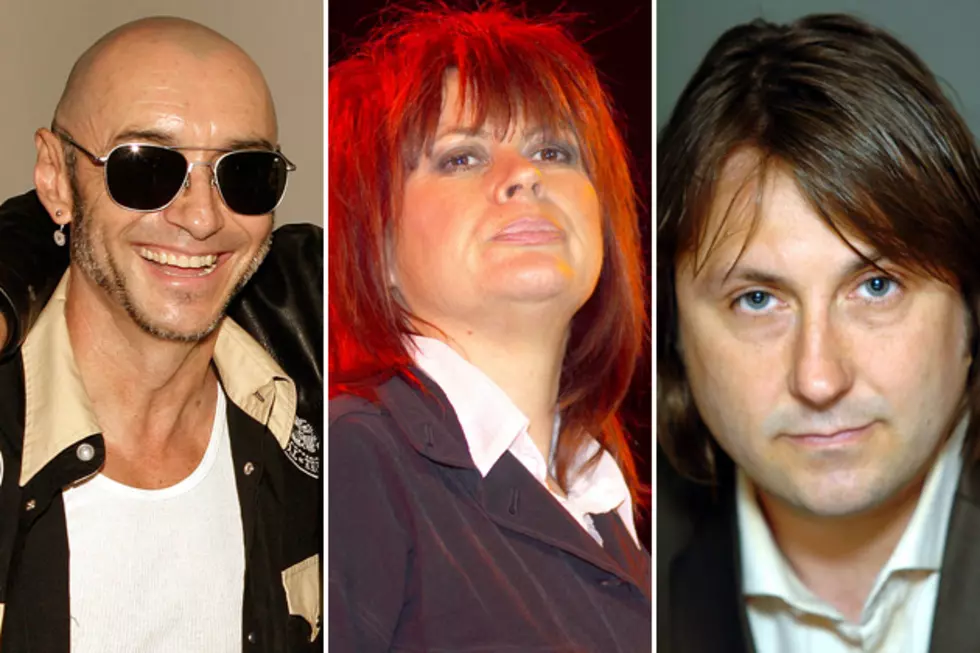 Rockers We've Lost in 2013
Katy Winn / Lawrence Lucier / Stuart C. Wilson, Getty Images
The alternative music community has unfortunately bid farewell to some of its key members in 2013. From pioneering DJs to keyboardists who never became household names, all were artists who helped change the course of the music we love, and for that, we salute these late greats with the brief tributes below.
Although the cause of death and exact date has not been released to the press, former Cold Cave member Justin Benoit passed away sometime in February. Benoit appeared on the synth-pop/goth group's 2009 'Stars Explode' split cassette with noise artist Prurient and also toured as a member of Cold Cave that same year.

DJ and rave pioneer Scott Hardkiss died in March at the age of 43. Born Scott Friedel, the San Francisco-based DJ suffered from keratoconus, a degenerative disease that caused him to go blind in his left eye. Friedel underwent eye-transplant surgery in 2011, but he never truly regained vision in that eye.

Songs: Ohia and Magnolia Electric Co. founder Jason Molina passed away on March 16 at the age of 39 from organ failure due to alcohol consumption. A gifted guitarist and songwriter, Molina was also prolific, and he left behind an extensive discography that includes three solo albums.

Scott Miller, singer and songwriter for the power-pop bands Game Theory and the Loud Family, died in April from undisclosed causes at the age of 53. After releasing eight albums with Game Theory throughout the '80s, Miller formed the Loud Family in 1991 and issued six additional studio albums, including 2006's 'What If It Works,' a collaboration with singer-songwriter Anton Barbeau.

Lawrence Lucier, Getty Images

Lawrence Lucier, Getty Images

Best known for her sultry vocals on the Divinyls' 1991 global hit single 'I Touch Myself,' Chrissy Amphlett died at home in New York City on April 21. The 59-year-old Australian singer had been battling breast cancer and multiple sclerosis and is survived by her husband, Charley Drayton, a drummer who had played in the Divinyls.

Propaganda co-founder Andreas Thein died of cancer on May 30. The keyboardist performed on the German synth-poppers' 1984 debut single, 'Dr. Mabuse,' before getting booted from the group. Thein would go on to play in the bands Rififi and Kino.

Arturo Vega, the artist who created the iconic circular Ramones logo, passed away on June 8 in New York City at the age of 65. The Mexican native was the band's artistic director for more than two decades and also acted as their official archivist during that time.

Ex-Devo drummer Alan Myers lost his battle with stomach cancer on June 24. The 58-year-old played on the Ohio New Wave innovators' first six studio albums, and in his later years, Myers was a member of LA-based groups Skyline Electric and Swahili Blonde.

Faye Hunter, original bassist of '80s jangle-pop pioneers Let's Active, died on July 20 at the age of 59 from an apparent suicide. Hunter appeared on Let's Active's 1983 debut EP, 'Afoot,' as well as their 1984 album 'Cypress,' before leaving the North Carolina-based band. She returned for a brief stint, contributing to the group's 1986 'Big Plans for Everybody' LP.

Stuart C. Wilson, Getty Images

Stuart C. Wilson, Getty Images

Charlatans U.K. drummer Jon Brookes died in August from brain cancer at the age of 44. In 2010, the drummer suffered a seizure during a performance in Philadelphia, but he remained a member of the "Madchester"-era hitmakers and had been working with them on new music at the time of his passing.