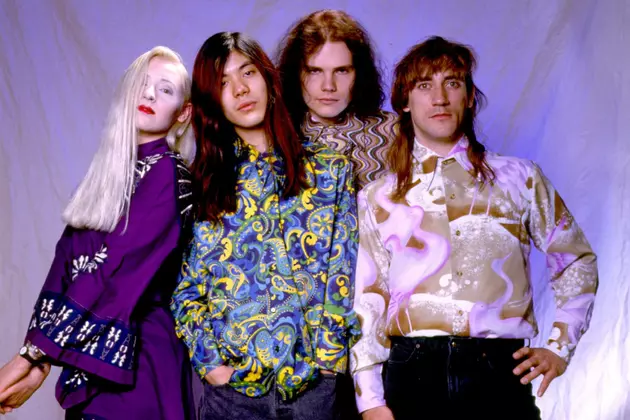 25 Years Ago: Smashing Pumpkins Debut With 'Gish'
Paul Natkin, Getty Images
Smashing Pumpkins didn't take over the world in 1991 with their indie debut, Gish, but they laid essential groundwork for when they soon would.
Ponder this: When Billy Corgan and the Pumpkins released Gish in May of '91, the Red Hot Chili Peppers were still four months away from releasing Blood Sugar Sex Magik, which was also how long it would be before Pearl Jam would emerge with their debut Ten. Meanwhile, Gish producer Butch Vig was in the midst of recording his next project: Nirvana's Nevermind.
Unlike those other bands, Smashing Pumpkins were far from the alternative scenes in Seattle and Los Angeles in more than geography. They didn't wear ripped jeans, Doc Martens and cardigans. They didn't play slowed-down Black Sabbath arena rock or have punk rock hearts pinned to their flannel sleeves, and their co-ed, ethnically diverse lineup was a departure from the testosterone-driven modern rock aesthetic at the time.
The Pumpkins looked like they stepped out of the Paisley Underground of the early '80s – the scene that gave rise to the Dream Syndicate and the Bangles. Even their first album title, Gish, evokes the soft focus beauty of silent film star Lillian Gish rather than the apathy of Generation X, and the music has a similar sort of timeless beauty.
"Rhinoceros," the sprawling centerpiece of the album, is psychedlic, lush and evocative. Often lumped in with the loud-quiet-loud dynamic of the Pixies and Nirvana, the song's structure actually has more in common with '70s climbing songs like Led Zeppelin's "Stairway to Heaven" and Lynyrd Skynyrd's "Freebird." Like those classics, "Rhinoceros," lures you in slowly and carefully increases tension to an almost unbearable level until tapering to a satisfying denouement. It's more of a journey than a song.
But make no mistake: Gish rocks, too. "I Am One" chugs along as powerfully as any of the hits by the Pumpkins' grunge freight train contemporaries, as does "Bury Me." "Siva" showcases guitar histrionics worthy of Pearl Jam's Mike McCready and moves loud to soft, fast to slow, masculine to feminine as the title suggests.
Nowhere does Gish delve more deeply into the feminine than when bassist D'arcy Wretzky steps to the mic for album closer "Daydream." It's two beautiful minutes of strings and lilting vocals that foreshadow Siamese Dream's "Disarm," but Corgan gets the last word. Ten or so seconds after the song fades out, the head Pumpkin closes out the album with a short "I'm Going Crazy" interlude that, perhaps, foreshadows even more about the band's future.
But what makes Gish such a special album are the psychedelic moments. As good as the heavy "Tristessa" is (and it is very good), it's just another contestant in the crowded '91 alternative sweepstakes. But there was nothing out there like the fragile "Crush" or the hookah and beads atmosphere of "Suffer."
Gish was not a blockbuster when it was released, though the critics who paid attention to it spoke favorably of the album. Two years later, the Pumpkins moved from subsidiary Caroline to parent label Virgin for Siamese Dream, a much more accessible and commercial album. But if you listen to it carefully, you can hear remnants of Gish lurking in the grooves.
Gish is where it all began for Smashing Pumpkins, and the gentler-but-not-gentle side of the alternative '90s, and a quarter century later it remains essential listening.
Worst to First: Every Smashing Pumpkins Album Ranked