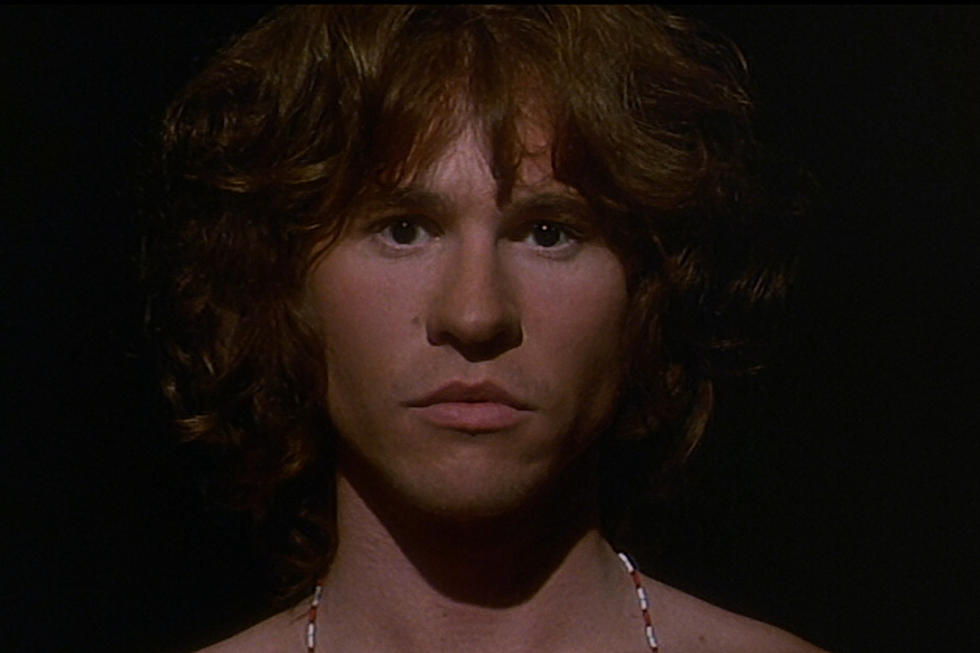 See the Cast of 'The Doors' Then and Now
YouTube
Even before 'The Doors' was filmed, the mere news Oliver Stone would be directing a biopic on Jim Morrison and his legendary band had fans up in arms. Many felt the movie should have been directed by someone younger, and one of Stone's biggest detractors happened to a former member of the Doors. Keyboardist Ray Manzarek wasn't happy with the direction Stone was taking and refused to give his blessing.
When 'The Doors' finally hit movie theaters in 1991, you could see why Manzarek might have had an issue with its script. About 95 percent of the film focuses on the hysteria surrounding Morrison's drug and alcohol abuse, never really offering anything of substance when it came to the other members of the band. Faults -- and there are many -- aside, 'The Doors' remains a must-see flick for any rock 'n' roll fan, and Diffuser.fm decided to take a look and see how some of the movie's actors are doing today.
Val Kilmer, Jim Morrison
Then: Kilmer played "The Lizard King" with the kind of over-the-top, "look at me!" acting style we've all come to expect from an Oliver Stone film. Fun fact: The Cult's Ian Astbury was originally offered the part of Morrison but declined after reading the script.
Now: The 53-year-old actor has kept busy, appearing in a few films every year for the last decade or so, which might explain why he agreed to be in the atrocity that is the 'MacGruber' movie.
Meg Ryan, Pamela Courson
Then: Ryan played Pamela Courson, Morrison's long-suffering girlfriend and the prototypical California flower child.
Now: Once America's Sweetheart, Ryan has made her plastic surgeon a small fortune and looks like she might the newest addition to the cast of 'Real Housewives of Beverly Hills.'
Kyle MacLachlan, Ray Manzarek
Then: The 'Twin Peaks' thespian took on the role of Ray Manzarek, who played keys for the Doors and took over as lead singer after Morrison's death in 1971.
Now: The Golden Globe-winning, two-time Emmy Award-nominated actor is familiar to hipsters across the country thanks his role as the mayor of Portland, Ore., on IFC's cult comedy 'Portlandia.'
Frank Whaley, Robby Krieger
Then: The Syracuse, N.Y., native played Robby Krieger, the band's jazz-influenced guitarist and writer of some of the Doors' biggest hits, including 'Light My Fire' and 'Touch Me.'
Now: Whaley is still acting and has become a director. The New York Post called 'New York City Serenade' -- his most recent directorial effort -- "one of those pointless indies that you'll have forgotten before the credits roll." Ouch.
Kevin Dillon, John Densmore
Then: Dillon didn't have many lines playing Doors drummer John Densmore, but he sure did look goofy with long hair.
Now: The younger brother of '80s teen heartthrob Matt Dillon, Kevin was last seen in the bro-friendly comedy series 'Entourage.'
Kathleen Quinlan, Patricia Kennealy
Then: Quinlan played Patricia Kennealy, a Mensa member and author who also happens to be a high priestess in the Celtic Pagan tradition. After participating in a Celtic Pagan ceremony, Kennealy and Morrison signed a document declaring themselves wed, but since none of the necessary paperwork was filed, their marriage was never legally recognized.
Now: Quinlan has found a lot of success on both the big and small screen, and based on our research, she doesn't practice paganism in real life.
Michael Wincott, Paul Rothchild
Then: Wincott's portrayal of Doors producer Paul Rothchild is one of the film's highlight performances.
Now: The Canadian actor has appeared in such films as 'The Crow' and 'Basquiat,' and he became a hero to potheads everywhere when he voiced the "Prophet of Truth" in the 2004 video game blockbuster Halo 2.
Mimi Rogers, photographer
Then: Married to Tom Cruise from 1987-1990, Rogers is the one who introduced the superstar actor to Scientology. In 'The Doors,' she plays a photographer who seduces Morrison.
Now: Rogers has since left Scientology and continues to work as an actress. She has a reoccurring role on the CBS "comedy" 'Two and Half Men.'
Crispin Glover, Andy Warhol
Then: Famous for playing George McFly in 'Back to the Future,' the quirky Glover didn't really have to stretch to play the notoriously eccentric Warhol.
Now: Glover is as wacky as ever. He's written books and recorded and released albums of bizarre music, and in 2005, he directed 'What Is It?' a surreal film featuring a cast of actors with Down syndrome.
Oliver Stone, film professor
Then: Stone had a small, uncredited part in the film as a UCLA film professor.
Now: One of Hollywood's best-known directors, Stone has amassed a filmography that includes 'Natural Born Killers,' 'Any Given Sunday' and 'Platoon.' The director has also had some drug-related arrests in his recent past, making him a frequent target on TMZ.