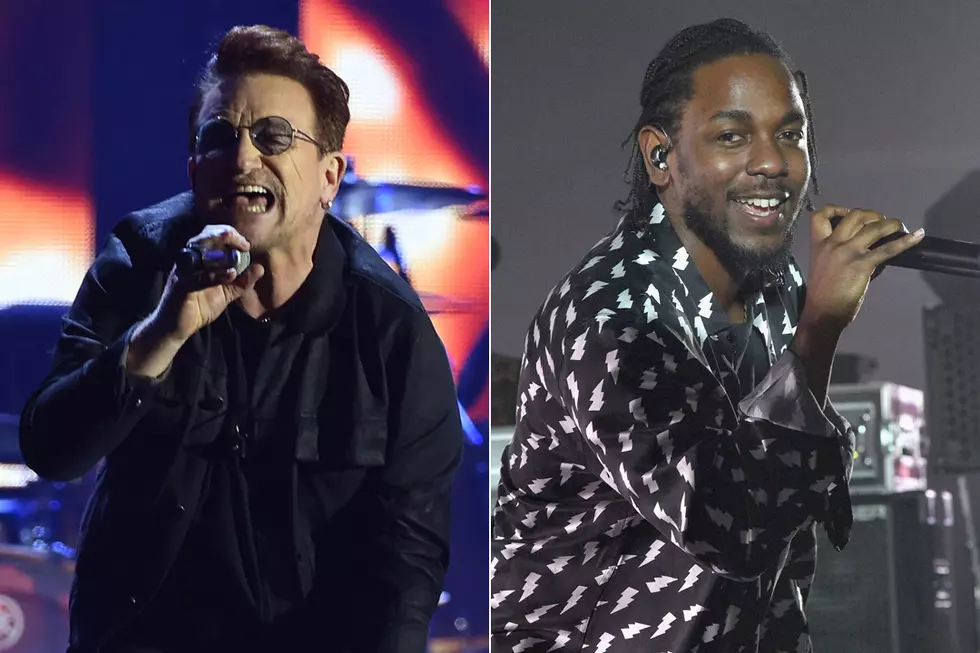 U2 to Appear on Kendrick Lamar's New Album
Kevin Winter / Bryan Bedder, Getty Images
Even though U2 have pushed back work on Songs of Experience to embark on a tour honoring the 30th anniversary of The Joshua Tree, we're going to be hearing something new with them pretty soon. They're listing as contributing to a track on DAMN., rapper Kendrick Lamar's upcoming album.
Rolling Stone reports that the record is arriving this Friday (April 14), and that they appear on the song "XXX." They also note that the only other guest named is Rihanna, who performs on "ROYALTY."
DAMN. is the follow-up to 2015's To Pimp a Butterfly, which landed at No. 2 on our list of the Top 50 albums of that year. As he told the New York Times last month, Lamar is continuing the socially conscious lyrics of that record and adding a little more spirituality.
"I think now, how wayward things have gone within the past few months, my focus is ultimately going back to my community and the other communities around the world where they're doing the groundwork," he said. "To Pimp a Butterfly was addressing the problem. I'm in a space now where I'm not addressing the problem anymore. We're in a time where we exclude one major component out of this whole thing called life: God. Nobody speaks on it because it's almost in conflict with what's going on in the world when you talk about politics and government and the system."
You can pre-order DAMN. at iTunes.
Kendrick Lamar, 'Damn.' Tracklist
1. "BLOOD."
2. "DNA."
3. "ELEMENT."
4. "FEEL."
5. "ROYALTY." (feat. Rihanna)
6. "PRIDE."
7. "HUMBLE."
8. "LUST."
9. "LOVE."
10. "XXX." (feat. U2)
11. "GOD."
12. "FEAR."
13. "DUCKWORTH."