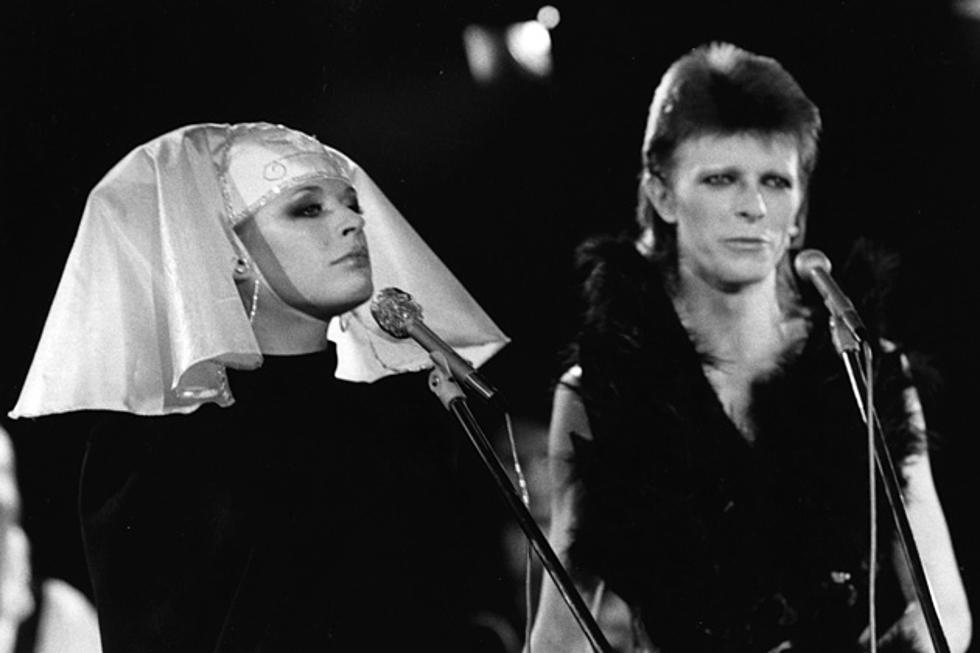 10 Underrated Glam Rock Stompers Worth Getting All Dolled Up For
Jack Kay, Hulton Archive
The sounds, the sights and the sizzle of the original glam rock era continue to amaze and fascinate fans. Not to be confused with Los Angeles' Sunset Strip hair metal scene from the '80s, the U.K. glam movement of the '70s went way deeper than that, drawing equal inspiration from '50s rock 'n' roll, '60s pop and a timeless sense of futurism. Art school (Roxy Music, David Bowie), bubblegum (Sweet, Bay City Rollers) and streetwise stomp (Slade) all had a place in glam rock. You might not be familiar with the songs on our list of 10 Underrated Glam Rock Stompers Worth Getting All Dolled Up For, but these are some of the genre's very best offerings.
'VaVaVa Voom' (1974)

Brett Smiley

Brett Smiley could have been huge. He had the looks, the style, the sound and the mystery, but the pieces just never fit in place. Smiley, an American, was managed and produced by original Rolling Stones chief Andrew Loog Oldham and released only one single. 'VaVaVa Voom' is a glittery sashay, custom made from threads of Bowie, Roxy and a bit of Sweet. It's a sugary stomp with elements of camp thrown in. Smiley recorded a whole LP at the time, but it was shelved until 2004.

'Gudbuy T' Jane' (1972)

Slade

Starting out as the N-Betweens in 1966, Slade eventually found their niche as merchants of the finest foot-stompin', fist-pumpin', heart-poundin' rock 'n' roll ever. From 1971-75, they placed an unprecedented 17 singles in the U.K. Top 20, six of which went to No. 1. 'Gudbuy T' Jane' piles on all of the band's classic elements: crunchy guitars, raunchy vocals and a triumphant chorus.

Hector were a short lived, rev'd up rock and roll band that only managed to make a handful of singles, but among them comes the classic raver, 'Wired Up.' Released on the DJM label in 1973, 'Wired Up' sounds not unlike Sweet on speed, bursting with frenzied guitar solo and driving rhythm. You can practically feel the glitter falling off the tires as it drives past at 100 mph.

'Clap Your Hands and Stamp Your Feet' (1972)

Bonnie St. Claire & Unit Gloria

Dutch glam? Sure! Bonnie St. Claire started making music in the mid-'60s, but it wasn't until she got together with the band Unit Gloria that things clicked. Sounding like a glammed-up Abba, 'Clap Your Hands and Stamp Your Feet' has a genuinely anthemic quality to it. Though it sounds primed for the stratosphere, the single failed to catch on anywhere but in their Netherlands homeland, where it hit No. 3.

The roots of Mud actually date back to the mid-'60s. After years of struggling, they hooked up with the production team of Nicky Chinn and Mkie Chapman, who took the struggling band to the upper reaches of the U.K. pop charts from the spring of 1973 through the summer of 1975, when they scored 10 Top 20 singles, including the No. 1 'Tiger Feet' and this floor shaker, which reached No. 2. All of Chinn and Chapman's bubble-glam trademarks are here.

'Roxy Roller' (1975)

Sweeney Todd

Though they were late to the party, not having formed until 1975, Canada's Sweeney Todd managed to produce one of the era's most glorious slabs of glittery noise in 'Roxy Roller.' The record actually exists in three different versions. The original featured Nick Gilder on vocals, but soon after releasing their self-titled debut album, he left and was replaced by Clark Perry, who re-recorded the vocal track for a reissue. Shortly after that, he left the band, and 16-year-old Bryan Adams was brought in. He recorded his own vocal, and the song was again issued as a single. The Gilder original hit No.1 in Canada, but it's the Perry version that became a modest hit in parts of the U.S. (and the one you can hear below). Gilder went on to top the chart with 'Hot Child in the City' a few years later, while Adams, of course, had plenty of hits throughout the '80s.

'Cracked Actor' (1973)

David Bowie

One of Bowie's most down and dirty rockers, 'Cracked Actor' is a highlight of his 1973 album 'Aladdin Sane.' The sleazy bump-n-grind of the guitar riff is haunted by the snarling sax to add an extra element of grime. With appropriately sleazy lyrics to match, the song oozes glam decadence.

'Rebels Rule' (1974)

Iron Virgin

Hailing from Scotland, Iron Virgin were one of many bands that set sail on the glam ship in the '70s but failed to discover an audience. But they did manage to release one of the era's most killer singles in 'Rebels Rule.' With thundering drums taking command, the song features plenty of glam moves. Over the years, the song has found its way on various compilations, and was, ahem, "borrowed" by the Runaways for their 1977 song 'California Paradise.'

'48 Crash' (1973)

Suzi Quatro

Nicky Chinn and Mike Chapman are the unsung heroes of '70s U.K. glam and pop. They wrote and produced countless hits for the likes of Sweet, Mud and Suzi Quatro. '48 Crash' stands as one of their finest contributions. The song's stomp and swagger are prominently delivered by the mighty Quatro, who spits out a vicious vocal. Pounding drums and flashing guitars rule here as you find yourself lost in a real "silk sash bash." The record hit No. 2 in the U.K., but failed to even break the Top 100 in the U.S., even though it was a small hit in some regions.

'Blockbuster' (1972)

Sweet

Though many of Sweet's early singles were more bubblegum, at its core the band was a hard-rocking combo. With this 1972 corker, they merged both sides into one of their greatest singles. Produced and written by the legendary team of Nicky Chinn and Mike Chapman (yes, them again), 'Blockbuster' captures their swaggering strut style perfectly. From the foot-stomping, hand-clapping beat to the metallic guitars and theatrical vocals, 'Blockbuster' pretty much defines the genre. It ended up being the British band's only No. 1 in their homeland.