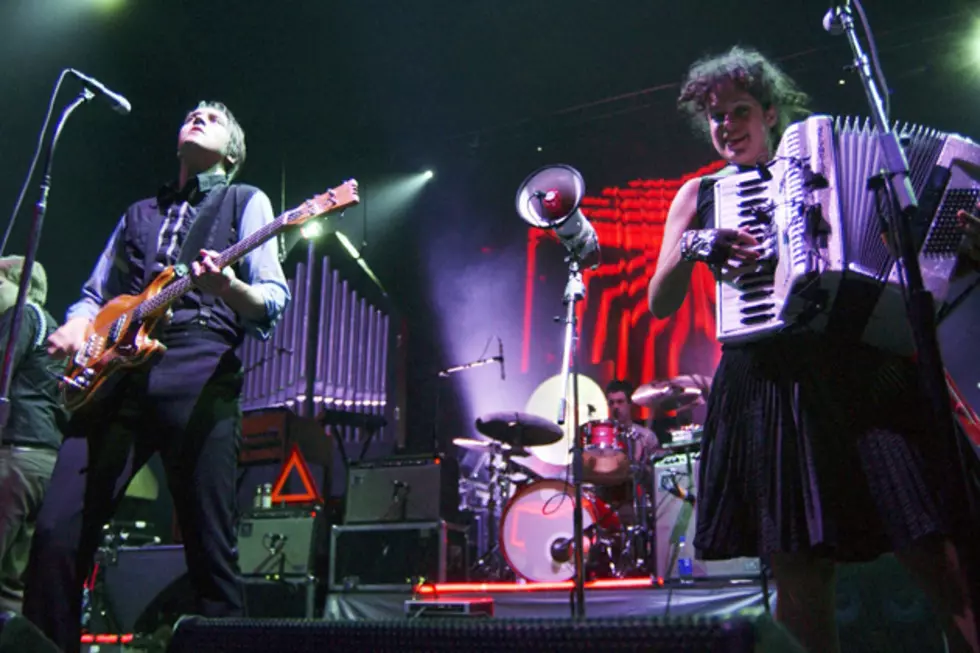 10 Things You Didn't Know About the Arcade Fire
Jim Dyson, Getty Images
Montreal's Arcade Fire burst onto the scene in 2004 with their debut, 'Funeral,' an album that, despite its depressing name, was brimming with fantastic tunes, among them 'Wake Up' and 'Rebellion (Lies),' a perennial favorite at Williamsburg keggers. Their sophomore effort, 'The Suburbs,' bagged a Grammy in 2011 for Album of the Year, and while you probably dug 'em long before that, there's more to this band than meets the eye, and you might not be the expert you think you are. As you prepare for the new single 'Reflektor,' which arrives tomorrow (Sept. 9) amid much fanfare, read 10 things you didn't know about the Arcade Fire and get up to speed on everyone's favorite clue-dropping, accordion-rocking indie heroes.
The Thin White Duke caught the Fire early

According to SoulShine.ca, David Bowie -- using an assumed named and posting on his own website's message board -- had this to say about Arcade Fire in 2004: "There's nothing else to say. The Arcade Fire have the album of the year." Strong words from one of music's most notable names. It only took Grammy voters seven years to agree with him.

David Greedy, Getty Images

David Greedy, Getty Images

The band's name comes from a childhood bully's story

In a 2004 interview with Gothamist, lead singer Win Butler hard this to say about the origins of Arcade Fire's name: "The first kid who beat me up when I was 12, was a high school kid who always used to talk about how the old arcade burned down and all these kids died." So the band's name didn't come from a very happy place. No wonder their first record was called 'Funeral.'

They once traveled with Unicorns

The band the Unicorns, that is. Another Montreal-based indie group, the Unicorns are totally worth a listen, and while they never made it big, they enjoyed some under-the-radar success here in the States. Unfortunately, they broke up in 2004, so you've got a better chance of seeing real unicorns live these days.

Streeter Lecka, Getty Images

Streeter Lecka, Getty Images

Brothers Win and Will Butler are from just north of Houston, Texas, which probably accounts for the countrified twang you hear buried deep in the band's stuff. Everybody else in the band seems to be Canadian, which means they're not messing aboot, eh?

Win Butler hopes to die on a cold Sunday 62 years from now

When asked in a 2004 interview how he'd prefer to die, Win Butler answered, "I would break my leg at 95 in the kitchen while watching the Super Bowl, and then die in the hospital of breathing complications." Here's hoping he hangs on long enough to see who wins.

Stephen Lovekin, Getty Images

Stephen Lovekin, Getty Images

The group owes Superchunk a round

The indie band Superchunk definitely should get some props the next time you hear an Arcade Fire song on the radio or see some hipster wearing one of their sweat-stained t-shirts in public. That's because Arcade Fire found fame not on a major label, but on Merge Records, started by Superchunk founders Laura Balance (bass) and Mac McCaughan (singer/guitarist). Credit where credit's due.

Their debut album's title stems from a real funeral

According to a 2004 New York Times article, an early version of the Arcade Fire listed on a Canadian website four influences: "Debussy, Neil Young, the Pixies and Alvino Rey." Debussy is obviously a classical composer (see his mug at left), and everybody knows who Neil Young and the Pixies are. But Alvino Rey? He was a steel guitarist, as well as the Butler boys' grandfather, and it was his funeral that sparked the idea for the title of the band's debut.

Christopher Furlong, Getty Images

Christopher Furlong, Getty Images

'Neon Bible' also has a funerary background

'Neon Bible' is the name of writer John Kennedy Toole's first novel, written at age 16. Toole's masterpiece, 'A Confederacy of Dunces' (which you should go out and read right now if you haven't), was published for the first time in 1980, 11 years after Toole killed himself. The following year, it earned the dead writer a Pulitzer Prize. Yet another agrument for why killing yourself is stupid.

Carlos Alvarez, Getty Images

Carlos Alvarez, Getty Images

The band once hired a member of Monty Python to videotape them

When the Arcade Fire played a show at New York City's famed Madison Square Garden in 2010, they hired Monty Python troupe member and actor Terry Gilliam, who also directed the cult classic 'Brazil,' to capture the show on video. Gilliam also directed a short skit featuring Andrew Garfield (of 'The Social Network' fame) that ran before the concert.

Larry Ellis, Hulton Archive

Larry Ellis, Hulton Archive

You might call Win Butler an Orwellian songwriter

In a 2010 interview with the Guardian, Win Butler mentions that when he was in high school, a teacher gave him George Orwell's essay on writing (we're going to assume it's this one). Butler said his takeaway was that "you always have to find a specific person doing and thinking specific things in a specific place to illustrate something bigger." And therein lies the genius of Butler's songs -- which have probably made him a rich, rich man.