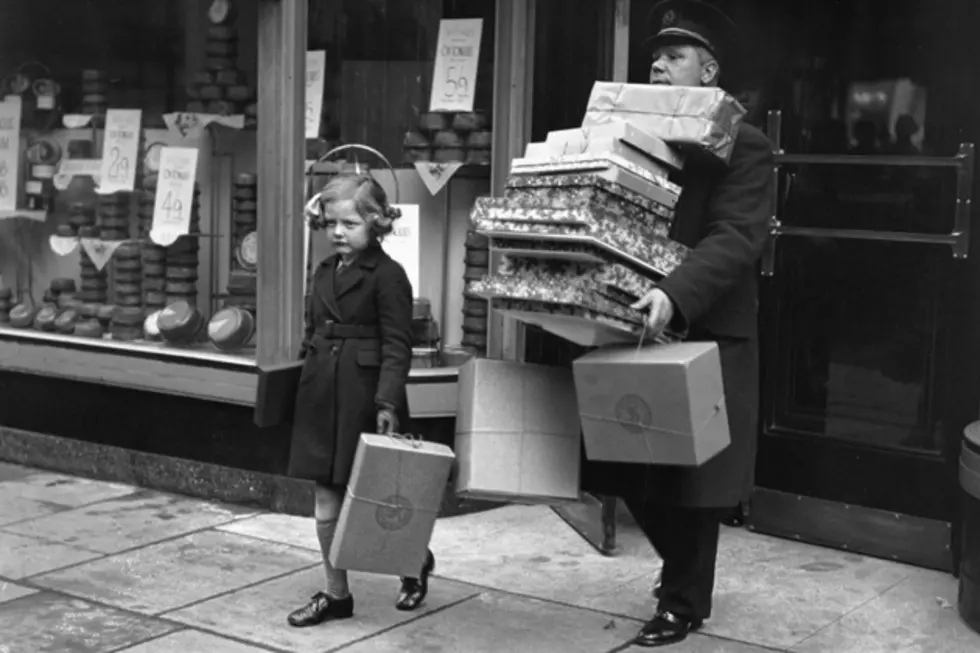 Hudson, Hulton Archive
Rock 'n' roll is truly the gift that keeps on giving, so this holiday season, rather than trying to guess people's clothing sizes or risking offending them with impersonal gift certificates, we're sticking to music and music-related products. We suggest you do likewise. For one thing, you'll have fun shopping, and by purchasing box sets, vinyl records, CDs, DVDs, electronics and other such things for your friends and loved ones, you'll get the chance to spread the word about artists you love (and show everyone what tremendously good taste you have). It's win-win, and that's what the holidays are all about. Scroll down to read our 2013 Holiday Gift Guide and see what kickass items we recommend picking up.
The Clash 'Sound System' Box Set

If someone you know doesn't already own the complete Clash discography, set 'em on the path toward righteousness with this massive set. 'Sound System' contains all five of the legendary London group's classic-era studio albums, plus B-sides, demos, live cuts and other such nuggets. And thanks to remastered audio, even longtime fans will pick out guitar bits they've never heard before.

'Tune In: The Beatles: All These Years'

The first part in a planned trilogy, Mark Lewishon's massive Beatles biography covers everything up to 1962, when the Fab Four were on the verge of conquering the world. That means lots of juicy tidbits about the group's early years in Hamburg -- where they'd gobble pills and play marathon sets for seedy underworld types -- and rise to fame in Liverpool.

Morrissey loves Southern California, and Southern California loves him right back. Moz shot this concert DVD at Hollywood High School in Los Angeles, where he turned in a career-spanning set packed with Smiths classics, solo smashes and surprisingly good new tunes. Spoiler alert: He changes shirts three times.

Bandai Tamashii Nations S.H. Figuarts Daft Punk Action Figure

This year, Daft Punk brought back disco, and if that's not proof these wily Frenchmen are superheroes, nothing is. Fitting, then, that they get their own action figures. These limited-edition puppies will set you back more than your average Ninja Turtle will, it's totally worth the extra money. Look out, Barbie -- they're up all night to get lucky.

Mack's Ear Care Ultra Soft Foam Earplugs, 50 Count

The least expensive item on our list might also be the most important. Live music tends to be really, really loud, and whether we're talking tiny rock clubs or massive outdoor festivals, these babies will save your hearing. If someone accuses you of being cheap, just tell that ingrate you're looking out for their health.

House of Marley Uplift In-Ear Headphones

Speaking of things you put in your ears ... there are lots of reasons to like these headphones. First off, they're from the House of Marley, and face it, nothing Bob-related has ever steered you wrong. The company uses eco-friendly materials, and these bad boys are made from recyclable aluminum and sapele and beech wood approved by the Forest Stewardship Council. And tech types will be psyched about the 16 ohms impedance 18-20Hz frequency response and 8-millimieter driver. Also, it's got a "neodymium magnet for sound reinforcement," though we're more excited about the choice of three cool colors.

Nirvana 'In Utero' 20th Anniversary Super Deluxe Edition

Nirvana's third and final studio album has aged really well, and two decades after its release, it still sounds fresh and different. This three-disc set features demos, unheard stuff, a brand-new Steve Albini mix and the 'Live and Loud' concert shot by MTV on a windy pier in Seattle. It's essential listening and viewing for anyone who believes rock 'n' roll should simultaneously pummel the heart, gut and mind.

The Feminist Press at CUNY

The Feminist Press at CUNY

'Pussy Riot!: A Punk Prayer For Freedom' Paperback

Just weeks after the members of the Russian art-punk collective Pussy Riot were sentenced to two years in prison following their demonstration in a Moscow church, the Feminist Press pulled together this collection of essays, courtroom transcripts and more -- all of which shed light on the plight of these brave young ladies.

Everyone from Bob Dylan to Jay Z has rocked these timeless shades, and they're right up there with Levis jeans and Chuck Taylors on the list of rock 'n' roll essentials. Looking through these lenses, the world's a much cooler place.

The Beatles 'Live at the BBC - The Collection' Box Set

Just when you thought you'd heard every nanosecond of Beatles audio in existence, 'On Air: Live at the BBC, Vol. 2' comes down the pike. It's the follow-up to the original 'Live at the BBC,' and both sets -- stuffed with killer live performances and cool radio chatter -- are included in this box. Whether you go for the two CDs or three LPs, you can't go wrong.

Lorde, 'Pure Heroine' Vinyl Edition

Seventeen-year-old New Zealand lass Lordes is one of those rare artists everyone can love, but this is a best suited for young teenage girls. Here's why: Lorde isn't your typical pop tart, and her vaguely existential, anti-materialistic lyrics will set your niece, sister, daughter or whomever a fine alternative to Britney and Katy. Also, by grabbing the album on 12-inch, you can get the lucky young recipient started on a vinyl collection.

Roy Orbison 'The Last Concert: 25th Anniversasry Edition' CD

On Dec. 4, 1988, Roy Orbison stopped in Highland Heights, Ohio, for what would be his final concert. This CD/DVD set includes the full performance, as well as footage of his last interview and snippets from standout shows from '81 and '86. No one did rockabilly with more operatic vocal gusto or lyrical drama than Roy, and as this set shows, he remained a true original right up until the end.