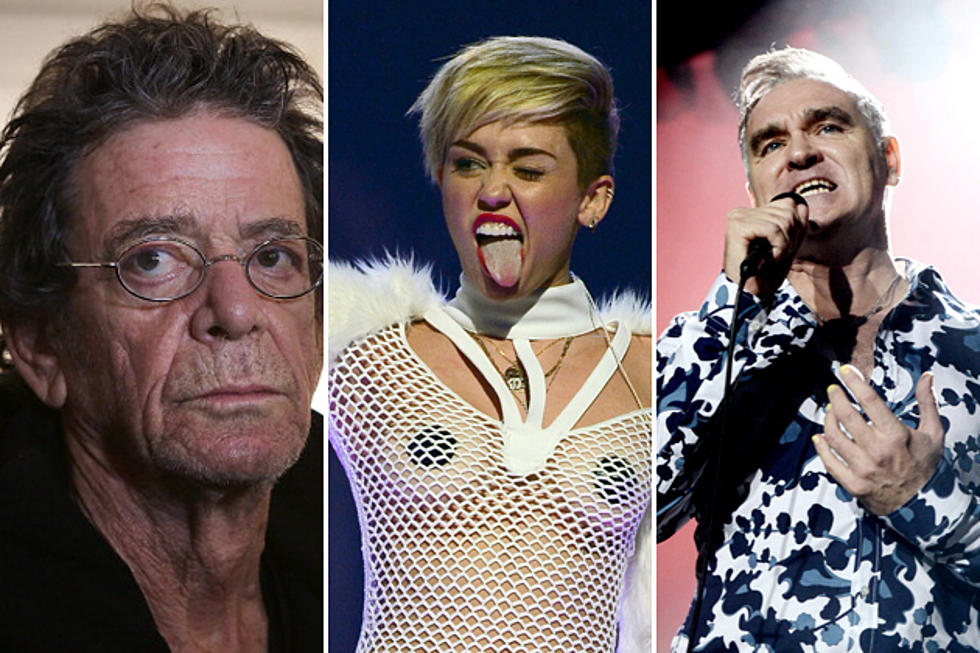 10 Most Shocking Stories of 2013
Hannelore Foerster/ Ethan Miller/ Kevin Winter, Getty Images
Full of twerking, Twitter trashing and tragedy, 2013 has been a busy year in the world of music. Some great bands have reformed, some arguably not-so-great bands have split up, some surprising revelations have been revealed and some true icons have been lost. And as the year comes to a close, we're taking a look back at the 10 most shocking stories of 2013.
10

Lily Allen Returns, Gets Called a Racist

In 2009, Lily Allen announced she was taking a hiatus from music. She filled her time by opening a clothing rental shop with her sister and launching her own record label, and she also got married and had two children. This year, she finally announced she was ready to crack on with her next album, and she followed the news with the single 'Hard Out Here.' While everyone seemed to love the song, its accompanying video (chock-full of liposuction and twerking) was met with mixed reactions, as some deemed it racist to feature black dancers twerking. Despite -- or likely because of -- the controversy, the clip has clocked in more than 11 million views to date. Welcome back, Lily!

9

Ian Watkins Confesses Attempted Rape Of Baby

In December 2012, Ian Watkins, lead singer of the Welsh band Lostprophets, was charged with a series of heinous crimes, among them conspiracy to rape an 11-month-old baby. At the time, he denied all charges, and many fans tried to believe in his innocence. But at the end of November, he admitted to 13 sexual offenses, including the attempted rape. He had also allegedly planned to intoxicate a child by blowing crystal-meth smoke its face and was in possession of indecent photographs of children and several tapes that showed him having sex with underage girls. His former bandmates, of course, had no idea that any of this was happening, and they decided to dissolve the band in October. Upon hearing his confession, the band took to their Facebook page (which appears to have since been deactivated) to write that they were "heartbroken, angry and disgusted" by his confession.

8

Miley Cyrus vs. Sinead O'Connor

It seemed like the longest-running open-letter feud in the Internet's history. After Miley told Rolling Stone that her video for 'Wrecking Ball' was partially inspired by Sinead O'Connor's video for 'Nothing Compares 2 U,' O'Connor decided to write the pop star an open letter, bashing her for letting the music business "prostitute" her and calling her out for sending unhealthy messages to her peers. Miley fought back via Twitter, poking fun at O'Connor's battles with mental health by reposting old Tweets O'Connor had written during a particularly difficult time in her life. This, of course, led to more open letters, and soon, other people started chiming in, as well. (Amanda Palmer penned an excellent blog post on the subject.) The feud never really ended, and O'Connor posted a handful of photos to her Facebook page a few days ago (of her holding some vegetables in a very sexualized manner), with the caption, "If a picture paints a thousand words.....". Of course, it might not be directed towards Miley, but the Internet seems to think it was…

7

Morrissey Releases Autobiography

Morrissey's 'Autobiography,' one of the most highly anticipated tell-alls in recent years, finally hit shelves in December (October in the U.K.), and it touched upon subjects that his fans were dying to learn more about, such as his rarely discussed sexuality. Although Moz reveals that he's had two serious relationships in his life -- one with a woman and one with a man (Jake Walters) -- he avoids labeling himself gay or straight, writing: "I am attracted to humans. But, of course, not many." The book also touched on subjects such as the TV shows and music that influenced him during his childhood, his former Smiths bandmates and his rocky relationship with Rough Trade Records founder Geoff Travis.

6

Mumford & Sons Announce Hiatus

The folk foursome rather unexpectedly announced a hiatus in September, with keyboardist Ben Lovett telling Rolling Stone, "There won't be any Mumford & Sons activities for the foreseeable future following Friday's show. We just know we're going to take a considerable amount of time off and just go back to hanging out and having no commitments or pressure or anything like that." Considering that the band had to postpone a few shows in June due to bassist Ted Dwane requiring emergency surgery to treat a blood clot on the surface of his brain, it's probably for the best that the band take a breather.

5

Pixies Replace Kim Deal, Release New Music + Lose Deal's Replacement

On June 14, Pixies announced founding bassist Kim Deal had quit the band. "We are very proud to have worked with her on and off over the last 25 years," the band wrote on their Facebook page. "Despite her decision to move on, we will always consider her a member of the Pixies, and her place will always be here for her. We wish her all the best." Last week, Deal's replacement, sometime Muffs frontwoman Kim Shattuck, announced on Facebook that she was also leaving the band, writing: "Super disappointed to learn that my time with the Pixies ended today. Amazing experience. Looking forward to focusing my attention back on the Muffs and our upcoming new album. All the best to everyone." Fans are now speculating what bassist (perhaps also named Kim) will step in for the upcoming tour. But the good news is that amid all the line-up changes, there's also been some new music, as the band released 'EP-1,' their first collection of new music in more than a decade, in September.

4

Two Members of the Yellow Dogs Killed in Brooklyn

Before November, not many people knew of the Yellow Dogs, an Iranian band that had settled in Brooklyn. Unfortunately, their names were all over the press following a tragic shooting that claimed the lives of two band members and one of their close friends. Initial reports claimed the shooting was the result of an internal band quarrel, but it was later revealed that the shooter (who turned the gun on himself) was a former member of another Iranian band, Free Keys, and an "estranged former associate" of the Yellow Dogs. In a statement following the incident, the surviving members of the band wrote the following: "In the aftermath of these horrific events, we are left with pain, emptiness and so many questions that won't ever be answered. We wanted the world to discover us as we were: a community of musicians defined by our music, our friendships, our culture and our art. This is not the way we ever imagined the world would learn of our story."

Samir Hussein/Getty Images

Samir Hussein/Getty Images

3

Two Fans Die at Electric Zoo Festival

While Miley Cyrus may have entertained the public with her twerking fascination this year, her "molly" references were less amusing in the aftermath of NYC's Electric Zoo Festival, which ended with two MDMA-related deaths. The annual electronic music festival, which was held in early September, was cut short after four attendees fell ill and two died following drug overdoses. It wasn't an isolated incident, as other music festivals have seen similar occurrences over the years, but this event's early cancellation certainly opened people's eyes to the issue.

2

David Bowie Makes Surprise Return

While we still may never get the opportunity to see him live onstage again -- we're crossing our fingers he decides to perform -- David Bowie kicked off 2013 with an exciting announcement: He was getting ready to release his first new studio album in 10 years. And unsurprisingly, 'The Next Day' has been a huge commercial hit. Since then, he's treated us to a slew of new music videos (one of which featured his Hollywood doppelganger, Tilda Swinton) and appeared on an Arcade Fire track. He's vowed to give no interviews and play no live shows, but here's hoping he's got a few more surprises up his sleeve.

1

While 2013 marked the unexpected return of music icon David Bowie, it also brought the unexpected loss of one of rock's greatest geniuses, Lou Reed. Despite the fact that he was said to be feeling "bigger and stronger" than ever following a liver transplant in May, the world learned of Reed's untimely death -- the result of liver disease -- on Oct. 27. Sure, some people might remember him as the guy who made that weird collaboration with Metallica or the curmudgeon who was difficult to interview and hated music journalists, but his early band the Velvet Underground were unquestionably one of the most influential acts in history, and he's left a permanent mark on the musical map that few can rival. This was a huge loss.