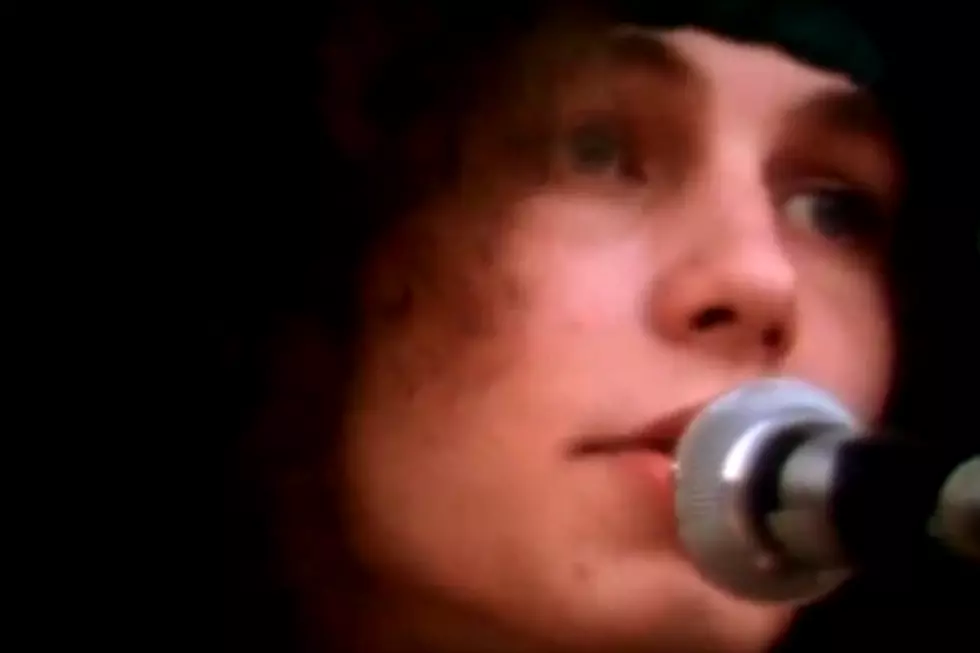 46 Years Ago: Bert Sommer, Woodstock's Forgotten Star
Youtube
May 1985 and Greg Haymes, a.k.a. Sarge Blotto, is kicking off the premier episode of his public access cable show, Sarge Blotto's Hot Seat. The set consists of a couple of lawn chairs and an ashtray for Haymes. Sarge's guest wears khaki trousers and a crew neck sweater. His curly mullet tangles around an Olivia Newton-John style headband, and he holds a dark brown beer bottle. He's 16 years removed from the biggest performance of his life and only five years away from his untimely death at age 41.
Meet "the absolutely incredible, always marvelous Bert Sommer," as Haymes introduces him, or if you prefer, "the rather magnificent Mr. Bert Sommer," as Woodstock announcer John Morris labeled him.
When the Woodstock Music and Art Fair was staged August 15-18, 1969, several artists on the bill who became huge stars were barely known. Santana, for example, was unknown outside of the Bay Area scene. Joe Cocker was so unknown in the U.S. that festival producer Michael Lang thought he was black. Ten Years After, Sly and the Family Stone, Richie Havens -- careers were made at Woodstock, or perhaps more accurately, when the accompanying documentary and soundtrack were released the following year.
Michael Wadleigh's film was so popular and iconic that it became the de facto collective memory of the festival, but as good as it is, at just a little over three hours the film leaves massive gaps in the historical record. Although Wadleigh's crew shot 172 hours of footage, there's only so much that can make the final cut, whatever the reason.
Other artists were victims of technical problems. No usable audio or film of the Keef Hartley Band is known to exist, for example, and of Ten Years After's blistering set only "I'm Going Home" was trouble-free enough (the audio/video, not the performance) to make the film.
Finally, there's a tier of acts that simply weren't included in the film: Melanie, Sweetwater, the Incredible String Band, Quill, Johnny Winter and future Rock and Roll Hall of Famers the Paul Butterfield Blues Band, just to name a few. Much speculation has occurred over the years as to why certain bands didn't make the final cut, often centering on the film's studio, Warner Brothers, favoring Warner artists. Director Michael Wadleigh addresses that charge in Pete Fornatale's Back to the Garden: The Story of Woodstock:
One thing I want to set you absolutely straight on: there have been many questions through the years about why certain groups are in the movie and certain groups aren't. We absolutely could have put anyone we wanted to in the movie. It was not because they didn't give us their permission. It was certainly not because certain acts weren't Warner Brothers acts.
Many of those lost performances surfaced over the ensuing years, both officially and as bootlegs. Home video gave birth to the "director's cut" phenomenon, adding 40 minutes to Woodstock's movie-of-record in 1994. Also that year, documentary filmmaker D.A. Pennebaker released his own three-hour Woodstock film, Woodstock Diary. Pennebaker's footage filled some gaps in the better-known sets, but more importantly it was our first glimpse at some of the festival's artists after 25 years. None were more startling than Bert Sommer.
Sommer was born Feb. 7, 1949, making him only 20 years old when he made his concert debut in front of 300,000 fans on the festival's opening day, but he was no amateur. In 1967, he sang lead on three tracks for the Left Banke, all three of which also featured Michael McKean (Spinal Tap's David St. Hubbins) on guitar. That same year, as a member of the duo Bert and Bill, he released a single named "You're What Makes My Lonely Life Worthwhile" on Vanguard Records.
After that he collaborated with Long Island hometown friend Leslie West on a handful of songs for West's band, the Vagrants. That band split in '68, making way for West's next band, Mountain, which also played Woodstock. In fact, Mountain played "Beside the Sea" during their Woodstock set, a cut that West co-wrote with Gail Collins and Sommer.
Neither the Left Banke nor writing for the Vagrants proved to be Sommer's big break. That  would come in early 1969, when the singer joined the L.A. cast of Hair for a three-month run. Jennifer Warnes also starred in that production. Sommer must have been rather taken with her, as he wrote the song "Jennifer" about the singer. (Warnes has another connection to Woodstock: In 1982 "Up Where We Belong," her duet with festival veteran Joe Cocker, won the Academy Award for Best Original Song.)
Things were rolling for Sommer now. He signed with Capitol Records, home of whiz kid executive Artie Kornfeld, who at only 27 had been entrusted by the label to bring them talent. "He was such an incredible singer-songwriter," Kornfeld wrote of Sommer in his memoir, The Pied Piper of Woodstock. "He felt like a younger brother to me."
Several resources cite the singer's Kornfeld-produced debut album, The Road to Travel, as a 1968 release, but the evidence suggests that Sommer's first album was probably released around the middle of 1969. Also happening around the middle of '69? Kornfeld hooked up with promoter Michael Lang as the "creative" side of the production team that mounted Woodstock. Lang and Kornfeld were responsible for booking the festival's acts. Sommer was virtually guaranteed a slot thanks to his relationship with Kornfeld.
Years later, Sommer claimed that he was asked to open the festival but was too scared to go on, so Richie Havens volunteered to take his place. Woodstock producer Michael Lang tells a different version in his book, The Road to Woodstock:
I had originally wanted Jimi [Hendrix] to play an unannounced acoustic set on Friday to kick things off, but he hadn't turned up yet. By four thirty, I knew we had to get someone ready to go onstage. The only other possibility besides Richie was Tim Hardin....It had to be Richie--I knew he could handle it, and his powerful but calm demeanor was just what we needed to set the tone for liftoff.
Whatever occurred, Havens did in fact open the show, returning again and again for encores as the producers asked him to stall for time. When he finally walked off stage for the last time, Swami Satchidananda gave a brief speech that Kornfeld said "put a wave of peace out there."
Next came a set from Sweetwater, and then as the sun set Sommer stepped onto the stage, sat cross-legged, and knocked out a ten song set that killed. Lang remembered Sommer's "haunting tenor voice," Kornfeld recalled the singer's cover of "America," the Simon & Garfunkel classic, was "simply electrifying." The crowd gave the newcomer a standing ovation as announcer John Morris declared him "the rather magnificent Bert Sommer." When asked about his standing ovation in the years after Woodstock, Sommer would jokingly brush it off by implying that the crowd was only standing because they were on their way to the bathrooms.
That wasn't the end of Sommer's Woodstock, though. He hung around, watching the show from the sound towers and, by his own admission, indulging in the backstage activities and consumables available to rock stars. Photos of Sommer hanging out in the artists' area showed up in Life magazine's special edition dedicated to the festival. He left the site with Kornfeld Monday morning via helicopter.
He was right there, on the brink of stardom, but as quickly as his star rose it began to fall. The Road to Travel went nowhere, so Capitol dropped him. Kornfeld left the label, too, and Sommer followed him to Eleuthera Records, which released the Kornfeld-produced Inside Bert Sommer. That album included the biggest hit of Sommer's career, a song he wrote at Woodstock entitled "We're All Playing in the Same Band." That single would sell over 400,000 copies and break the Billboard top 50.
While supporting that album, Sommer opened for some of the era's big names (Ike and Tina Turner, Jefferson Airplane), played Carnegie Hall and hit the festival circuit. He released another album in 1970 that sank without a trace, and that was that. Sommer moved to Brockport in upstate New York, where he gigged with a local band for several years.
In 1976, he took a role on a Saturday morning kids' show named The Krofft Super Show, where he played a member of the fictitious band Kaptain Kool & the Kongs. He quit after one season and moved back to New York.
The following year he connected with producer Ron Dante for one final album with Capitol Records. Like Dante's more successful client, Barry Manilow, Sommer took an adult-oriented, easy-listening approach on the album, which didn't result in any sales. As far as the big time was concerned, Sommer was all out of chances.
He returned again to upstate New York, which brings us back to May 1985 and Sarge Blotto's Hot Seat. His 30 minutes on public access television appear to be the last footage of Bert Sommer. He died in June 1990 from a respiratory illness. In 1994, a memorial plaque was erected on the site of the Woodstock festival. Sommer's name was omitted.
That may have been the end of the story, but in 2009 Rhino released a six-CD set for Woodstock's 40th anniversary. Much like Nick Drake was introduced to a new generation via a car commercial, Bert Sommer finally found his audience through the three tracks included on the set.
So here we are, 46 years after Jimi Hendrix brought Woodstock to a close and Bert and Artie piled into a helicopter and headed back to New York City. What better way to celebrate than to remember the rather magnificent Bert Sommer and smile.